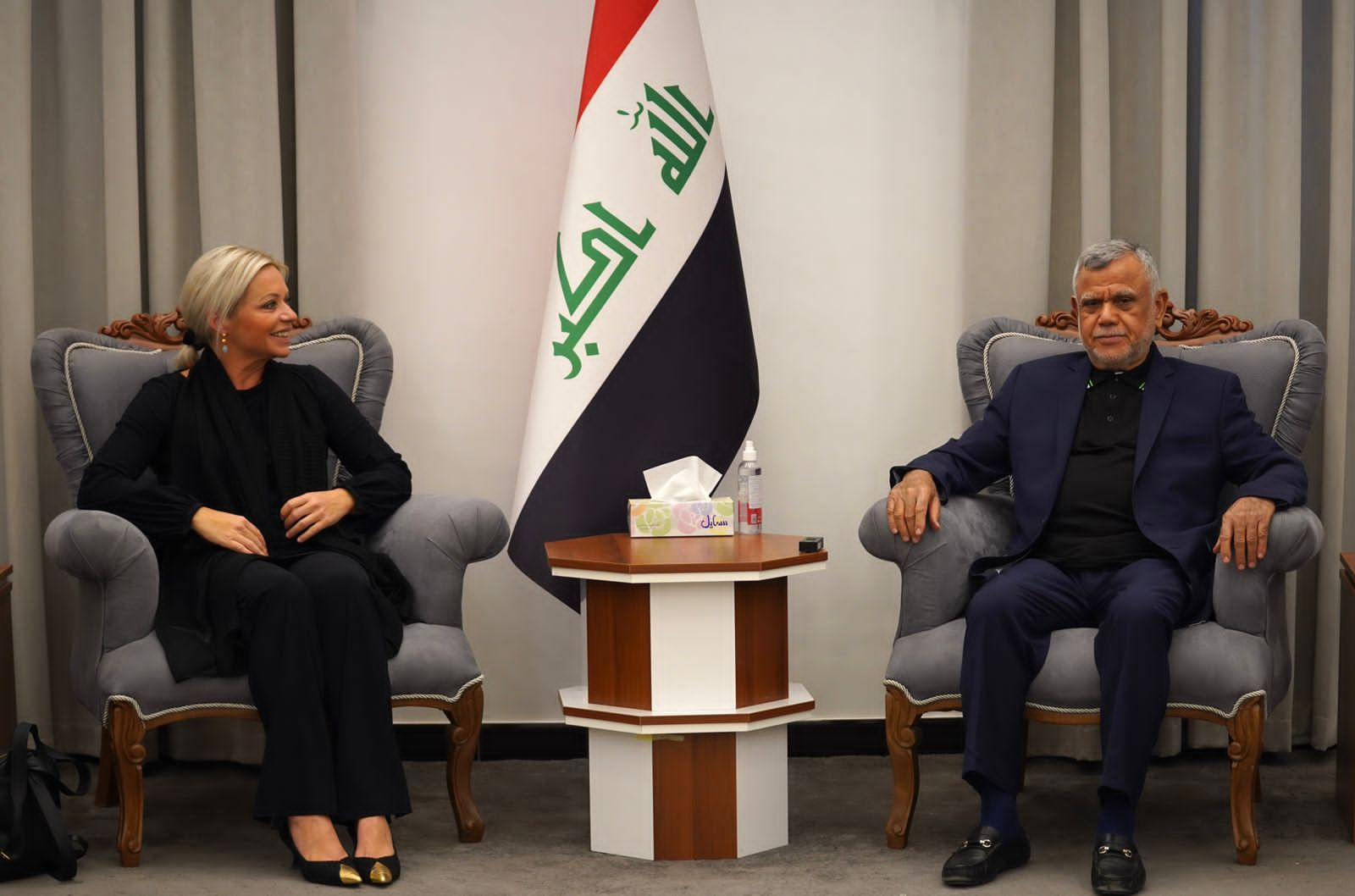 politicsbreakingPlasshartAl Amri
2022-08-04 11:29A-AA+
Shafaq News / The representative of the Secretary-General of the United Nations in Iraq, Jeanine Plasschaert, stressed on Thursday the necessity of stabilizing the political situation and reaching solutions that satisfy all parties.
This came during the reception of the leader in the coordination framework, the head of the Al-Fateh Alliance Hadi Al-Amiri, to Plasschaert, in his office in the capital, Baghdad, according to a statement received by Shafaq News Agency.
According to the statement, the two parties discussed the latest developments in the political situation and ways to address the blockage, and the need to continue dialogues and understandings to reach realistic, acceptable results that adopt constitutional frameworks.
The two sides discussed the file of "the Turkish bombardment and the transgressions that the Turks are taking on the Iraqi borders."
Yesterday, Wednesday, the leader of the Sadrist movement, Muqtada al-Sadr, demanded the dissolution of the current parliament and the holding of early elections, which he said he had not yet decided whether to run or not.
Soon, several political forces, including those affiliated with the coordination framework, announced their support and welcome to Al-Sadr's call for early elections.
In a statement yesterday, Al-Amiri stressed the need for a comprehensive national dialogue in order to set a date, mechanisms and requirements for holding new early elections, including providing appropriate climates to restore citizens' confidence in the political process.
https://shafaq.com/ar/%D8%B3%DB%8C%D8%A7%D8%B3%D8%A9/%D8%A8%D9%84%D8%A7%D8%B3%D8%AE%D8%A7%D8%B1%D8%AA-%D9%84%D9%84%D8%B9%D8%A7%D9%85%D8%B1%D9%8A-%D8%B6%D8%B1%D9%88%D8%B1%D8%A9-%D8%A7%D8%B3%D8%AA%D9%82%D8%B1%D8%A7%D8%B1-%D8%A7%D9%84%D9%88%D8%B6%D8%B9-%D8%A7%D9%84%D8%B3%D9%8A%D8%A7%D8%B3%D9%8A-%D9%88%D8%A7%D9%84%D9%88%D8%B5%D9%88%D9%84-%D9%84%D8%AD%D9%84%D9%88%D9%84-%D8%AA%D8%B1%D8%B6%D9%8A-%D8%AC%D9%85%D9%8A%D8%B9-%D8%A7%D9%84%D8%A7%D8%B7%D8%B1%D8%A7%D9%81