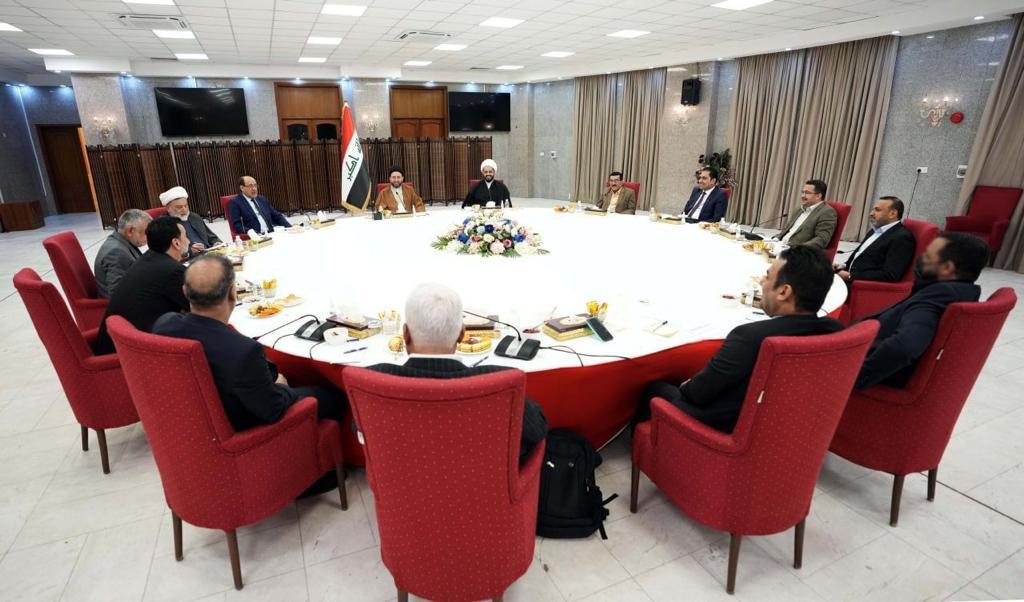 politicsbreakingMuqtada al-SadrShiite coordination framework
2022-08-22 20:47A-AA+
Shafaq News/ Various sources spoke in the comprehensive coordination framework for all Shiite political forces, except for the Sadrist movement, that they hope that the leader of the Sadrist movement will respond to the calls to sit at the dialogue table and end the crisis that the country is going through.
The sources told Shafak News Agency; "The actors in the political scene are making great efforts in order to achieve a rapprochement between the political forces and thus sit at the national dialogue table, which it is hoped that its second session will take place soon after, and it may be after the return of Prime Minister Mustafa Al-Kazemi from Egypt."
She indicated that "it is expected that the United Nations representative will visit Al-Hananah again to inform Al-Sadr the appropriate responses to his requirements that he set in return for his sitting at the dialogue table," stressing that "it is not possible to implement all of Al-Sadr's conditions, especially those related to broadcasting dialogue sessions or the national meeting, especially since it is hoped that a session will be held. A second for the National Dialogue under the auspices of Prime Minister Mustafa Al-Kadhimi.
The sources continued; That "if this condition (the live broadcast) is accepted, this may be limited to the first ceremonies of the meeting only, as broadcasting the details of such meetings may contribute to fueling the street, not calming it, and from here comes the rejection of such demands, but we hope that everyone understands the consequences of that."
And she indicated that "the meeting of the leader of the Al-Fateh Alliance, Hadi Al-Amiri, with the leader of Muqtada Al-Sadr was achieved. Things will inevitably go towards the settlement, because it is not in everyone's interest that the situation remains as it is."
https://shafaq.com/ar/%D8%B3%DB%8C%D8%A7%D8%B3%D8%A9/%D8%A7%D9%84-%D8%B7%D8%A7%D8%B1-%D8%A7%D9%84%D8%AA%D9%86%D8%B3%D9%8A%D9%82%D9%8A-%D9%8A%D8%AE%D8%B4%D9%89-%D8%A7%D9%84%D8%A8%D8%AB-%D8%A7%D9%84%D9%85%D8%A8%D8%A7%D8%B4%D8%B1-%D9%88%D9%8A-%D9%85%D9%84-%D9%86-%D9%8A%D8%AA%D9%81%D9%87%D9%85-%D8%A7%D9%84%D8%B5%D8%AF%D8%B1-%D8%AE%D8%B7%D9%88%D8%B1%D8%A9-%D8%A7%D9%84-%D9%85%D8%B1