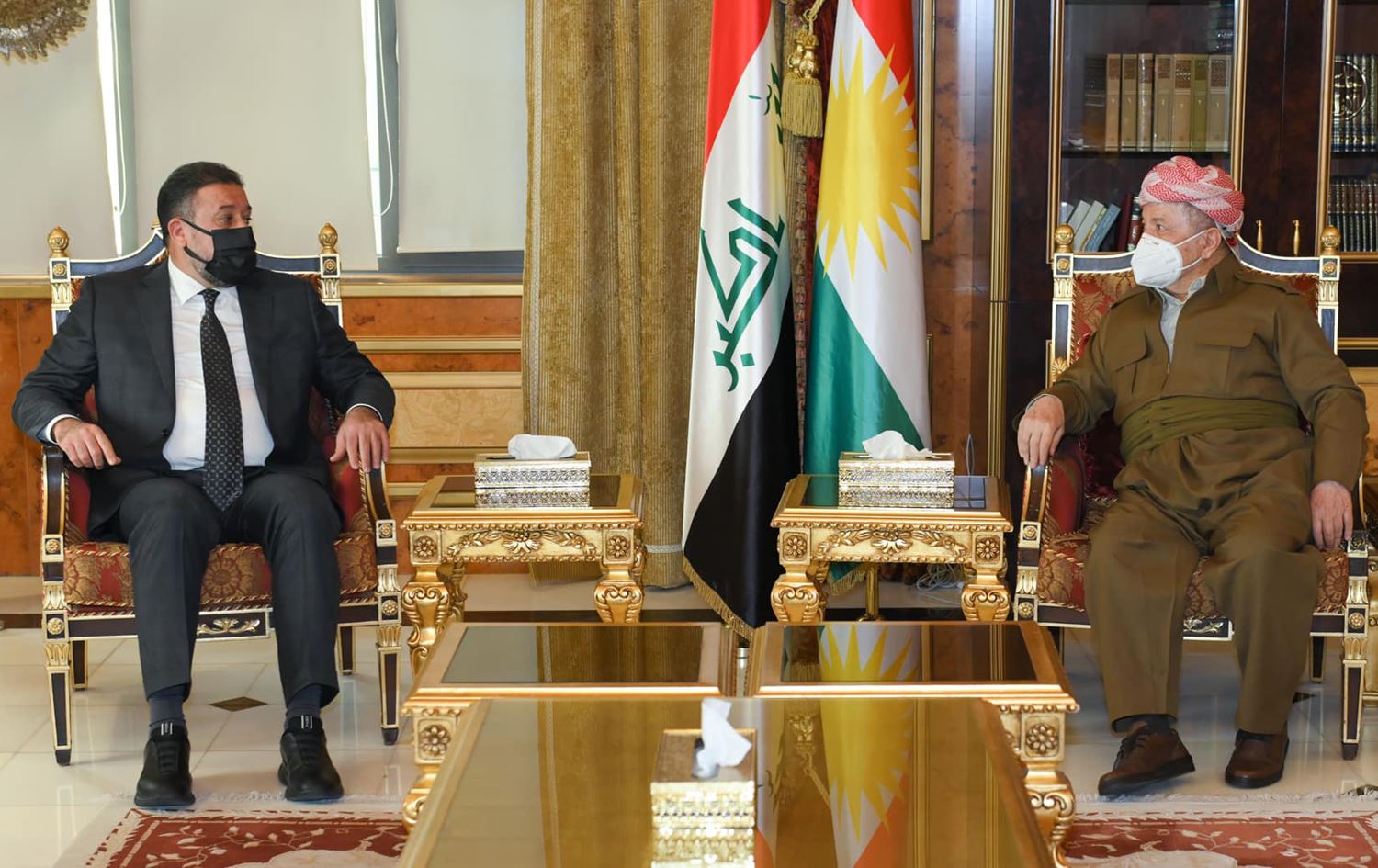 politicsMasoud BarzaniMuqtada al-Sadrkhamis daggerShiite HouseTenderness meetingBarzani's initiative 2022-01-31 13:43A-AA+
Shafaq News/ The leader of the Sovereignty Alliance, Khamis al-Khanjar, valued, on Monday, the initiative launched by the leader of the Kurdistan Democratic Party, Massoud Barzani, to resolve the dispute between the coordination framework and the Sadrist movement, and unify the Shiite house.
The initiative launched by Barzani led to the meeting of the Triple Alliance, in Al-Hanana (Sadr's residence in Najaf), which included Nechirvan Barzani, President of the Kurdistan Region (the Democratic Party), and Khamis al-Khanjar and Muhammad al-Halbousi for (Sovereignty), with al-Sadr.
Shafaq News Agency learned, that an expanded meeting will be held before the presidential election session, bringing together the Triple Alliance (the Sadrist bloc, the Kurdistan Democratic Party, the Sovereignty Alliance) on one hand, and the leaders of the coordination framework on the other hand, in the capital, Baghdad.
Al-Khanjar wrote, in a tweet to him on Twitter, that "most of the initiatives of difficult times come from good Erbil, and from President Barzani, in 2010 he saved the country from a stifling political crisis, and today the same scene is repeated."
He added: "Thanks and appreciation to Muqtada al-Sadr for accepting the initiative and with a purely national decision, in order to preserve the unity and stability of Iraq."
This comes, after a member of the Kurdistan Democratic Party, Bankin Rekani, expressed his displeasure earlier in the day that Khanjar did not refer to Barzani's initiative during his comment on the Al-Hananah meeting in which he accompanied the President of Kurdistan Region and Parliament Speaker with Al-Iraqi, to meet with the leader of the Sadrist movement Muqtada al-Sadr. .
Al-Khanjar had tweeted, earlier on Monday, about the meeting that took place in Al-Hananah between the President of Kurdistan Region, Nechirvan Barzani, the leader of the Sadrist movement, Muqtada Al-Sadr, and Parliament Speaker Muhammad Al-Halbousi.
In his tweet, al-Khanjar attributed the initiative of Kurdish leader Massoud Barzani to al-Sadr.
https://shafaq.com/ar/%D8%B3%DB%8C%D8%A7%D8%B3%D8%A9/%D9%81%D9%8A-%D9%85%D9%88%D9%82%D9%81-%D8%AC%D8%AF%D9%8A%D8%AF-%D8%A7%D9%84%D8%AE%D9%86%D8%AC%D8%B1-%D9%8A%D8%AB%D9%85-%D9%86-%D9%85%D8%A8%D8%A7%D8%AF%D8%B1%D8%A9-%D8%A8%D8%A7%D8%B1%D8%B2%D8%A7%D9%86%D9%8A-%D9%86%D9%82%D8%B0-%D8%A7%D9%84%D8%B9%D8%B1%D8%A7%D9%82-%D8%B9%D8%A7%D9%85-2010-%D9%88%D8%A7%D9%84%D9%8A%D9%88%D9%85-%D9%8A%D8%AA%D9%83%D8%B1%D8%B1-%D8%A7%D9%84%D9%85%D8%B4%D9%87%D8%AF