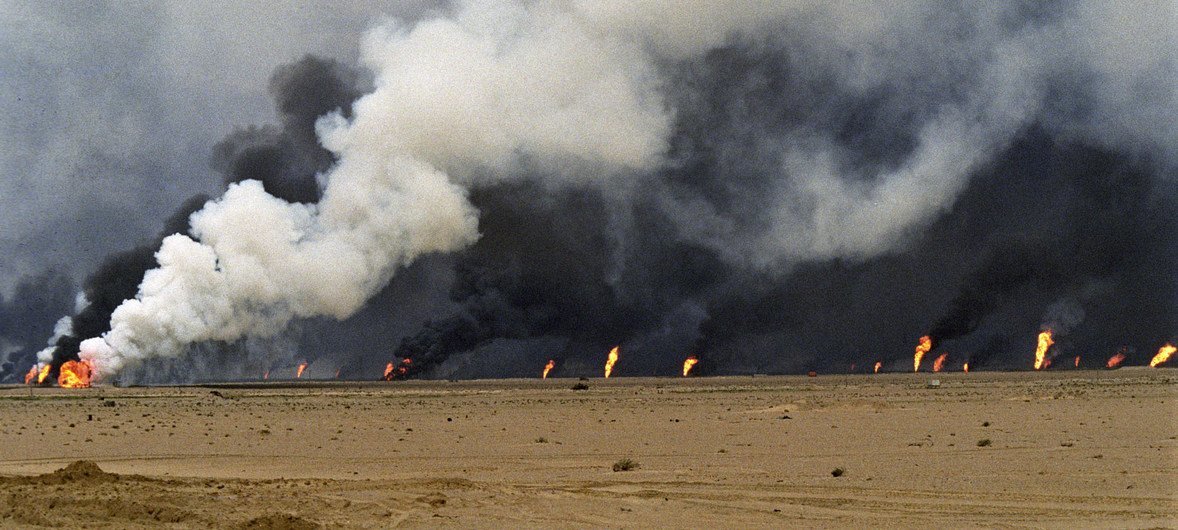 UN Photo/John IsaacThe burning of an oil well by the Iraqi forces in the fields of Al-Muqwa. In the foreground is a lake of oil due to uncovered oil wells. 30 March 1991. January 13, 2022peace and security
The United Nations Commission on Compensation for Damage Resulting from Iraq's 1990 invasion of Kuwait announced on Thursday that more than 30 years after Saddam Hussein's invasion of Kuwait, Kuwait has received the latest war reparations from the State of Iraq.

Thus, Baghdad has completed compensation payments and paid more than 629 million dollars for the losses resulting from Iraq's invasion of Kuwait in 1990, and its occupation of it for a period of seven months.
In a statement, the Compensation Committee said: "Today, the United Nations Compensation Committee provided the Government of the State of Kuwait with an amount of $629,324,488 to pay the Committee's remaining claim with an unpaid compensation balance."
With this amount, all claimants who were awarded compensation by the Commission will now have received the full amount of their compensation.
Over the past 30 years, Iraq has paid Kuwait $50 billion in war reparations. However, in light of the financial difficulties due to the pandemic, and the drop in oil prices, Baghdad demanded to postpone the payment of the remaining two billion dollars.
In total, the commission has paid $52.4 billion in damages to more than 1.5 million claimants worldwide. The UN Compensation Commission related to the Gulf War had received about 2.7 million claims and completed its review of all claims in 2005.
An extraordinary session on the occasion of the end of its work
As the commission approaches its conclusion, a special meeting of the Board of Directors will be held on February 9 to celebrate the full payment of all compensation awarded by the commission and the expiration of its mandate.
The successful claims were paid from the UN Compensation Commission Fund, which received a percentage of the proceeds from sales of Iraqi oil and petroleum products exports.
This percentage has been established pursuant to various Security Council resolutions and Governing Council decisions of the Committee and was recently set at 3 per cent by Governing Council decision 276 (2017).
The Commission was established in 1991 as a subsidiary organ of the UN Security Council, in accordance with Security Council Resolutions 687 (1991) and 692 (1991) to process claims and pay compensation for losses and damages incurred by individuals, companies, governments and international organizations as a direct result of Iraq's invasion and occupation of Kuwait (from 2 August / August 1990 to March 2, 1991).