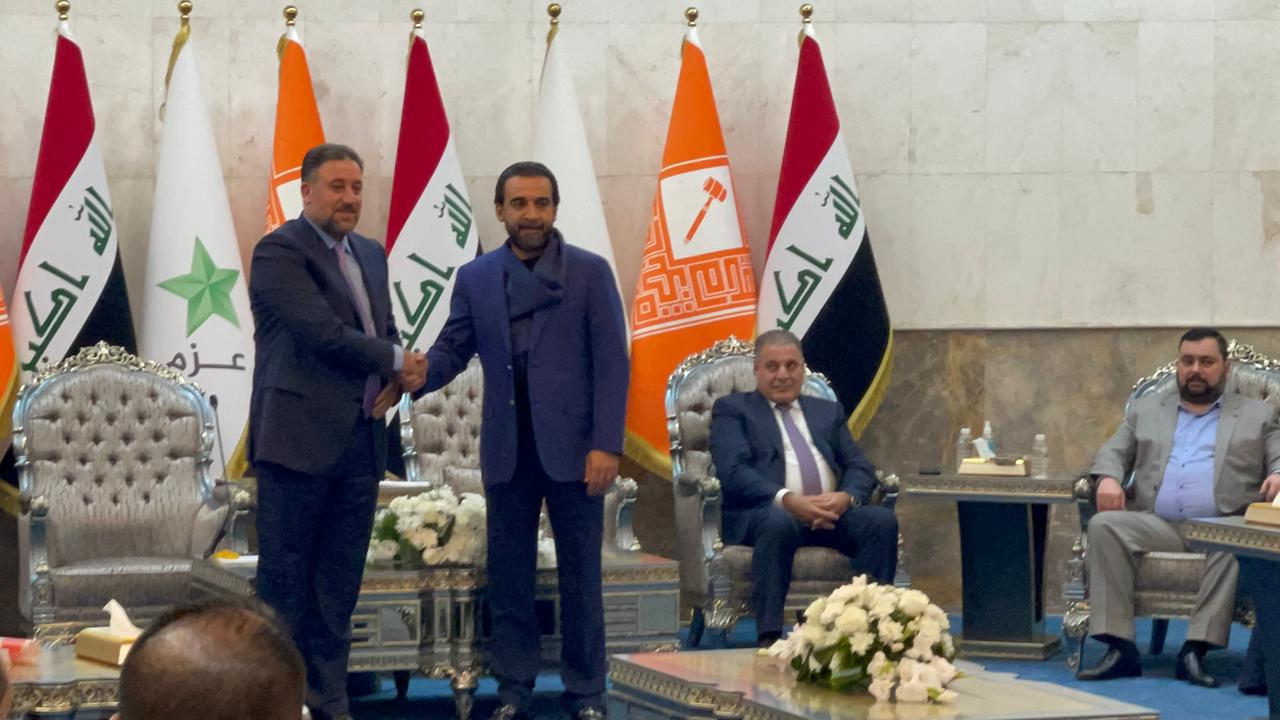 politicsbreakingAl-HalbousiPresidency of ParliamentdeterminationAdvance 2022-01-08 14:32A-AA+
Shafaq News/ An informed political source revealed that the two largest coalitions of Sunni political forces on Saturday evening chose Muhammad al-Halbousi as a candidate for the presidency of the Iraqi parliament in its fifth session.
The source told Shafaq News Agency, that members of my alliance, headed by Muhammad al-Halbousi, and a determination led by Khamis al-Khanjar voted unanimously to choose al-Halbousi as a candidate for the Sunni forces to occupy the position of parliament speaker for a second term.
The source had told Shafaq News Agency, that the two alliances reached an agreement during a meeting held in Baghdad to form a unified alliance headed by Khamis al-Khanjar.
The progress and determination of the two largest alliances of Sunni political forces are considered, and the first won 37 seats in the last parliamentary elections that took place last October, while the second won 14 seats.
The agreement comes on the eve of the parliament's first session to elect a speaker and two deputies.
The agreement also comes after a lightning visit by Al-Halbousi and Khanjar to Erbil; During which they met the Kurdish leader and head of the Democratic Party Massoud Barzani.
https://shafaq.com/ar/%D8%B3%DB%8C%D8%A7%D8%B3%D8%A9/%D8%A8%D8%A7%D9%84-%D8%AC%D9%85%D8%A7%D8%B9-%D8%AA%D9%82%D8%AF%D9%85-%D9%88-%D8%B9%D8%B2%D9%85-%D9%8A%D8%AE%D8%AA%D8%A7%D8%B1%D8%A7%D9%86-%D8%A7%D9%84%D8%AD%D9%84%D8%A8%D9%88%D8%B3%D9%8A-%D9%85%D8%B1%D8%B4%D8%AD%D8%A7-%D9%84%D8%B1-%D8%A7%D8%B3%D8%A9-%D8%A7%D9%84%D8%A8%D8%B1%D9%84%D9%85%D8%A7%D9%86