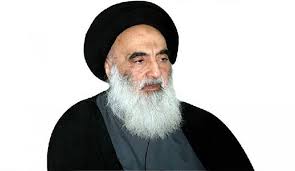 politicsNouri al-MalikiMuqtada al-SadrAli al-SistaniSadrist Movementcoordinating frameworkShiite reference 2022-01-30 13:12A-AA+
Shafaq News/ Two sources from within the coordination framework reported, on Sunday, that the framework forces submitted a request to the religious authority, Ali al-Sistani, to intervene to resolve the ongoing dispute with the leader of the Sadrist movement, Muqtada al-Sadr.
One of the sources told Shafak News Agency, "The coordinating framework forces collectively submitted to Al-Sistani a referendum, i.e. in the form of a request for intervention from the reference regarding the dispute between the framework and al-Sadr."
The source added, "The position of the decisive coordination framework regarding everything that is going on in the political arena will be determined by what the session on the largest parliamentary bloc will reveal," adding that it is likely that "a meeting will be held between the framework forces with Al-Sadr, to resolve the political movement and participation in the government or not."
Another source told the agency, "Sistani has not responded yet, but he may interfere in the so-called last-hour dialogues or last positions if he is convinced or confirms that there is a danger to Iraq on the one hand, or to abolish the Shiite role in the political scene by fragmenting it from On the other hand".
For his part, a source close to Al-Sistani's reference told Shafak News Agency, that the reference distances itself from interfering with the course of the political process, and it does not represent a specific sect, but rather it sponsors Iraqis in general and is concerned with the interests of the Iraqi people in general without any discrimination.
Attempts to enter parties from the coordination framework in a national majority government that Muqtada al-Sadr is confronting, jointly with the Kurdistan Democratic Party, and the alliance of those who advanced headed by Muhammad al-Halbousi, and Azm headed by Khamis al-Khanjar, faltered.
https://shafaq.com/ar/%D8%B3%DB%8C%D8%A7%D8%B3%D8%A9/%D8%A7%D9%84-%D8%B7%D8%A7%D8%B1-%D9%8A%D8%B7%D9%84%D8%A8-%D9%88%D8%B3%D8%A7%D8%B7%D8%A9-%D8%A7%D9%84%D8%B3%D9%8A%D8%B3%D8%AA%D8%A7%D9%86%D9%8A-%D9%84%D8%AD%D9%84-%D8%A7%D9%84%D8%AE%D9%84%D8%A7%D9%81-%D9%85%D8%B9-%D8%A7%D9%84%D8%B5%D8%AF%D8%B1-%D9%88%D9%85%D9%82%D8%B1%D8%A8-%D9%85%D9%86-%D8%A7%D9%84%D9%85%D8%B1%D8%AC%D8%B9%D9%8A%D8%A9-%D9%8A%D9%88%D8%B6%D8%AD