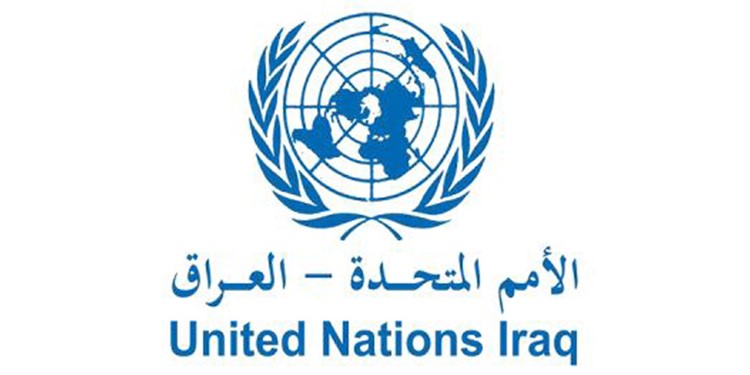 politicsbreakingThe bombing of the green zoneunami 2022-01-13 18:54A-AA+
Shafaq News/ The United Nations mission in Iraq, "UNAMI", confirmed on Thursday that targeting embassies with missiles is a brutal attempt to destabilize the country.
In a statement received by Shafaq News Agency, the UN mission stated that "targeting embassies with missiles and causing casualties among Iraqi civilians are brutal attempts to destabilize the country."
"Peace and security are prerequisites for addressing urgent domestic priorities and affirming Iraq's sovereignty," she added.
Earlier today, a security source told Shafaq News Agency that an attack with three missiles launched from Karara area of ​​Al-Dora city, south of the capital, Baghdad, targeted the US embassy building in the Green Zone. The embassy's "Seram" air defense system managed to intercept two missiles , while the third fell within the approaches of the embassy.
The Security Media Cell confirmed that the missile bombing, "a cowardly terrorist act, exposed the innocent residents of the Green Zone in central Baghdad and the headquarters of diplomatic missions that the Iraqi security forces bear the responsibility of protecting," noting that it resulted in the injury of a girl and a woman.
The US embassy in Baghdad had indicated that "the missile attack on the American embassy compound was carried out by terrorist groups seeking to undermine Iraq's security, sovereignty and international relations," stressing that "these types of heinous attacks are an attack not only on diplomatic facilities, but on the sovereignty of the country." Iraq itself.
The leader of the Sadrist movement, Muqtada al-Sadr, believed that the bombing of the US embassy in Baghdad, by the "resistance" prosecutor, was intended to delay the withdrawal of US forces from Iraq.
While the leader of Asa'ib Ahl al-Haq, Qais al-Khazali, stated that "targeting al-Khadra at this time, and in the same old method, is an attempt to shuffle the cards," stressing that "the resistance factions did not target the American embassy now."
https://shafaq.com/ar/%D8%B3%DB%8C%D8%A7%D8%B3%D8%A9/%D9%8A%D9%88%D9%86%D8%A7%D9%85%D9%8A-%D8%A7%D8%B3%D8%AA%D9%87%D8%AF%D8%A7%D9%81-%D8%A7%D9%84%D8%B3%D9%81%D8%A7%D8%B1%D8%A7%D8%AA-%D9%88%D8%A7%D9%84%D9%85%D8%AF%D9%86%D9%8A%D9%8A%D9%86-%D9%85%D8%AD%D8%A7%D9%88%D9%84%D8%A7%D8%AA-%D9%88%D8%AD%D8%B4%D9%8A%D8%A9-%D9%84%D8%B2%D8%B9%D8%B2%D8%B9%D8%A9-%D8%A7%D8%B3%D8%AA%D9%82%D8%B1%D8%A7%D8%B1-%D8%A7%D9%84%D8%B9%D8%B1%D8%A7%D9%82