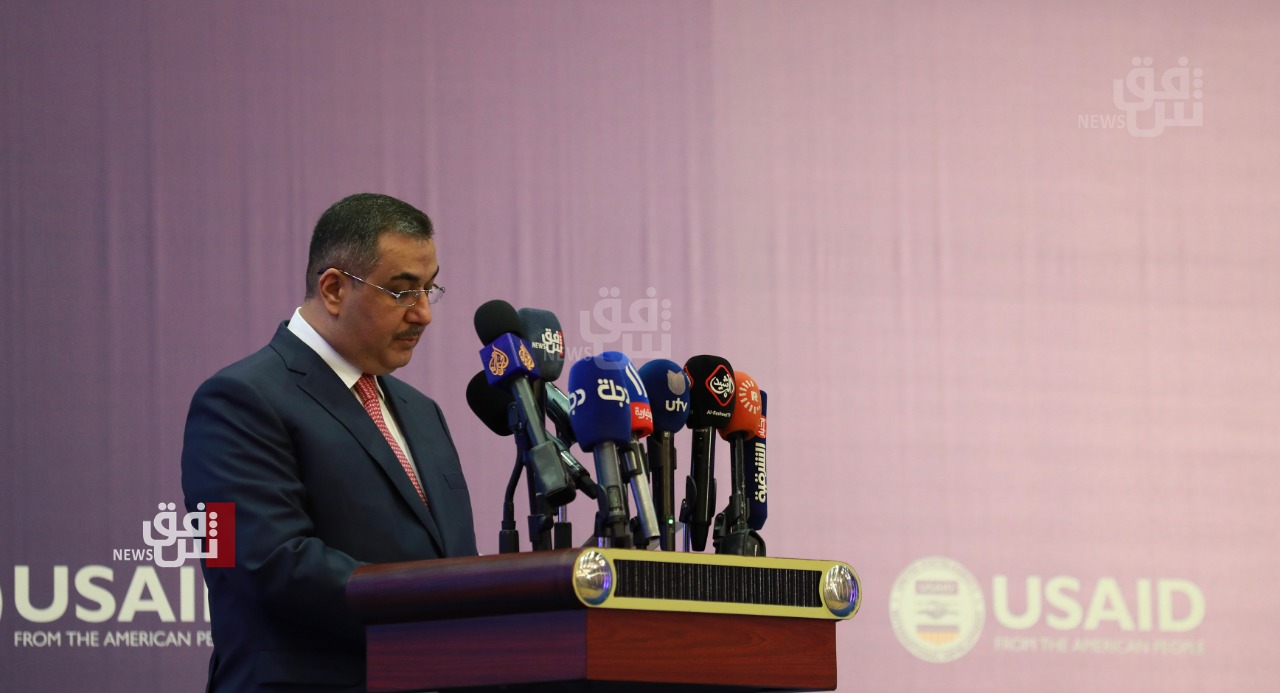 economyAmericaIraqi economycentral bank
2022-06-29 04:17A-AA+
Shafaq News/ The Central Bank of Iraq said, on Wednesday, that it saved the Iraqi economy from collapse in 2014, while America stated that it contributed 40 million dollars in aid to Iraq to develop the Iraqi economy.
Central Bank Governor Mustafa Ghaleb Makheef said during the "Access to Finance" conference, which was attended by Shafak News Agency, that "the bank was able to stop the collapse of the Iraqi economy during the year 2014 with the collapse of security conditions and the drop in oil prices globally through a package of financing operations," noting that " The task of the central bank is to address challenges at critical times for the economy.
He added, "The bank was able through launching financing initiatives, including liquidity support for government banks and initiatives to finance farmers' dues," noting that "the financing of these initiatives has currently reached 18 trillion dinars."
He pointed out that "the bank intensified its efforts in the field of clean energy through the initiative to finance one trillion dinars to purchase electricity generating units operating on solar energy," explaining that this funding was "launched in cooperation with the Association of Banks, a social initiative that contributes to linking the banking sector with society to develop some shrines." religious, tourist facilities, job opportunities, and others.
For her part, the US Ambassador to Iraq, Alina Romanowski, confirmed that "the US government is proud to launch the activities of the conference to build a thriving private sector on the basis of transparency," noting that "on the 18th of last May, the US Agency for Development attracted more than $40 million in private investments. seeking to support economic growth and promote greater prosperity throughout Iraq."
"I announce today an important partnership project to build the first gas separation plant between the private sector and the Ministry of Industry and Minerals, and the project creates more than 30,000 job opportunities," she said.
https://shafaq.com/ar/%D8%A7%D9%82%D8%AA%D8%B5%D9%80%D8%A7%D8%AF/%D8%A7%D9%84%D8%A8%D9%86%D9%83-%D8%A7%D9%84%D9%85%D8%B1%D9%83%D8%B2%D9%8A-%D8%A7%D9%86%D9%82%D8%B0%D9%86%D8%A7-%D8%A7%D9%84%D8%A7%D9%82%D8%AA%D8%B5%D8%A7%D8%AF-%D8%A7%D9%84%D8%B9%D8%B1%D8%A7%D9%82%D9%8A-%D9%85%D9%86-%D8%A7%D9%84%D8%A7%D9%86%D9%87%D9%8A%D8%A7%D8%B1-%D9%85%D8%B1%D9%8A%D9%83%D8%A7-%D8%B3%D8%A7%D9%87%D9%85%D9%86%D8%A7-%D8%A8%D9%8040-%D9%85%D9%84%D9%8A%D8%A7%D8%B1%D8%A7