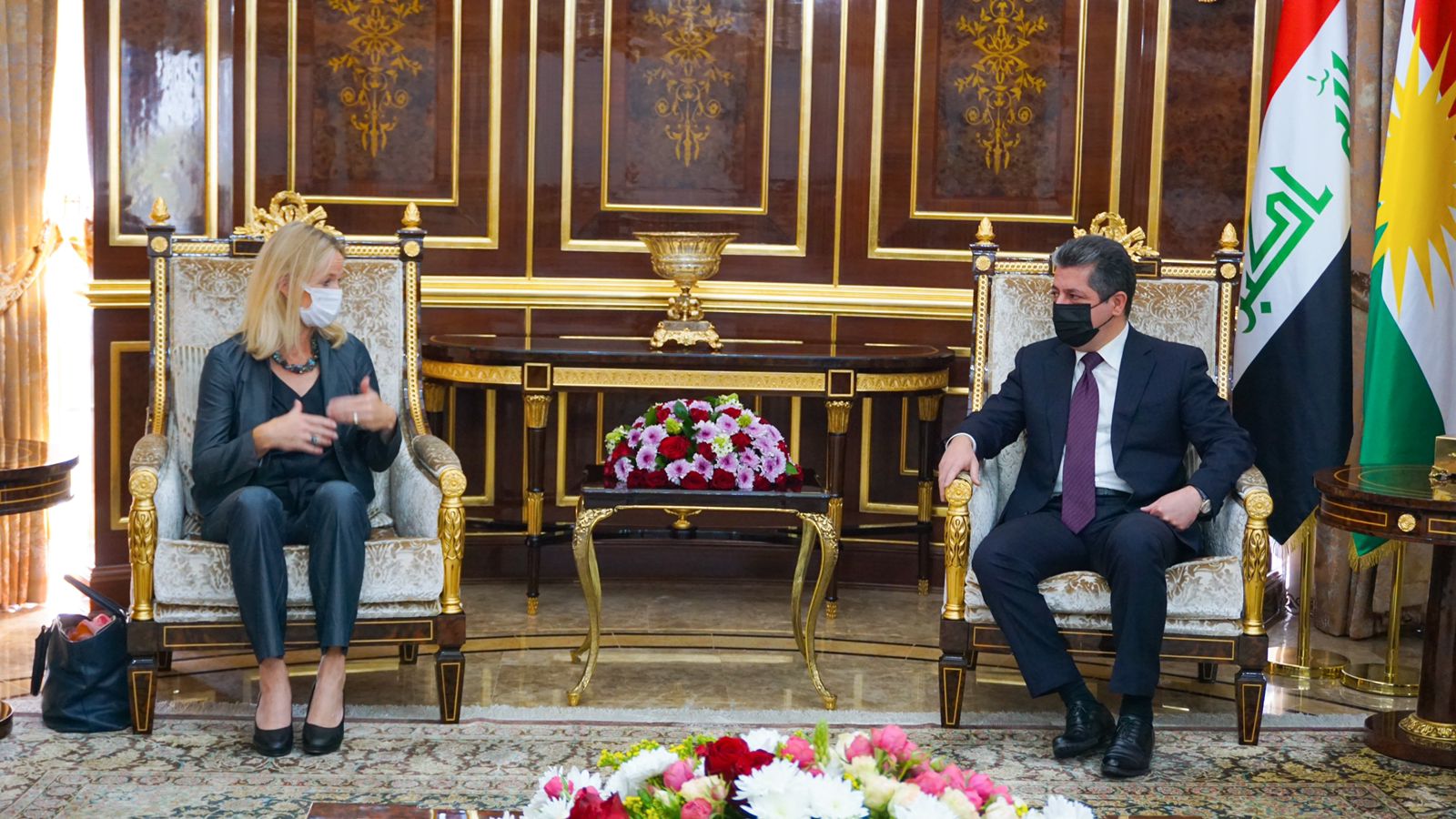 politicsIraqMasrour BarzaniThe election 2021-09-18 07:48A-AA+
Shafaq News/ The Prime Minister of Kurdistan Regional Government, Masrour Barzani, met today, Saturday, the head of the European Union mission to monitor the Iraqi elections, Viola von Cramon and her accompanying delegation.
A statement issued by the regional government stated that during the meeting, the head of the European Union mission presented an overview of the mission's work, activities and tasks aimed at monitoring the voting process for the Iraqi Parliament elections, and indicated that the mission's work is limited to monitoring the progress of the electoral process and not interfering in it in any way.
The Prime Minister expressed his appreciation for the important role played by the European Union in monitoring the elections, expressing his hope that the electoral process will take place in a peaceful and fair atmosphere, far from attempts of fraud and violence, especially in the Kurdish areas outside the administration of the region (disputed areas).
Masrour Barzani also affirmed the readiness of Kurdistan Regional Government institutions and departments for any of the necessary forms of cooperation and coordination with the European Union mission.
https://shafaq.com/ar/%D8%B3%DB%8C%D8%A7%D8%B3%D8%A9/%D9%85%D8%B3%D8%B1%D9%88%D8%B1-%D8%A8%D8%A7%D8%B1%D8%B2%D8%A7%D9%86%D9%8A-%D9%8A-%D9%85%D9%84-%D8%A7%D8%AC%D8%B1%D8%A7-%D8%A7%D9%84%D8%A7%D9%86%D8%AA%D8%AE%D8%A7%D8%A8%D8%A7%D8%AA-%D8%A8%D8%A7%D9%84%D8%B9%D8%B1%D8%A7%D9%82-%D8%A8-%D8%AC%D9%88%D8%A7-%D8%B3%D9%84%D9%85%D9%8A%D8%A9-%D9%88%D8%B9%D8%A7%D8%AF%D9%84%D8%A9-%D9%88-%D8%A8%D8%B9%D9%8A%D8%AF%D8%A7-%D8%B9%D9%86-%D8%A7%D9%84%D8%B9%D9%86%D9%81-%D9%88%D8%A7%D9%84%D8%AA%D8%B2%D9%88%D9%8A%D8%B1