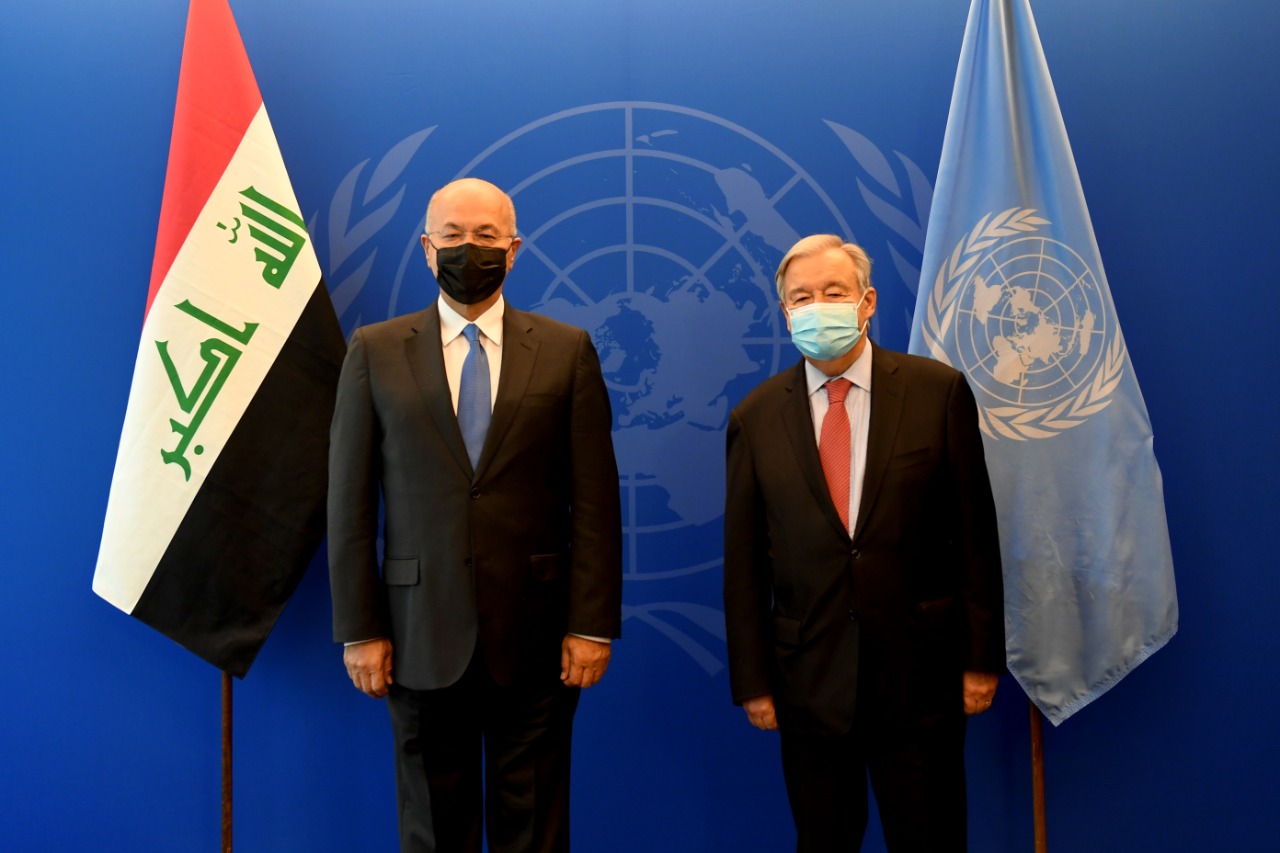 politicsUnited nationsNew YorkGuterresIraqi President Barham Salih 2021-09-22 14:18A-AA+
Shafaq News / The Iraqi President, Barham Salih, confirmed on Wednesday that ensuring the elections scheduled for the tenth of next October and their integrity is a top priority, while noting that his country supports easing tensions in the region, as well as international coordination to confront climate change.
This came during Saleh's meeting, at the United Nations Headquarters in New York, with the Secretary-General of the United Nations, Antonio Guterres, according to a statement issued by the Presidency of the Republic of Iraq and received by Shafaq News.
According to the statement, President Salih congratulated Guterres on his re-election as Secretary-General of the organization, and praised the great support provided by the United Nations to Iraq in various fields, and support in the electoral field and facilitating the task of sending observers for the integrity and transparency of the elections scheduled for October 10.
Saleh noted the importance of the upcoming elections for the Iraqi people and the need to provide the utmost integrity, justice and transparency in their conduct, stressing the need to "support efforts to consolidate the security and stability of Iraq and its people, and the importance of working to reduce tensions in the region, and restore Iraq to its pivotal role in it."
The Iraqi president stressed the necessity of strengthening international solidarity in facing the challenges of the era represented in combating violence and terrorism, as well as facing the climate change crisis and protecting the environment, which has become an imminent threat to all humanity.
He pointed out that "Iraq is looking forward to international support and expertise in this regard in order to support its national plans for environmentally revitalizing Mesopotamia and to establish concepts of a green economy."
For his part, Guerich praised "the progress made by Iraq, and its tireless efforts to ease regional tensions," stressing that "the United Nations organization will continue to support Iraq and through its mission in the country and at the United Nations to support the security, stability and prosperity of the Iraqi people."
https://shafaq.com/ar/%D8%B3%DB%8C%D8%A7%D8%B3%D8%A9/%D8%B5%D8%A7%D9%84%D8%AD-%D9%84%D8%BA%D9%88%D8%AA%D9%8A%D8%B1%D8%B4-%D8%B6%D9%85%D8%A7%D9%86-%D8%A7%D9%84%D8%A7%D9%86%D8%AA%D8%AE%D8%A7%D8%A8%D8%A7%D8%AA-%D9%88%D9%86%D8%B2%D8%A7%D9%87%D8%AA%D9%87%D8%A7-%D9%88%D9%84%D9%88%D9%8A%D8%A9-%D9%88%D9%86%D8%AF%D8%B9%D9%85-%D8%AA%D8%AE%D9%81%D9%8A%D9%81-%D8%AA%D9%88%D8%AA%D8%B1%D8%A7%D8%AA-%D8%A7%D9%84%D9%85%D9%86%D8%B7%D9%82%D8%A9