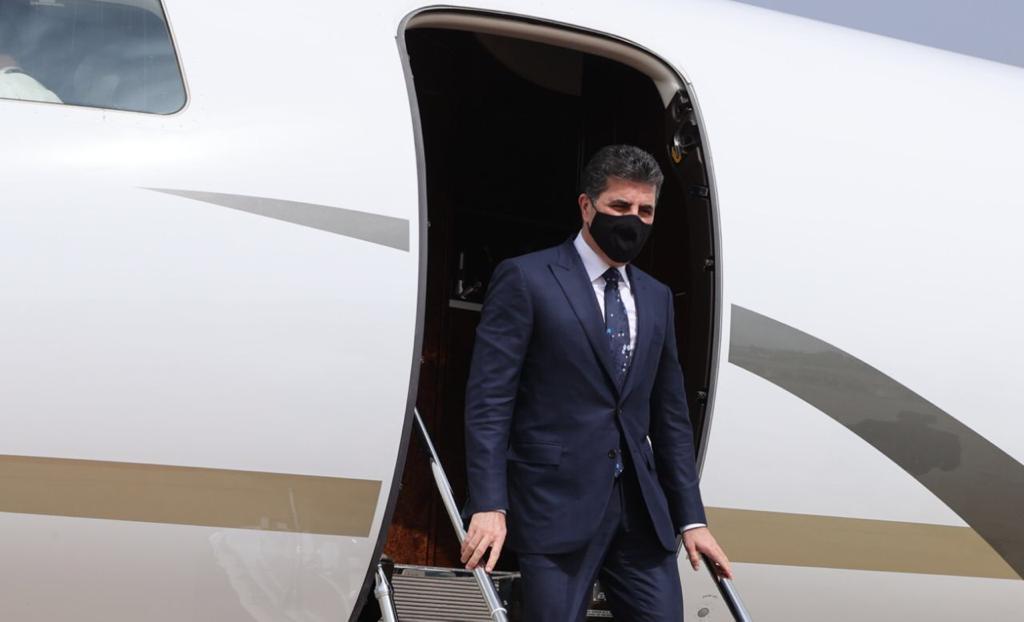 KurdistanbreakingNechirvan BarzaniLondonVisit 2021-09-18 13:30A-AA+
Shafaq News/ After an official visit to London that lasted for several days and his meeting with British Prime Minister Boris Johnson, Kurdistan Region President Nechirvan Barzani returned, on Saturday evening, to Erbil, the capital of Kurdistan Region.
A statement issued by the Presidency of the Region, received by Shafaq News Agency, stated that Barzani met during his visit with the President of the British House of Lords and the British Ministers of Foreign Affairs, Defense, Armed Forces and Education.
On the sidelines of the visit, the President of the Region met with Mohammed bin Zayed, Crown Prince of Abu Dhabi, Deputy Commander-in-Chief of the UAE Armed Forces and Chairman of the Executive Council of the Emirate of Abu Dhabi.
During the meetings, Barzani discussed ways to develop relations, areas of cooperation, the situation in Iraq and the Kurdistan Region, the latest developments in the region, and exchanged views on them.
As part of his visit, Barzani visited the British Royal Military Academy Sandhurst and met with the politician and former British Prime Minister John Major and the group of Parliamentarians who are friends of Kurdistan in the British Parliament.
https://shafaq.com/ar/%D9%83%D9%88%D8%B1%D8%AF%D8%B3%D9%80%D9%80%D8%AA%D8%A7%D9%86%D9%8A%D8%A7%D8%AA/%D8%B1-%D9%8A%D8%B3-%D9%82%D9%84%D9%8A%D9%85-%D9%83%D9%88%D8%B1%D8%AF%D8%B3%D8%AA%D8%A7%D9%86-%D9%8A%D8%AE%D8%AA%D9%85-%D8%B2%D9%8A%D8%A7%D8%B1%D8%AA%D9%87-%D9%84%D9%89-%D9%84%D9%86%D8%AF%D9%86-%D9%88%D9%8A%D8%B9%D9%88%D8%AF-%D9%84-%D8%B1%D8%A8%D9%8A%D9%84