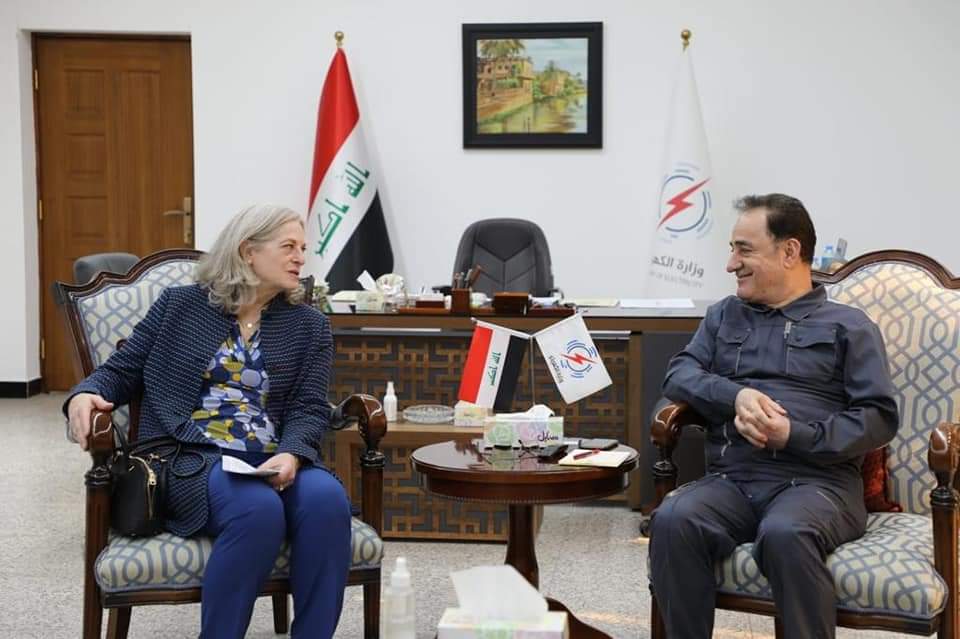 politicsIraqAmericaThe Ministry of Electricity
2022-09-24 08:29A-AA+
Shafaq News/ The Minister of Electricity, Adel Karim confirmed, on Saturday, that the ministry is moving towards solar and steam power plants to secure electricity, while the US ambassador called on international companies to head to Iraq as it is a fertile environment for the implementation of projects.
In a statement received by Shafaq News Agency, the ministry's media office said that the Minister of Electricity received in his office in Baghdad the US ambassador to Iraq, Elena Romanowski, and they discussed the importance of electrical interconnection projects and the extent of their strategy for the national grid.
The Iraqi minister said that the ministry went in several directions with the Gulf, the Kingdom of Saudi Arabia, the Kingdom of Jordan, and Turkey, in this regard, adding, "The great renaissance that we have worked on to introduce a large number of projects, stations and carrier lines, which have been out of order for a long time, which contributed to a clear stability of the national system."
Karim pointed out that "the ministry is continuing to work on diversifying energy sources and contracting with international companies to establish solar power plant projects, which the ministry was keen to distribute in most governorates of Iraq, and the ministry pays great attention to wind projects for energy production, as well as generating electricity from waste recycling in coordination with the Secretariat's departments municipality and local government.
And he indicated that "the prepared plan includes the installation of combined cycle units, and the establishment of new steam stations that will be a backup load center for the system."
For her part, the US ambassador confirmed that she is keeping pace with the development of the electricity sector in Iraq with care and attention, and she urges sober companies to work in Iraq as it is a good and suitable environment for work, especially the electricity sector.
https://shafaq.com/ar/%D8%B3%DB%8C%D8%A7%D8%B3%D8%A9/%D8%A7%D9%84%D9%83%D9%87%D8%B1%D8%A8%D8%A7-%D8%AA%D9%83%D8%B4%D9%81-%D8%B9%D9%86-%D8%AE%D8%B7%D8%AA%D9%87%D8%A7-%D9%84%D8%B2%D9%8A%D8%A7%D8%AF%D8%A9-%D8%A7%D9%84-%D9%86%D8%AA%D8%A7%D8%AC-%D9%88%D8%A7%D9%85%D8%B1%D9%8A%D9%83%D8%A7-%D8%AA%D8%AF%D8%B9%D9%88-%D8%A7%D9%84%D8%B4%D8%B1%D9%83%D8%A7%D8%AA-%D8%A7%D9%84%D8%B9%D8%A7%D9%84%D9%85%D9%8A%D8%A9-%D9%84%D9%84%D8%B9%D9%85%D9%84-%D9%81%D9%8A-%D8%A7%D9%84%D8%B9%D8%B1%D8%A7%D9%82