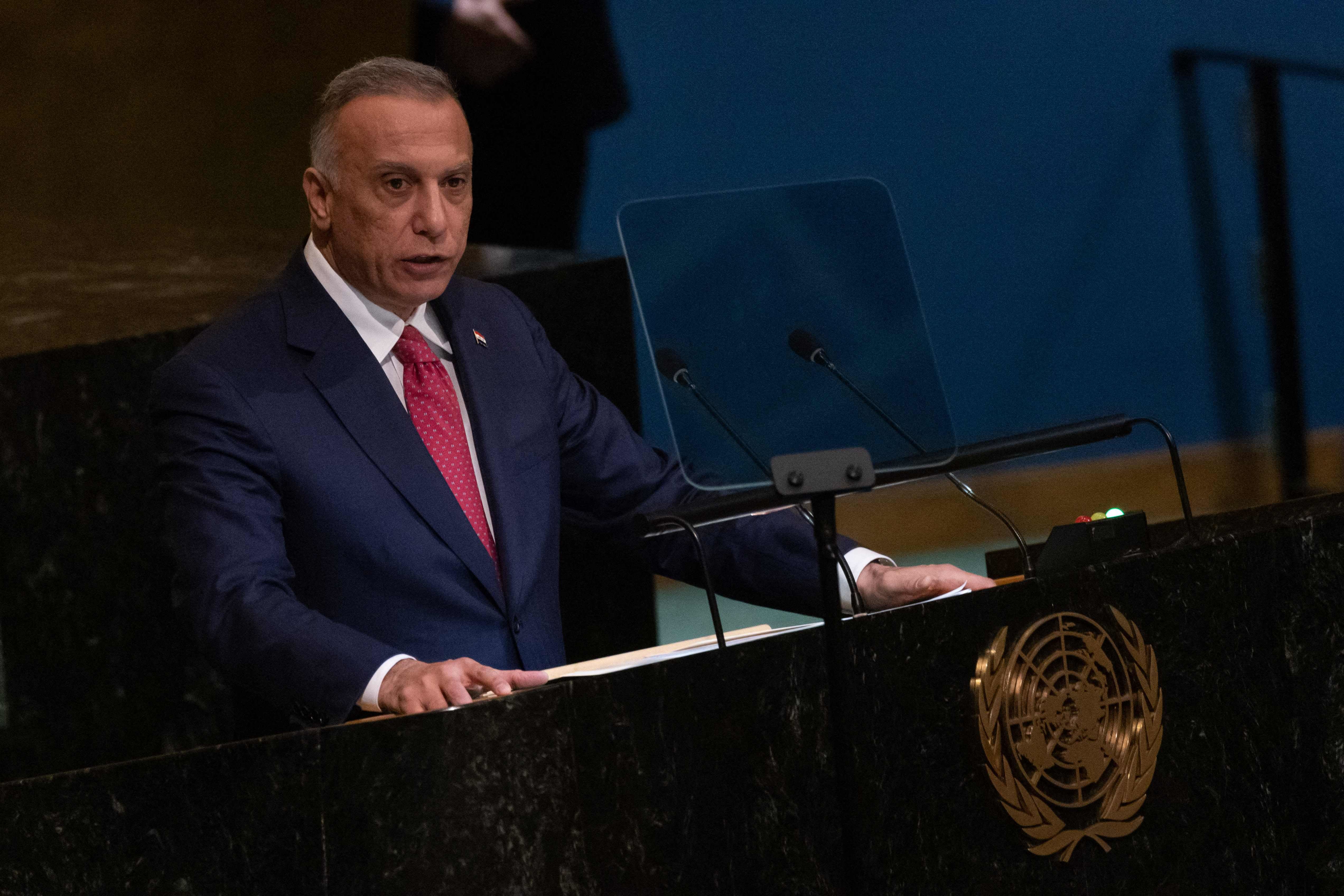 Maad Fayyad
Iraqi political figures see that there is a great opportunity for Mustafa Al-Kazemi to remain in his position as Prime Minister, either to head a transitional government that will undertake the process of holding early elections after the dissolution of parliament, or for a second term.

These political figures spoke to Rudaw Media Network about the justifications for Al-Kazemi remaining in his position, "especially since the neighboring Arab countries, the Kingdom of Saudi Arabia, the Hashemite Kingdom of Jordan, the Arab Gulf states and Egypt, in addition to Turkey and Iran, to some extent, support Al-Kazemi's remaining in office for a second term, and that The US administration may support this opportunity."
On November 30, 2019, Adel Abdul-Mahdi, the former prime minister, had submitted his resignation from the presidency of the Council of Ministers to the Speaker of Parliament, Muhammad al-Halbousi, under pressure from the October protesters, and Parliament approved it at its meeting held on December 1, 2019.
The President of the Republic, Barham Salih, assigned, according to his constitutional powers, Mustafa Al-Kazemi to form the government, after he refused, assigning three candidates to this position. Parliament voted on Al-Kazemi's government, which was described as "interim", as he promised to hold early elections, bring the killers of protesters to justice, and fight corruption.
Indeed, he carried out his promise and held early elections, on October 10, 2021, which were described as the best in the history of Iraq after 2003, as he did not run in these elections, and took a set of measures to fight corruption and limit the spread of uncontrolled weapons.
Al-Kazemi's supporters insist that the prime minister does not have a magic wand to address all the negatives overnight, and he must be given an adequate opportunity to arrange the situation of the confused Iraqi house amid crises that have accumulated for many years, especially since he achieved in a short time what other heads of previous governments did not achieve. .
Al-Kazemi said, a year after he assumed the responsibility of prime minister: "Let us have faith in the future, for I inherited the failure of 17-year governments… Give me a chance, and let us cooperate together to fix what can be fixed, within the short period, put away the weapons and open a new page in Iraq's history."
He was known about Al-Kazemi as a man who solved crises and not created them, as his predecessors used to fabricate the crises that afflicted Iraq and the Iraqis, as he stressed: "I chose the policy of silence, and this is what I learned from history, but some want to enter into a clash, which will not serve the sons of Iraq, and I will not be excessive. With the blood of Iraqis, dialogue is the solution."
Al-Kazemi called on "the political forces to assume their historical responsibility towards Iraq and take advantage of the opportunity for national dialogue."
The Iraqi Prime Minister noted, from New York, where he is participating in the meetings of the United Nations General Assembly, that he will call for "a third round of national dialogue to solve our problems, and we have no way but dialogue," adding that "we have an opportunity to build Iraq, and that the stability of the region has positive repercussions." on the situation in Iraq.
Yesterday, Friday, September 23, 2022, Al-Kazemi complained in a televised interview from New York, of a "personal antagonism" with politicians, whom he accused of "wishing" his government's failure with "everything." He said, "There are those who wish the government to fail in everything because of personal differences with me," adding: "I call on all parties that have differences with me to liquidate them away from the interests of the people."
Raed Fahmy: He is not a man of crises

. Raed Fahmy, Secretary of the Iraqi Communist Party, said: "Certainly, there are parties in the coordinating framework that will not nominate Al-Kazemi to head the next government, not for national reasons, but greed for power and preserving their interests, and the facts confirm that the current prime minister enjoys local acceptance. And Arab, Gulf, and regional, especially Iran, and international ones, and these want and are working to keep him in the prime ministership for a second term," noting that: "Locally, Al-Kazemi did not anger the political parties, although he had somewhat sized the popular crowd, and won the satisfaction of the rest of the parties by maintaining to distribute their responsibilities within the government, but the parties to the coordination framework fear a greater expansion of the Sadrist movement during his reign, and if he remains in power, it may affect the positions of the coordination framework."
Raed Fahmy concluded that "Al-Kazemi is not a man of crises, but rather worked to extinguish and contain many crises, and he needs a supportive force to achieve some changes that he is capable of, and perhaps remaining in his position with the support of the Sadrist movement and other parties in the political process, not to mention Arab and regional support." And the international community, will give him support to bring about change, so I see that his chances of survival are great."
Ezzat Al-Shabandar: Yes, Al-Kazemi comes again

. Ezzat Al-Shabandar, an independent politician and a former member of the House of Representatives, said: "Frankly, if we review Al-Kazemi's coming to his position as prime minister, he does not have a party, deputies, or militias, nor is he desperate and a fighter to be prime minister, and perhaps he is The least enthusiastic opponents of this position and the circumstances that led to it, the circumstances of the inability of those concerned to agree on the prime minister. And if the same circumstances are repeated, and I do not think they are far away now, yes Al-Kazemi will come again."
Adding that: "Barbara Leaf, Assistant Secretary of State for America, met with several Iraqi political and non-political officials, spoke openly during the day, and said, "We do not support any government except the government of Mustafa Al-Kazemi, and advised, in the language of warning, not to bypass Al-Kazemi."
Manaf Al-Moussawi:

His survival is a positive issue, and Manaf Al-Moussawi, head of the Baghdad Center for Studies, considered Al-Kazemi's survival in his position a "positive" point, and he said: "We read these days tweets by journalists affiliated with the coordination framework inciting dissent, echoing the demands of the framework and praising its personalities, and attacking some of the moderate framework figures who You do not find any objection to dissolving Parliament, going to early elections, and renewing the term of Prime Minister Mustafa Al-Kazemi for a period to come, and I think that if this issue takes place, the renewal of Al-Kazemi is a positive point in the path of resolving the political crisis and moving to the next stage, but the hardliners in the coordination framework are still They reject this initiative and these endeavors and insist on proceeding with the formation of a framework government."
https://www.sotaliraq.com/2022/09/25/%D8%B4%D8%AE%D8%B5%D9%8A%D8%A7%D8%AA-%D8%B3%D9%8A%D8%A7%D8%B3%D9%8A%D8%A9-%D8%B9%D8%B1%D8%A7%D9%82%D9%8A%D8%A9-%D8%A8%D9%82%D8%A7%D8%A1-%D8%A7%D9%84%D9%83%D8%A7%D8%B8%D9%85%D9%8A-%D9%81%D9%8A-%D9%85/