PoliticiansIraqApproval Of The BudgetInvitations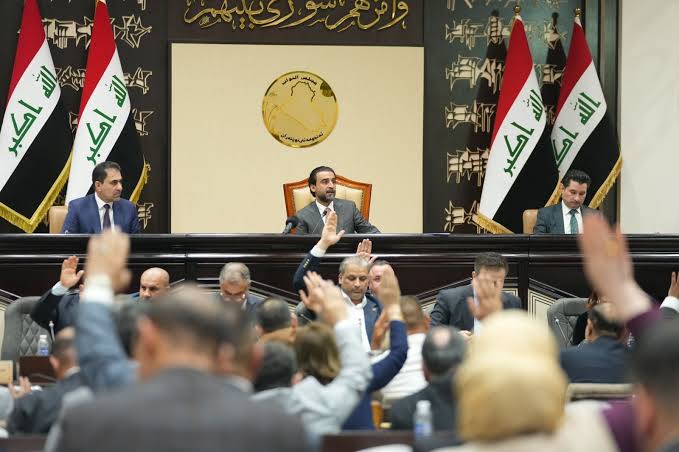 2023-03-31 07:48Font
Shafaq News / The "Dezm" alliance called on Friday to expedite the sending of the budget law to the Finance Committee for the purpose of studying it and placing it on the agenda of parliament.
"The Alliance of Resolve calls on the First Vice-President of the House of Representatives and the Deputy Speaker of Parliament to expedite the transformation of the General Budget Law from the Presidency of Parliament to the Finance Committee for the purpose of studying it and placing it on the agenda of the Council at the earliest session," the alliance said in a statement today.
He added that "this law carries great and sensitive importance related to the strength of the Iraqi people and to the economic, administrative and social consequences of its adoption, in implementation of the covenant made by the Council and the deputies on themselves in serving the homeland and seeking to approve legislation and laws that are in the interest of the citizen."
Meanwhile, MP for the State of Law Coalition, Mohammed Saadoun Al-Sayud, called on all political blocs to assume "national responsibility towards the people and their interests, which are in including the federal budget among the most important tasks entrusted to the work of the House of Representatives, the presidency and members."
Al-Sayud explained in a statement today that "the step of the Sudanese government in providing a solid budget for the next three years is nothing but a corrective process for the government's work to provide the best, most effective and most service to the government institutions and the interests of Iraq and Iraqis, as delaying the approval of the budget is not in the interest of anyone, especially as we are living a revolution of government reforms at all administrative, financial and service levels."
The parliamentarian also appealed to everyone to stay away from political quarreak and partisan interests, describing the process of disrupting the budget approval as "the political malice that was caused by personal benefits and obstruction of the Sudanese, which has become clear to the public his procedures, steps and wise decisions in presenting his national project before the secretariat entrusted to him."
The Speaker of the Iraqi Council of Representatives, Mohammed Al-Halbousi, granted himself on Thursday a 15-day leave starting from April 3, while he authorized his first deputy to manage the sessions of the Council.
On Monday, March 13, the Iraqi Council of Ministers approved the draft budget law for the years 2023, 2024 and 2025 and referred it to the House of Representatives.
The last budget approved in Iraq dates back to April 2021, while one was not adopted in 2022 due to the political turmoil that paralyzed the country for a year after the last legislative elections.
https://shafaq.com/ar/سیاسة/بعد-جازة-الحلبوسي-دعوات-لل-سراع-في-قرار-الموازنة-المالية