EconomyBreakingThe DollarDecreaseThe DinarSudanese AdvisorThe Parallel Price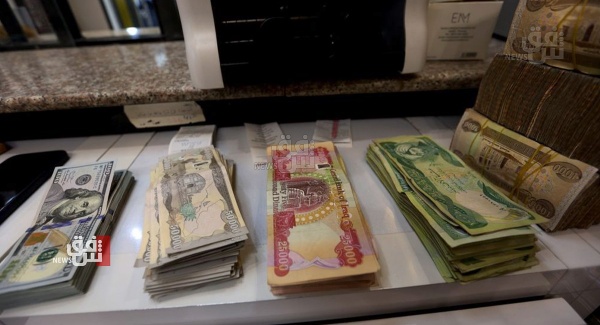 2023-04-01 05:02Font
Shafaq News / Mazhar Mohammed Saleh, financial and economic adviser to Prime Minister Mohammed Shiaa Al-Sudani, commented on Saturday on the low exchange rate prices of the dollar in Iraq.
Saleh told Shafak News that "the operations of financing foreign trade in foreign exchange for the private commercial sector are in a phase of recovery and adaptation that is currently increasing in the face of the new international compliance requirements that have been introduced since last November. The sales window after the three packages launched by the Central Bank and the government regulatory measures that simplified foreign trade operations of the private sector are all in an accelerated state of adaptation towards accelerating external transfer and financing trade at the official exchange rate."
He added that "the sales of the Central Bank window began to touch their previous normal rates of selling to reach about 200 million dollars every working day at the foreign currency auction, which is a very stable sales level to meet the market demand for foreign exchange, and at the same time supported by high reserves of foreign currency that are in the possession of the monetary authority that enables it to effectively intervene in the stability of the market in an easy and effective manner."
The financial and economic adviser to the Prime Minister said that "in light of the above, the price differences between the official exchange rate of the dinar against the dollar and the parallel price have not widened their gap, but there are strong signals towards contraction and a clear gradual decline towards the conformity of the two prices, especially the decline of the dollar in the parallel price on a daily and tangible basis."
On Tuesday, March 21, the Governor of the Central Bank of Iraq, Ali Al-Alaq, expected a decrease in the exchange rate of the parallel dollar (market price and local banks) during the coming period.
Al-Alaq said at the time, in a special statement to Shafaq News, that "the Central Bank has launched multiple packages of measures, and that have been launched are being seriously treated to control the exchange rate of the parallel dollar."
Al-Alaq pointed out that "the central bank's procedures are continuing to control the exchange rate, and we expect a decrease in the parallel exchange rate."
The parallel rate means the exchange rate of the dollar in the market and the banks and not the official price set at 1132 dinars to the dollar according to the decision of the Board of Directors of the Central Bank of Iraq approved by the Council of Ministers.
The Central Bank of Iraq issued three reform packages it said came with the aim of addressing the rise in dollar exchange rates.
https://shafaq.com/ar/اقتصـاد/مستشار-السوداني-يحدد-سباب-انخفاض-السعر-الموازي-للدولار-في-الاسواق-العراقية