PoliticiansBreakingFouad HusseinAntonio Guterres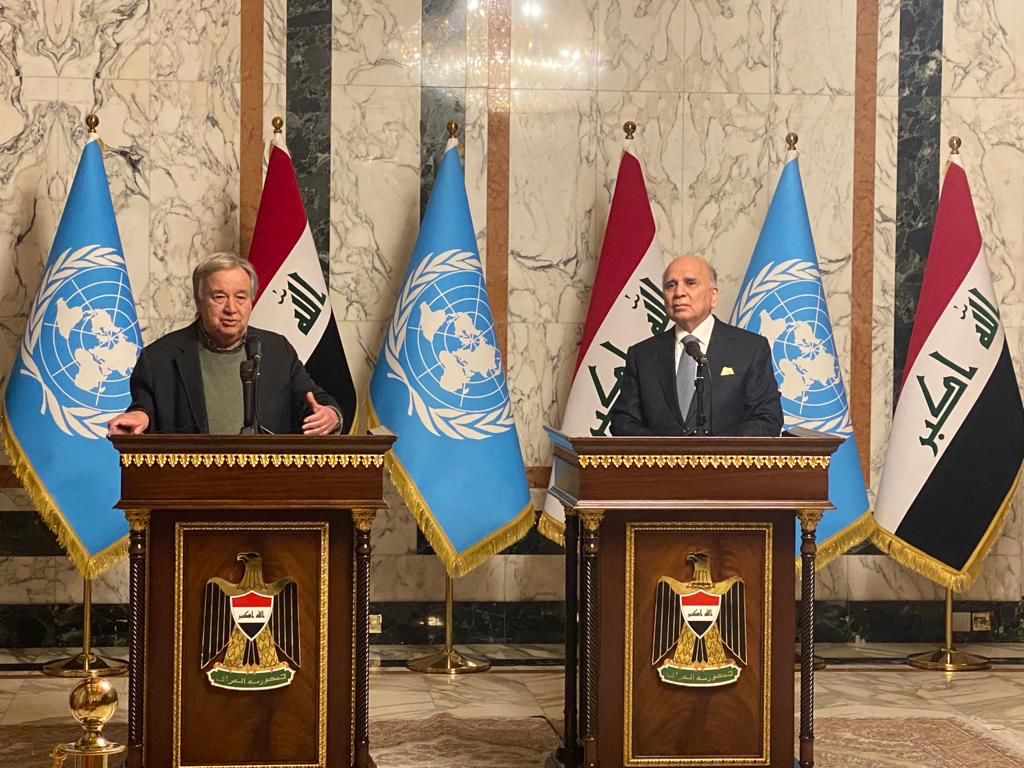 2023-02-28 16:09Font
Shafaq News / Iraqi Foreign Minister Fouad Hussein said on Wednesday that Baghdad is looking forward to the proposals of UN Secretary-General Antonio Guterres on the situation in the region, shortly after his arrival in Iraq.
"This visit was based on our invitation, the relationship between Iraq and the United Nations is interactive, and we thank the role of the Secretary-General for his support in the various stages of the political and democratic process in Iraq," Hussein said at a joint press conference with Guterres.
He added, "We look forward to holding intensive meetings and talks with the Secretary-General on the developments of the political situation in Iraq, the situation in the region and the world, there are great national, regional and global challenges, we need to exchange views, and we look forward to the support of the Secretary-General to face these challenges, and to hear his ideas and proposals, especially on the situation and regional security."
For his part, Guterres said, "I am delighted to be in Baghdad. Solidarity with Iraq means supporting institutions and expressing my confidence that Iraqis will be able to overcome the challenges and difficulties they face."
"I express my solidarity with the Iraqis and I hope that Iraq has a future of prosperity and stability," he added.
Guterres is scheduled to meet with the Iraqi presidencies, after which the Kurdistan Region will travel to hold meetings with Kurdish officials and leaders in Erbil.
https://shafaq.com/ar/سیاسة/حسين-يقول-ن-العراق-يتطلع-ل-طروحات-غوتيرش-حول-المنطقة-وال-مين-العام-ي-كد-ستتغلبون-على-التحديات