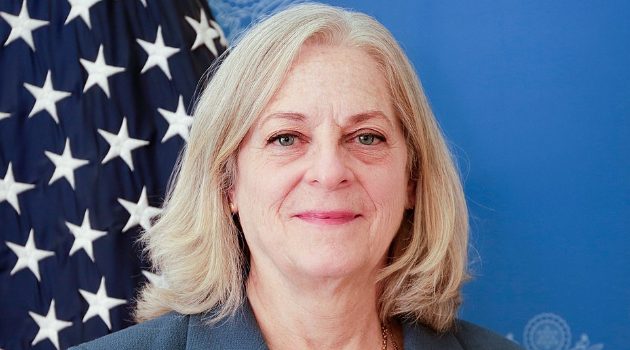 15th February 2023 in Investment, Iraq Industry & Trade News, Politics, Security
U.S. Ambassador to Iraq Alina Romanowski's Remarks
Virtual Roundtable Discussion with the U.S.-Iraq Business Council
January 31, 2023
I am pleased to meet with members of the U.S.-Iraq Business Council. You represent some of the finest companies in the United States, and some of you know Iraq very well.
Let me begin by providing a brief overview of where things stand in the U.S.-Iraq bilateral relationship.  In short, we are committed to the relationship for the long term.  Iraq plays an important and strategic role in the region.  We are closely engaged with the new Iraqi government and the Iraqi people in our mutual desire to see a democratic, peaceful Iraq that is stable, secure, and sovereign.
An important part of our work is to facilitate trade and investment in Iraq and thus promote Iraq's growth. While Iraq's investment climate has its challenges, there are some positive trends. An estimated 60 percent of the population is younger than 25 years of age, and the Iraqi youth are Iraq's most valuable resource for building a prosperous, inclusive Iraq. Now that a new government is in place under the leadership of Prime Minister Sudani, we are working with Iraq's leaders on a range of common goals, with economic and commercial issues taking a prominent place in our agenda.
In my meetings with Iraq's new leaders, I have emphasized that the Iraqi government must respond to the legitimate demands of the Iraqi people. I have also assured Prime Minister Sudani of our readiness to collaborate with his government on a whole range of shared interests. We have further demonstrated our willingness to work with the Sudani government with the recent visit of National Security Coordinator for the Middle East and North Africa Brett McGurk and Special Presidential Coordinator for Global Infrastructure and Energy Security Amos Hochstein, who met with Prime Minister Sudani and other Iraqi leaders in Baghdad and Erbil in January. The prime minister made it clear that our goals and his significantly overlap.
We are currently working with the Iraqi government to finalize plans for a visit to Washington in early February by a delegation led by Deputy Prime Minister and Foreign Minister Fuad Hussein. In planning the delegation's visit – and in our bilateral relations in general – we are increasing our focus on issues such as economic cooperation and climate change.
The Iraqi people look to their government to provide greater economic opportunity, and it is important for the Sudani government to make the promotion of diverse economic growth a priority.  Economic and regulatory reform is needed to rebalance the economy from its reliance on oil, to deal with chronic shortages in electricity, and to address climate change.  We firmly support Iraqi efforts in these areas and strongly encourage the Iraqi government to partner with U.S. companies – with their tremendous expertise, capacity, and experience – in meeting these energy and environmental challenges.  We know that strengthening the investment climate is crucial to attracting U.S. and other foreign investment in these areas, and we engage with our Iraqi partners on this issue as well.