Kurdistan WomenBreakingThe Regional GovernmentVisit BaghdadA New Delegation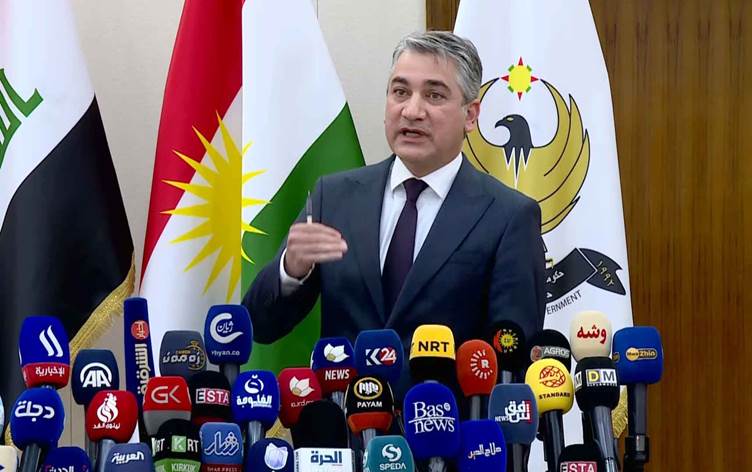 2023-02-02 03:16Font
Twilight News / KRG spokesman Gutiar Adel announced on Thursday that a delegation from the Kurdistan Regional Government will soon visit the capital Baghdad to continue dialogues with the aim of resolving differences and outstanding issues with the federal government and resolving the issue of employees' salaries and the region's share in the financial budget for the year 2023.
Adel said in a press conference held in Erbil that the Council of Ministers held a meeting yesterday evening and among the important topics he discussed was the issue of relations with Baghdad, adding that in the near future a delegation from the Kurdistan Regional Government will visit Baghdad to continue the dialogues in the interest of citizens in the region, and ensure their financial dues and monthly salaries for employees and workers in the public sector, and this is all related to the country's general budget.
He added that the territorial government and the federal government have reached to some extent several understandings with regard to legal texts, and there are several other files, including Article 140 of the Constitution, and legislation that we believe are important, and must be resolved according to the time limit specified for them according to the political agreement that resulted from the formation of the federal government, and as stipulated in the Constitution.
The spokesman for the territorial government stressed the need to legislate a new law for the Federal Supreme Court because this court was formed by a decision of the US Civil Governor Paul Bremer with a law that violates the country's permanent constitution, expressing regret that this court issued decisions to pressure the region.
Adel went on to say that what the Federal Court is doing is "unacceptable because it must be independent, and free from political conflicts."
He stressed that the Kurdistan Regional Government is serious about the need to reach an agreement to resolve the differences between it and the federal government, considering that there is no longer any justification for the continuation of those differences and we want in any way to reach an agreement.
On the crisis of the rise of the dollar, the spokesman for the Kurdistan Regional Government said that they depend on Baghdad to limit the rise in exchange rates, although the Prime Minister of the region, Masrour Barzani, directed to follow up the situation in the market.
Adel pointed out that the Ministry of Oil continues to put pressure on oil companies operating in the region, and these pressures aim to undermine the administration of the Kurdistan Regional Government, stressing the need to legislate an oil and gas law in the country to avoid such matters.
https://shafaq.com/ar/كوردســتانيات/وفد-من-حكومة-قليم-كوردستان-يزور-بغداد-قريبا