PoliticianMohammed Al-HalbousiBreakingNechirvan BarzaniQatar World CupFaiq ZidanMohammed Shiaa Al-SudaniThe Final Game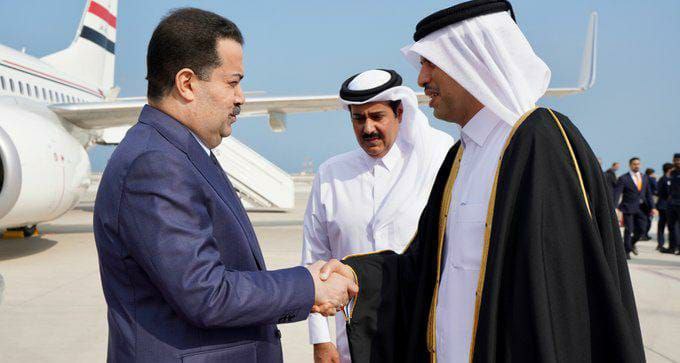 2022-12-18 05:13Font
Twilight News / Qatar News Agency Qena reported on Sunday that Iraqi Prime Minister Mohammed Shiaa al-Sudani arrived in the capital Doha to attend the final of the 2022 World Cup.
The Qatari agency said in a brief news that Al-Sudani arrived in Doha this morning to attend the final match of the World Cup, which will be held at Lusail Stadium this evening.
Earlier, the President of the Kurdistan Region, Nechirvan Barzani, arrived in Qatar at the official invitation of the Emir of Qatar, Sheikh Tamim bin Hamad Al Thani.
A statement by the presidency of the region reported to Shafaq News said that Barzani will attend during his visit to Qatar, along with a well-known number of world leaders and leaders, the final match of the World Cup football tournament.
It is noteworthy that the Speaker of the Iraqi Council of Representatives Mohammed Halbousi arrived in Qatar last month to follow the 2022 World Cup qualifiers.
A picture seen by Shafaq News Agency also showed the presence of the President of the Iraqi Supreme Judicial Council Faiq Zeidan sitting next to Halabousi on the stands of one of the Qatari stadiums to follow up on the Croatia-Morocco match, which took place yesterday, which took place on Saturday and ended with Croatia winning two goals to one.
https://shafaq.com/ar/سیاسة/من-بينهم-ر-يس-اقليم-كوردستان-نها-ي-ك-س-العالم-يجمع-ربع-ر-اسات-عراقية-في-قطر