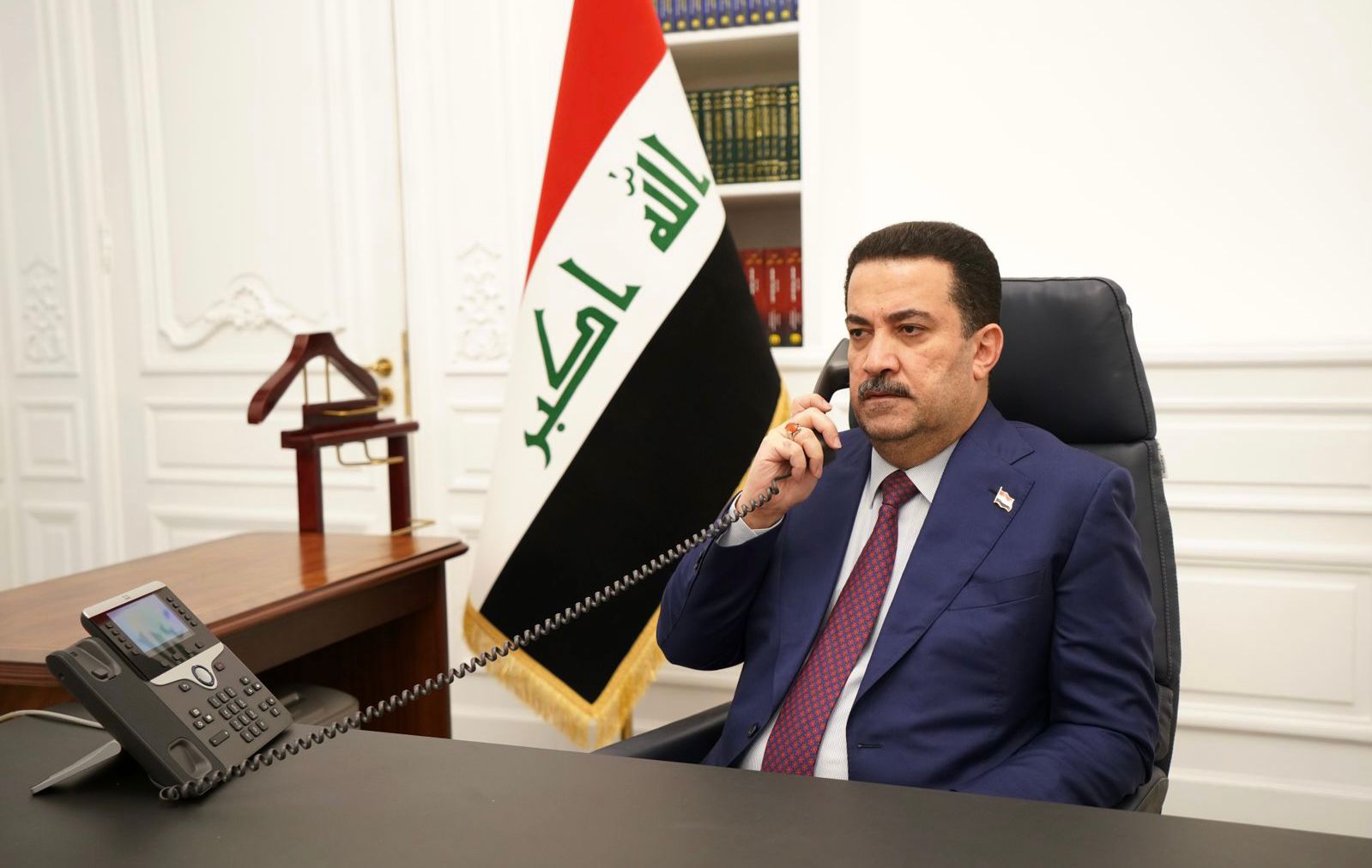 policyVladimir PutinMohamed Shiaa Al-SudaniTelephone conversation
2022-11-24 09:48A-AA+
Shafaq News/ Prime Minister Muhammad Shia' al-Sudani confirmed, on Thursday, Iraq's keenness to develop relations with Russia in various fields.
Al-Sudani's media office stated in a statement received by Shafaq News Agency, that the latter received a phone call from the President of the Federal Republic of Russia, Vladimir Putin, and during the call, they discussed bilateral relations between the two countries, and ways to enhance them, as well as a number of regional and international files of common concern.
Al-Sudani expressed the government's keenness to maintain the relationship with Russia in various fields, stressing that the government is pursuing a policy of openness and cooperation with Iraq's regional and international environment in its foreign relations.
In turn, Putin congratulated the Prime Minister on the occasion of the formation of the government, and expressed his wishes for the success of its tasks. He also affirmed Russia's keenness to develop the relationship with Iraq, and the desire to develop it and open horizons for mutual cooperation.
https://shafaq.com/ar/%D8%B3%DB%8C%D8%A7%D8%B3%D8%A9/%D9%81%D9%8A-%D9%88%D9%84-%D8%AA%D9%88%D8%A7%D8%B5%D9%84-%D8%A8%D9%8A%D9%86%D9%87%D9%85%D8%A7-%D8%A7%D9%84%D8%B3%D9%88%D8%AF%D8%A7%D9%86%D9%8A-%D9%88%D8%A8%D9%88%D8%AA%D9%8A%D9%86-%D9%8A-%D9%83%D8%AF%D8%A7%D9%86-%D8%B9%D9%84%D9%89-%D8%AA%D8%B7%D9%88%D9%8A%D8%B1-%D8%A7%D9%84%D8%B9%D9%84%D8%A7%D9%82%D8%A7%D8%AA-%D8%A7%D9%84%D8%AB%D9%86%D8%A7-%D9%8A%D8%A9-%D8%A8%D9%85%D8%AE%D8%AA%D9%84%D9%81-%D8%A7%D9%84%D9%85%D8%AC%D8%A7%D9%84%D8%A7%D8%AA