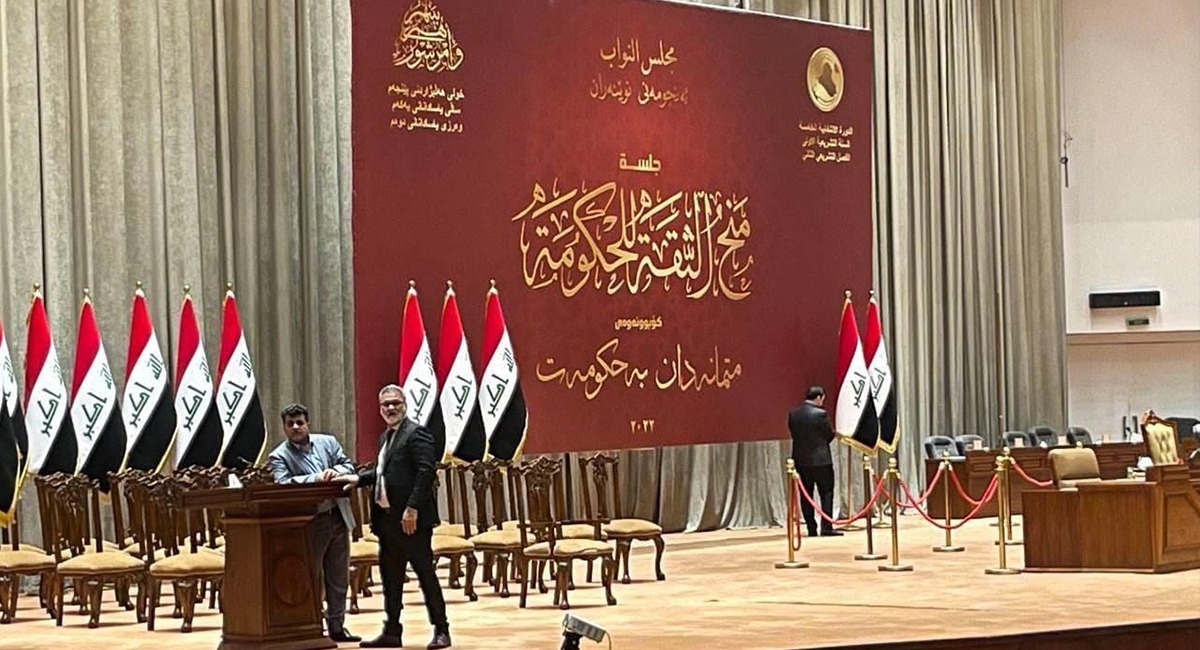 politicsIraqi parliamentSudanese governmentGiving confidence to the governmentConfidence session
2022-10-26 12:03A-AA+
Shafaq News / On Wednesday, the Iraqi parliament issued a directive regarding the session of granting confidence to the government of Muhammad Shia Al-Sudani, scheduled to be held tomorrow, Thursday, regarding the entry of journalists and media professionals into the building.
A parliamentary source told Shafaq News Agency, "A notification was issued by Parliament in the presence of the council employees concerned with the session only," referring to another directive that included "reducing the number of media professionals and journalists entering the parliament building during tomorrow's session."
The Speaker of the Iraqi Parliament, Muhammad Al-Halbousi, set tomorrow, Thursday, Thursday, the date for holding a session of granting confidence to the Sudanese government, after the latter made amendments to his first book, which included a request to hold the session, and then send it back to the Presidency of the Council again.
Earlier in the day, Parliament rejected the first request submitted by Al-Sudani, to hold a session tomorrow, Thursday, before the latter corrected the situation, amended his request and sent it back to be accepted by the Presidency.
https://shafaq.com/ar/%D8%B3%DB%8C%D8%A7%D8%B3%D8%A9/%D8%A7%D9%84%D8%A8%D8%B1%D9%84%D9%85%D8%A7%D9%86-%D9%8A%D8%B5%D8%AF%D8%B1-%D8%AA%D9%88%D8%AC%D9%8A%D9%87%D8%A7-%D8%A8%D8%B4-%D9%86-%D8%AC%D9%84%D8%B3%D8%A9-%D8%A7%D9%84%D8%AE%D9%85%D9%8A%D8%B3-%D9%8A%D8%AE%D8%B5-%D8%A7%D9%84%D8%B5%D8%AD%D9%81%D9%8A%D9%8A%D9%86-%D9%88%D8%A7%D9%84-%D8%B9%D9%84%D8%A7%D9%85%D9%8A%D9%8A%D9%86