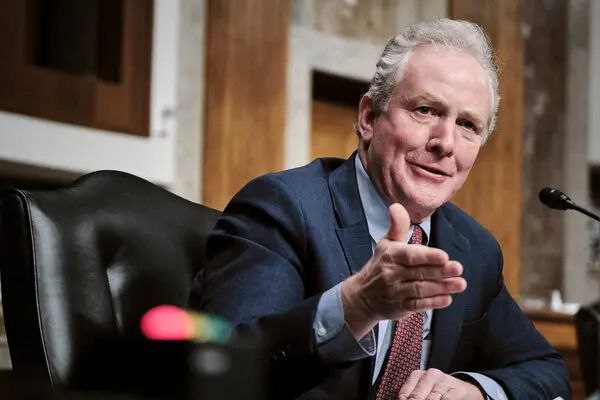 politicsIraqAmericabreakingTurkish incursionbombing the territoryIranian role
2022-10-06 13:28A-AA+
Shafaq News/ On Thursday, US Senator Chris Van Hollen described the Iranian attacks on Kurdistan Region as a "dangerous development", stressing the importance of the United States continuing to support "our Kurdish allies", whom he described as "key partners".
In an interview with the Kurdish service on "Voice of America" ​​radio, translated by Shafak News Agency, Houlin, who is also a Democratic member of the Senate Foreign Relations Committee, responded to a question about the Iranian Revolutionary Guards' bombing of areas in Kurdistan Region with missiles and drones, and how dangerous that is. On regional stability, he said, "Well, it's a serious matter, and it's a violation of Iraq's sovereignty in terms of the Iranian government's overstepping the border and attacking positions and people on the Iraqi side."
"The Iraqi government and the United States have been very clear that these violations of sovereignty must end," he said.
Iranian bombing and Turkish incursion
Hollin said that the Iranian regime "should only blame itself for the escalation of peaceful protests because of its suppression of the Iranian people, and should not try to export that to Iraq."
He added that the United States should do everything in its power to protect Iraq's sovereignty.
In response to a question regarding Turkish incursions and bombing as well, the US senator said that Turkish forces have been launching attacks for months in the regions of the region, where many innocent people were killed, adding, "Everyone outside Iraq must put an end to their violations of Iraq's sovereignty. American forces are there at the invitation of the The government of Iraq, but these other external powers do not."
On the targeting of the US consulate in Erbil with bombing and threats by Iranian-backed militias and what the United States must do in order to support its ally, the KRG, Hollin said, "The United States was doing two things, the first is to support the Iraqi government, where we now have the constant challenge in forming We are working with the parties to try to resolve that."
"But we also need to continue to support our Kurdish allies, who have been a key partner in the fight against ISIS and others in the region who are malign actors," the US senator added.
Hollin said that Washington "has provided continuous support and training to the Kurdish forces, but it is also clear in the context of supporting the Iraqi army in general."
Iran protests
Regarding US President Joe Biden's release on Monday of a statement about taking further action against perpetrators of violence in Iran, Hollin said, "I think what the Biden administration will continue to do is look for entities that are part of this network that is suppressing peaceful protests." in such a brutal way."
On Iran's Supreme Leader Ali Khamenei and Iranian officials accusing the United States and Israel of plotting the ongoing protests in Iran, Hollin said, "This is laughable, and Iran has a habit of pointing fingers at others when they need to look in the mirror."
He added, "These protests are a natural result of the absolute deprivation of people's basic human rights. There is a regime that continues to suppress those human rights, in order to deprive women of basic freedoms, and therefore it is natural for there to be this kind of reaction from people seeking to be free." .
The US senator added, "I think that the United States maintains an open line of communication with civil society inside Iran to the extent that we can communicate with civil society groups inside Iran."
But he said, "If you're asking me whether or not the administration should adopt a policy of public regime change, I think the administration is on the right track at the moment. And if you look at the situation on the ground, I think the Biden administration is responding as it should."
And whether the United States would help the Iranian people bring down this regime, Hollin said, "I personally would like to see this regime go. The question is how will things go? And if the Iranians want to do it themselves, that is the question they have to decide. But what The United States should be careful not to do it is to suggest that, for example, we will use our military or our power to try to replace the regime in Iran."
On the impact of the Iranian protests on the position of many American representatives from both political parties who demanded that the Biden administration stop its talks with Iran in order to revive the nuclear agreement, Hollin said, "I do not support moving away from trying to reach a diplomatic solution that prevents Iran from obtaining a nuclear weapon… The question is How to achieve this goal? There are those who would like to go to war in the region. But my view, and I am aware of President Biden's view, is that we will all be better off if this goal is achieved peacefully."
Iran's role in Iraq
The US senator continued, saying, "Iran's malign actions in Iraq are taking place now in the absence of the (nuclear) Joint Comprehensive Plan of Action, and their actions in Iraq have increased dramatically after President Donald Trump tore up the JCPOA, and Iran has become more aggressive in Iraq."
The US senator concluded by recalling that in the middle of the Cold War, former President Ronald Reagan launched an "evil empire" on the Soviet Union, but he negotiated with Moscow an agreement to limit nuclear weapons, as at that time it was in our interest, and it is certainly in our interest to prevent Iran from Possession of a nuclear weapon, and it is in our interest to stand by the Iranian people and support them in their war against oppression."
https://shafaq.com/ar/%D8%B3%DB%8C%D8%A7%D8%B3%D8%A9/%D8%B3%D9%8A%D9%86%D8%A7%D8%AA%D9%88%D8%B1-%D8%A7%D9%85%D8%B1%D9%8A%D9%83%D9%8A-%D8%A7%D9%84%D9%83%D9%88%D8%B1%D8%AF-%D8%AD%D9%84%D9%81%D8%A7-%D9%86%D8%A7-%D9%88%D9%87%D8%AC%D9%85%D8%A7%D8%AA-%D9%8A%D8%B1%D8%A7%D9%86-%D8%B9%D9%84%D9%89-%D8%A7%D9%84%D8%A7%D9%82%D9%84%D9%8A%D9%85-%D8%A7%D9%85%D8%B1-%D8%AE%D8%B7%D9%8A%D8%B1