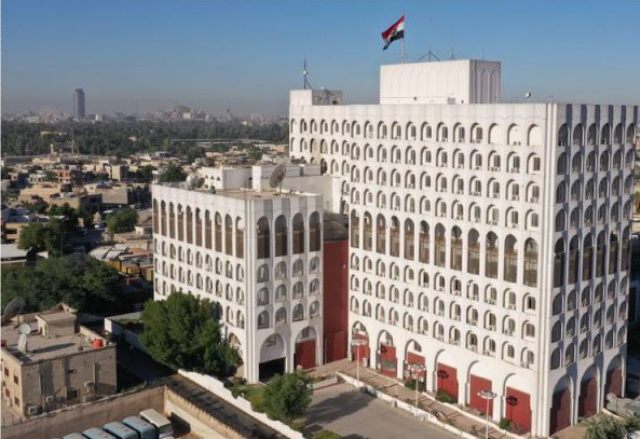 politicsQuesnjakbreakingIraqi Foreign MinistryIranian bombing
2022-09-28 06:49A-AA+
Shafaq News/ Today, Wednesday, the Iraqi Ministry of Foreign Affairs condemned the Iranian bombing of four areas in the Kurdistan Region, while threatening to resort to the "highest diplomatic positions" to not repeat the bombing.
The ministry said in a statement received by Shafaq News Agency that it "condemns in the strongest terms the artillery and missile targeting by the Iranian side, coinciding with the use of twenty drones carrying explosive materials, which affected four areas in the Kurdistan Region of Iraq, and caused a number of dead and wounded."
The Foreign Ministry described the bombing as "a dangerous development that threatens the security and sovereignty of Iraq, and multiplies the effects of fear and terror on the safe civilians," noting that "these unilateral and provocative actions complicate the security scene and cast a shadow over the region and will only contribute to more tension."
And the Ministry of Foreign Affairs indicated that it "closely follows the developments of the successive bombing, and reiterates the Iraqi government's rejection of any military logic to confront the security challenges," stressing that it "will depend on everything to ensure that this is not repeated and with the highest diplomatic positions."
A local source had reported, today, Wednesday, the renewed Iranian bombardment of areas in the Koysanjaq district of the Erbil governorate, after the opposition Iranian Kurdistan Freedom Party announced, earlier today, that the Iranian bombing that targeted their headquarters in Koysinjaq district had killed at least five people. While dozens were injured.
Meanwhile, the director of Koysanjaq district health, Sherwan Jalal, said that the district hospital received two dead and 12 wounded as a result of the Iranian bombing.
The Minister of Health of the Kurdistan Region, Saman Al-Barzanji, directed a large number of ambulances to Kosanjak district, while the Governor of Erbil, Omid Khoshnaw, directed all relief organizations to enter a state of alert to rescue the injured.
https://shafaq.com/ar/%D8%B3%DB%8C%D8%A7%D8%B3%D8%A9/%D8%A7%D9%84%D8%AE%D8%A7%D8%B1%D8%AC%D9%8A%D8%A9-%D8%A7%D9%84%D8%B9%D8%B1%D8%A7%D9%82%D9%8A%D8%A9-%D8%AA%D8%AF%D9%8A%D9%86-%D9%82%D8%B5%D9%81-%D9%83%D9%88%D8%B1%D8%AF%D8%B3%D8%AA%D8%A7%D9%86-%D9%88%D8%AA%D9%87%D8%AF%D8%AF-%D8%A7%D9%8A%D8%B1%D8%A7%D9%86-%D8%A8%D9%80-%D8%A7%D8%B9%D9%84%D9%89-%D8%A7%D9%84%D9%85%D9%88%D8%A7%D9%82%D9%81-%D8%A7%D9%84%D8%AF%D8%A8%D9%84%D9%88%D9%85%D8%A7%D8%B3%D9%8A%D8%A9