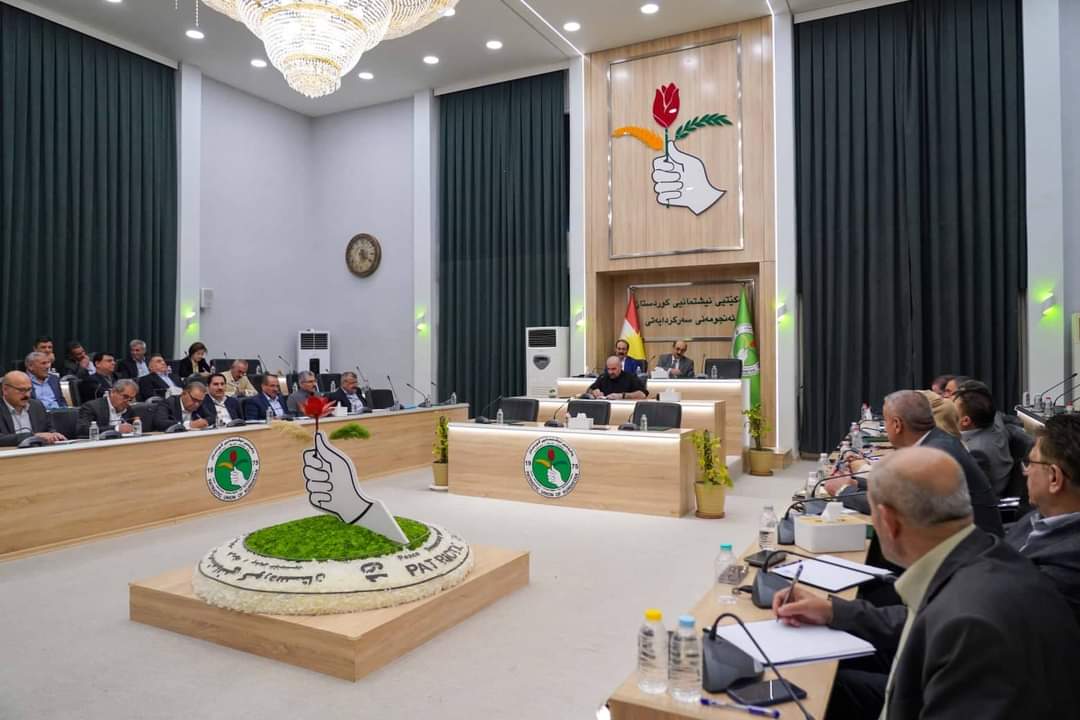 KurdistanbreakingThe National UnionBafel Talabani
2022-08-28 12:01A-AA+
Shafaq News/ The leadership council of the Patriotic Union of Kurdistan announced today, Sunday, the abolition of the party's joint presidency system, and chose Bafel Jalal Talabani as president of the union.
A statement issued after a meeting of the council, received by Shafaq News Agency, stated that the members of the Leadership Council, according to the meeting's agenda, discussed the recommendations of the meeting of the National Union and the amendment of the internal system, pointing out that the supervisor of the meeting, Qubad Talabani, said that the recommendations were divided into 13 committees in which experts participated. And academics, cadres and friends of the party, a welcome phenomenon as a kind of party democracy.
The statement confirmed that the leadership council approved all the meeting's recommendations, and directed the PUK's organs and institutions to implement them, noting that among the other topics of the meeting was the amendment of the party's internal system to suit the new conditions of partisan life.
He pointed out to the Rules Committee that all the necessary changes to develop the partisan life of the Patriotic Union of Kurdistan leadership council were approved. After extensive discussions, the new bylaw was approved, which included among its paragraphs the abolition of the party's co-presidency system. Then, according to the new bylaw, Bafel Jalal Talabani nominated himself for the presidency of the Patriotic Union of Kurdistan. The Leadership Council voted for him as a party leader.
Shafaq News Agency learned from sources close to the meeting that 89 members voted for Bafel Talabani to be the party's leader.
In February of the year 2020, Bafel Talabani and Lahore Sheikh Genki Talabani were elected to the joint presidency of the Patriotic Union, in a first step of its kind witnessed by the Kurdish parties. .
Soon, severe differences emerged on the surface that prompted Bafel Talabani to isolate his cousin Lahore from the party's joint presidency, and the situation in Sulaymaniyah was tense, and the two sides exchanged accusations and threatened each other to resort to the judiciary to resolve those differences.
https://shafaq.com/ar/%D9%83%D9%88%D8%B1%D8%AF%D8%B3%D9%80%D9%80%D8%AA%D8%A7%D9%86%D9%8A%D8%A7%D8%AA/%D8%A7%D9%84%D8%A7%D8%AA%D8%AD%D8%A7%D8%AF-%D8%A7%D9%84%D9%88%D8%B7%D9%86%D9%8A-%D9%8A%D9%84%D8%BA%D9%8A-%D9%86%D8%B8%D8%A7%D9%85-%D8%A7%D9%84%D8%B1-%D9%8A%D8%B3-%D8%A7%D9%84%D9%85%D9%86%D8%AA%D8%AE%D8%A8-%D9%88%D9%8A%D9%86%D8%AA%D8%AE%D8%A8-%D8%A8%D8%A7%D9%81%D9%84-%D8%B7%D8%A7%D9%84%D8%A8%D8%A7%D9%86%D9%8A-%D8%B1-%D9%8A%D8%B3%D8%A7