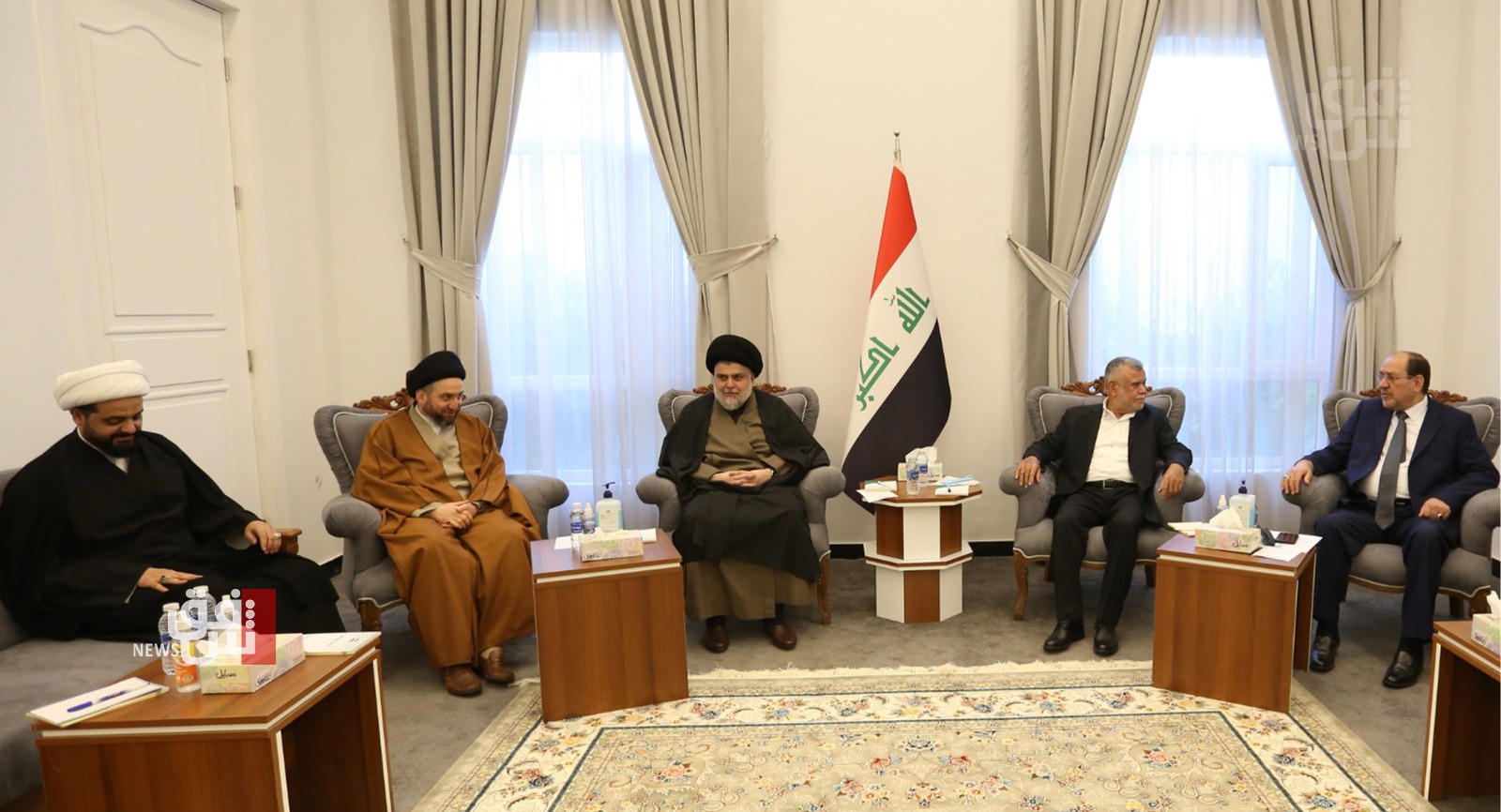 politicsbreakingMuqtada al-SadrMuhammed Shiaa Al-SudaniShiite coordination frameworkCommander's Minister
2022-08-26 17:15A-AA+
Shafaq News/ A political source revealed early on Friday, the details of a new initiative presented by the comprehensive coordination framework of the Shiite forces, with the exception of a new Sadrist movement to resolve the blockage between the framework and the movement.
The source told Shafak News Agency; "The coordinating framework is ready to give up the nomination of Muhammad Shia Al-Sudani for prime minister, to negotiate with the Sadrist movement, and to agree on the nomination of a figure who is acceptable to the political blocs to take over this position."
The source added; That "all this is in exchange for the Sadrist movement to abide by several conditions, namely their withdrawal from the House of Representatives, and that the government be formed as soon as possible, and early elections will take place one year after the formation of the new government."
And he indicated that "one of the most important conditions is to close the page of Saleh Muhammad al-Iraqi, or what is known as the Minister of the Leader, or not to involve the page in political conflicts, mobilizing the street and threatening civil peace, and not threatening the government, parliament or the judiciary during the period after the formation of the government by storming Green again."
Since last July 30, the followers of the Sadrist movement have continued their sit-in inside the Green Zone, in refusal to nominate Muhammad Shia al-Sudani for the position of prime minister by the coordination framework and demand the dissolution of the House of Representatives and to go to early elections.
Disagreements between the political forces that prevent the formation of a new government have continued since the last elections on October 10, 2021.
https://shafaq.com/ar/%D8%B3%DB%8C%D8%A7%D8%B3%D8%A9/%D8%A7%D9%84-%D8%B7%D8%A7%D8%B1-%D9%8A%D8%B3%D8%AA%D8%AC%D9%8A%D8%A8-%D9%84%D9%84%D8%B5%D8%AF%D8%B1-%D9%88%D9%81%D9%82-4-%D8%B4%D8%B1%D9%88%D8%B7-%D9%85%D9%86%D9%87%D8%A7-%D8%A7%D9%84%D8%AA%D8%AE%D9%84%D9%8A-%D8%B9%D9%86-%D9%85%D8%AD%D9%85%D8%AF-%D8%B4%D9%8A%D8%A7%D8%B9-%D8%A7%D9%84%D8%B3%D9%88%D8%AF%D8%A7%D9%86%D9%8A-%D9%85%D9%82%D8%A7%D8%A8%D9%84-%D9%88%D8%B2%D9%8A%D8%B1-%D8%A7%D9%84%D9%82%D8%A7-%D8%AF