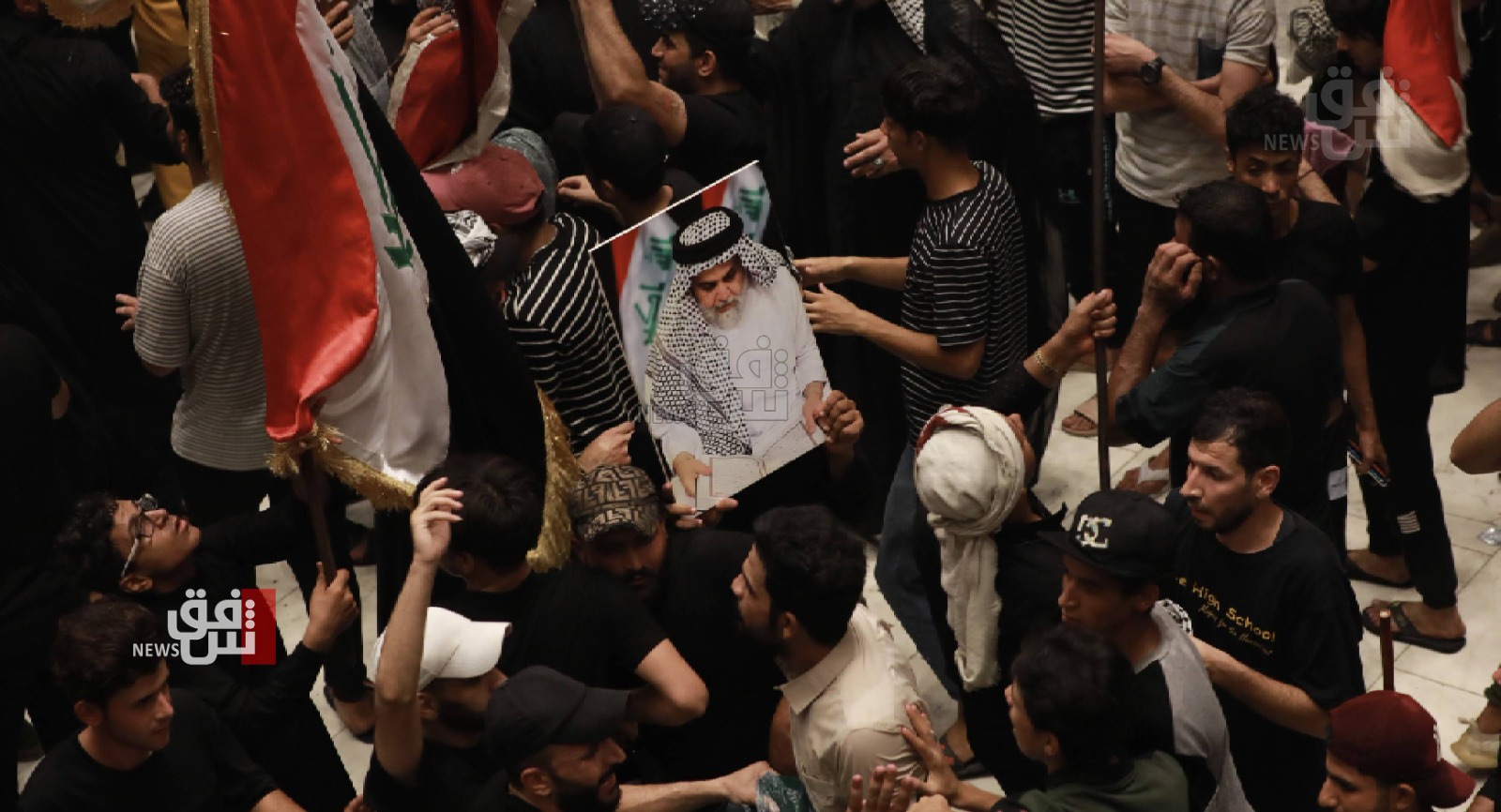 politicsbreakingMuqtada al-Sadrdemonstration
2022-08-14 18:14A-AA+
Shafaq News/ The leader of the Sadrist movement, Muqtada al-Sadr, set next Saturday evening, a date for the launch of a peaceful demonstration in the capital, Baghdad, "unprecedented" in terms of numbers.
And his close relative, "Saleh Muhammad al-Iraqi", said in a statement received by Shafak News Agency, "After a lengthy discussion session with him (Muqtada al-Sadr), in which he focused on the upcoming demonstration being peaceful and unprecedented in terms of numbers."
He added, "It was decided to set a date for the demonstration, next Saturday, with the gathering in Tahrir Square first at five o'clock in the afternoon and then marching towards the Celebrations Square."
Earlier, Al-Sadr called on all Iraqis to stage "peaceful, millions" demonstrations in Tahrir Square in the center of the capital, Baghdad, "against corruption, militias and corrupt authoritarian parties."
The political scene in Iraq has been going through a dangerous turn since supporters of the Sadrist movement led by prominent Shiite cleric Muqtada al-Sadr stormed the parliament building in the fortified Green Zone in central Baghdad, and staged a sit-in in protest against Al-Sudani's nomination for the position of head of the next federal government.
While supporters of the Shiite coordination framework came out with a second counter-demonstration, and decided to sit in front of the green walls until the formation of a new government.
https://shafaq.com/ar/%D8%B3%DB%8C%D8%A7%D8%B3%D8%A9/%D9%85%D9%82%D8%AA%D8%AF%D9%89-%D8%A7%D9%84%D8%B5%D8%AF%D8%B1-%D9%8A%D8%AD%D8%AF%D8%AF-%D8%A7%D9%84%D8%B3%D8%A8%D8%AA-%D8%A7%D9%84%D9%85%D9%82%D8%A8%D9%84-%D9%85%D9%88%D8%B9%D8%AF%D8%A7-%D9%84%D8%AA%D8%B8%D8%A7%D9%87%D8%B1%D8%A9-%D9%84%D9%85-%D9%8A%D8%B3%D8%A8%D9%82-%D9%84%D9%87%D8%A7-%D9%85%D8%AB%D9%8A%D9%84