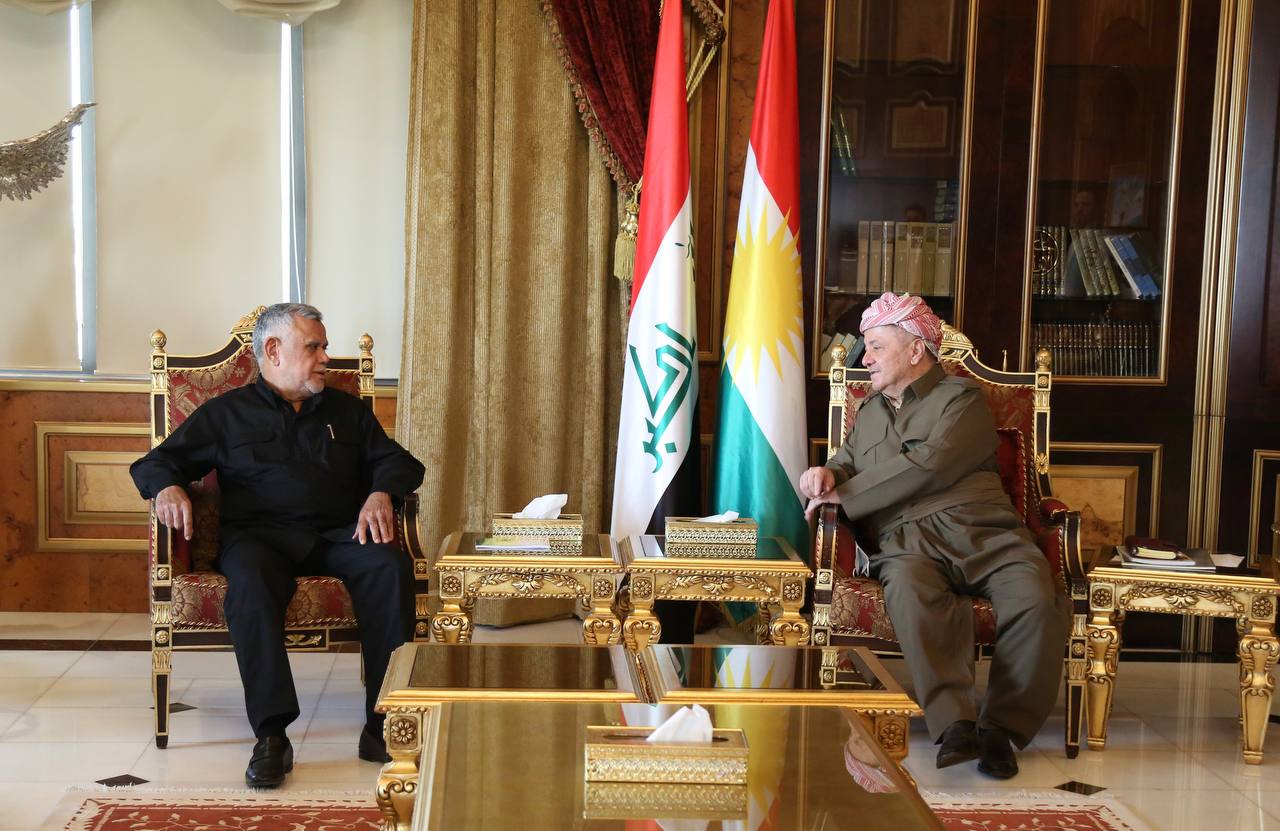 politicsErbilbreakingHadi Al-Amri
2022-08-14 07:49A-AA+
Shafaq News/ The head of the Al-Fateh Alliance, Hadi Al-Amiri, discussed on Sunday with the head of the Kurdistan Democratic Party, Massoud Barzani, the political developments and the developments of the crisis.
Al-Amiri's office said in a brief statement received by Shafak News Agency, that "the two sides met in Erbil and discussed political developments and developments in the current crisis."
On Sunday, Al-Amiri arrived at the head of a delegation from the coordination framework to the city of Erbil, the capital of the Kurdistan Region, where he is scheduled to present a political initiative to solve the Iraqi crisis.
An informed source told Shafaq News Agency, "The Minister of Interior of the region, Riber Ahmed, and the official in charge of the Arab file at Barzani's headquarters, Arafat Karam, were received by Al-Amiri and his accompanying delegation."
Today, Sunday, an informed political source said that the head of the "Al-Fateh" coalition, the Secretary-General of the Badr Organization, Hadi Al-Amiri launched an initiative aimed at inviting all political parties to sit at the dialogue table to overcome the current political crisis facing the country.
Al-Amiri met yesterday evening in the capital, Baghdad, Parliament Speaker Muhammad al-Halbousi, and the head of the Azm Alliance, Muthanna al-Samarrai, and discussed with them the political situation in the country, according to official statements.
The source told Shafaq News Agency, that yesterday, Al-Amiri met with the Sunni political forces in Baghdad, and today he has a meeting with the Kurdish political forces in Erbil, indicating that Al-Amiri will meet with Kurdish leader Massoud Barzani.
The source added that there are attempts to meet with the leader of the Sadrist movement, Muqtada al-Sadr, in the coming days.
https://shafaq.com/ar/%D8%B3%DB%8C%D8%A7%D8%B3%D8%A9/%D8%A7%D9%84%D8%B9%D8%A7%D9%85%D8%B1%D9%8A-%D9%8A%D8%B5%D9%84-%D9%84%D9%89-%D8%B1%D8%A8%D9%8A%D9%84-%D9%84%D8%B7%D8%B1%D8%AD-%D9%85%D8%A8%D8%A7%D8%AF%D8%B1%D8%AA%D9%87-%D8%A7%D9%84%D8%B3%D9%8A%D8%A7%D8%B3%D9%8A%D8%A9