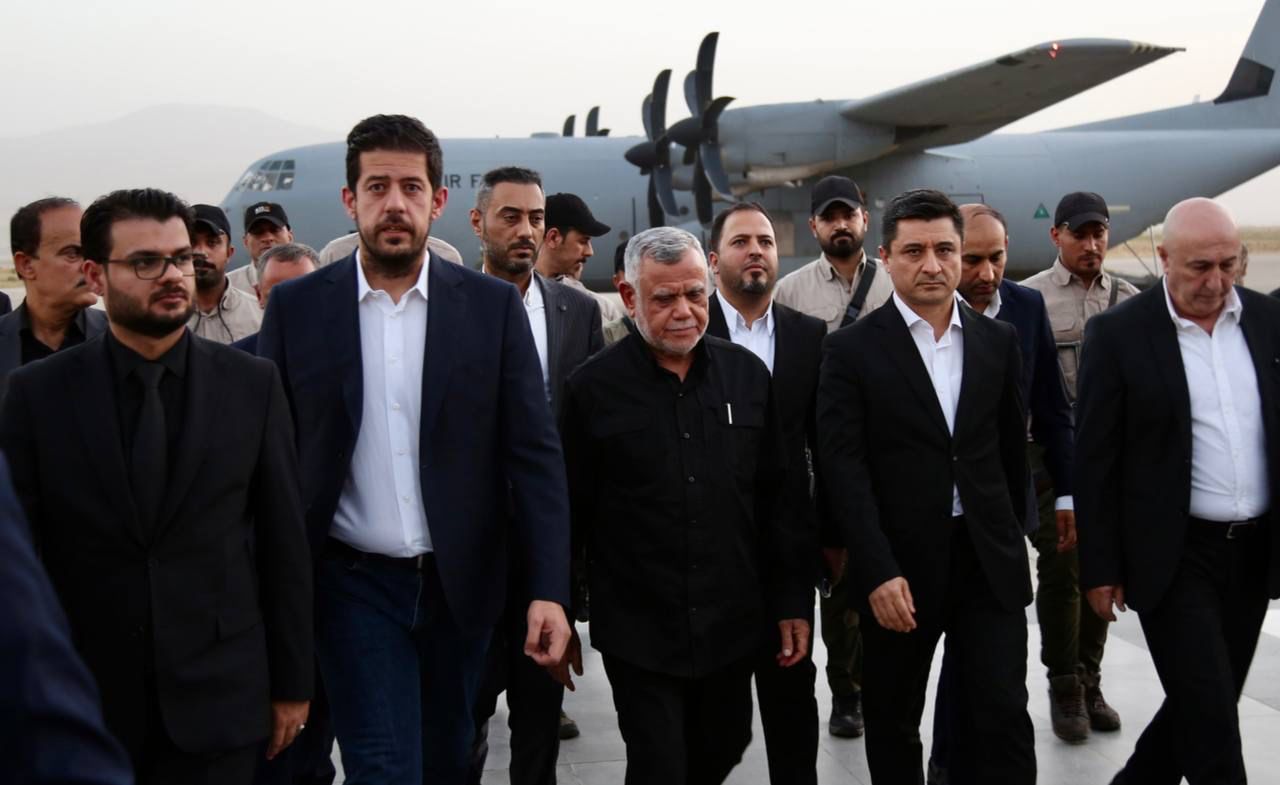 2022-08-14 11:48A-AA+
Shafaq News/ The prominent leader in the coordination framework Hadi Al-Amiri arrived, on Sunday evening, to the city of Sulaymaniyah, to hold talks with political forces.
Shafaq News Agency correspondent said that Shalaw Kosrat Rasul and Khaled Shwani, a member of the Political Bureau of the Patriotic Union of Kurdistan, were in the reception of Al-Amiri.
According to sources with Shafak News Agency, Al-Amiri will meet with Pavel Talabani, head of the Patriotic Union of Kurdistan, and Shaswar Abdul Wahed, head of the New Generation Movement, to discuss a way out of the political blockage.
Al-Amiri arrived on Sunday morning in Erbil, and met with Kurdish leader Masoud Barzani, and other officials.
The political scene in Iraq has undergone a dangerous turn since supporters of the Sadrist movement led by prominent Shiite cleric Muqtada al-Sadr stormed the parliament building in the fortified Green Zone in central Baghdad, and staged a sit-in in protest against Al-Sudani's nomination for the position of head of the next federal government.
The Sadrist bloc had obtained the highest votes in the early legislative elections that took place in October of 2021, but the efforts of the leader of the current failed to form the new federal government due to the Shiite coordination framework standing in its way by obtaining a fatwa from the Federal Court with the so-called blocking third in a contract The session for electing the President of the Republic, which paves the way for naming the Prime Minister.
The three-way alliance between the Kurdistan Democratic Party led by Masoud Barzani, the Sovereignty Alliance headed by Khamis al-Khanjar, and the Sadrist movement led by Muqtada al-Sadr was broken following the resignation of the Sadrist bloc's deputies, and the movement's withdrawal from the political process by order of al-Sadr.
The political scene is living in a crisis situation and a dead end unprecedented in the history of Iraq, as more than 300 days have passed since the early elections without being able to form a new government in the country, and the survival of the caretaker government headed by Mustafa Al-Kazemi.
On the tenth of last October, Iraq held early legislative elections to get out of a political crisis that swept the country after large demonstrations in the central and southern regions in 2019 in protest against the widespread unemployment in society, the spread of financial and administrative corruption in government departments and institutions, and the deteriorating reality The service and the livelihood, which prompted the former prime minister, Adel Abdul-Mahdi, to resign under popular pressure.
As soon as the preliminary results of the elections were announced, the voices of political forces and actors rose in their rejection of losing many seats, accusing them of major fraud in the ballot, which was denied by the executive and judicial authorities, at a time when the United Nations and international organizations praised the integrity of the electoral process.
https://shafaq.com/ar/%D8%B3%DB%8C%D8%A7%D8%B3%D8%A9/%D8%A7%D9%84%D8%B9%D8%A7%D9%85%D8%B1%D9%8A-%D9%8A%D8%B5%D9%84-%D9%84%D9%89-%D8%A7%D9%84%D8%B3%D9%84%D9%8A%D9%85%D8%A7%D9%86%D9%8A%D8%A9-%D8%A8%D8%B9%D8%AF-%D8%A7%D8%AE%D8%AA%D8%AA%D8%A7%D9%85-%D9%85%D8%A8%D8%A7%D8%AD%D8%AB%D8%A7%D8%AA-%D8%B1%D8%A8%D9%8A%D9%84