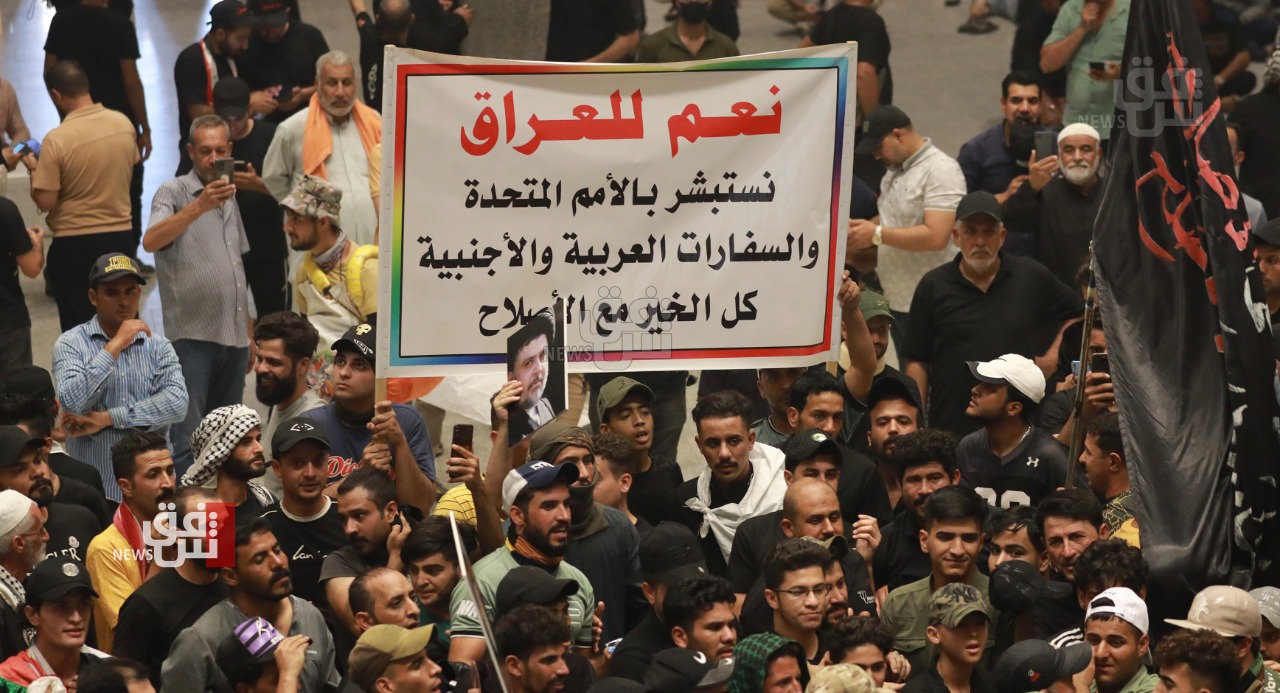 politicsbreakingMuqtada al-SadrTelephone conversationOctober movementgreen picket
2022-08-07 12:19A-AA+
Shafaq News/ A source from the "Tishreen Movement" revealed on Sunday that the leader of the Sadrist movement, Muqtada al-Sadr, made a phone call to a number of movement activists to join the sit-in of the movement's supporters in the Green Zone, indicating that the activists, in turn, contacted the Seven-Sadr Committee to discuss the matter.
The source told Shafaq News Agency, "Al-Sadr said during the seven-minute phone call that the doors of Al-Hanana (his residence in Najaf) are open to activists at any time for dialogue and discussion and ways to hold the corrupt and murderers accountable, even if they are from the Sadrist movement."
During the call, al-Sadr stressed, according to the source, "the accountability of the corrupt in the previous governments and the killers of the demonstrators, and handing them over to the judiciary."
He added, "After the call with al-Sadr, a contact took place between the activists and the Seven Committee, which was also formed by al-Sadr through a phone call, and there is no meeting on the ground that brought together the activists and the aforementioned committee."
The source concluded by saying, "The invitation that Al-Sadr received to the activists is currently under discussion, and we have not determined the point of view of accepting or rejecting the invitation."
While a source from the Sadrist movement confirmed to Shafak News Agency, "There is prior coordination between the Coordination Committee of the sit-in and a number of people who represent the popular movement for the October demonstrations."
The Sadrist source indicated that "the demands of the representatives of the October demonstrations are legitimate and they do not differ from the demands of the sit-ins. Everyone wants to hold the corrupt, the killers of the demonstrators and the Iraqi people accountable, and to end the quota government by holding early elections and forming a national majority government that serves the Iraqi people."
A number of "Tishreen Movement" activists had earlier called on the leader of the Sadrist movement, Muqtada al-Sadr, to provide them with guarantees after they were abandoned, provided they joined the Sadrist movement's sit-in in the Green Zone.
https://shafaq.com/ar/%D8%B3%DB%8C%D8%A7%D8%B3%D8%A9/%D8%A7%D9%84%D8%B5%D8%AF%D8%B1-%D9%8A%D8%AA%D8%B5%D9%84-%D9%87%D8%A7%D8%AA%D9%81%D9%8A%D8%A7-%D8%A8%D9%86%D8%A7%D8%B4%D8%B7%D9%8A%D9%86-%D9%85%D9%86-%D8%AD%D8%B1%D8%A7%D9%83-%D8%AA%D8%B4%D8%B1%D9%8A%D9%86-%D9%84%D8%B6%D9%85%D9%87%D9%85-%D9%84%D8%A7%D8%B9%D8%AA%D8%B5%D8%A7%D9%85%D9%87