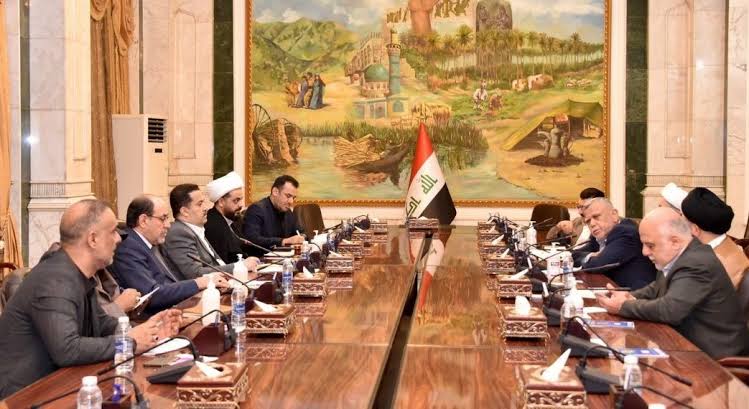 politicsbreakingEarly electionscoordinating framework
2022-08-04 15:45A-AA+
Shafaq News / The coordination framework, which brings together the Shiite forces participating in the political process, affirmed, on Thursday evening, its support for any constitutional path to address political crises and achieve the interests of the people, including holding early elections, according to conditions.
The framework stipulated, in a statement received by Shafak News Agency, "achieving national consensus on early elections, and providing a safe environment for their holding."
He stressed the need to "work to respect the constitutional institutions, and not to disrupt their work, and to keep the ceiling of political forces, the law, the constitution and the interest of the people."
The position of the coordination framework comes a day after the leader of the Sadrist movement, Muqtada al-Sadr, called for dissolving the current parliament and holding early elections, which he said he had not yet decided whether to run or not.
Soon, several political forces, including those affiliated with the coordination framework, announced their support and welcome to Al-Sadr's call for early elections.
In a statement yesterday, Al-Amiri stressed the need for a comprehensive national dialogue in order to set a date, mechanisms and requirements for holding new early elections, including providing appropriate climates to restore citizens' confidence in the political process.
The political scene is living in a crisis situation and a dead end unprecedented in the history of Iraq, as more than 300 days have passed since the early elections without being able to form a new government in the country, and the survival of the caretaker government headed by Mustafa Al-Kazemi.
On the tenth of last October, Iraq held early legislative elections to get out of a political crisis that swept the country after large demonstrations in the central and southern regions in 2019 in protest against the widespread unemployment in society, the spread of financial and administrative corruption in government departments and institutions, and the deteriorating reality The service and the livelihood, which prompted the former prime minister, Adel Abdul-Mahdi, to resign under popular pressure.
Yea As soon as the preliminary results of the elections were announced, the voices of forces and political actors rose in their rejection of losing many seats, accusing them of major fraud in the ballot, which was denied by the executive and judicial authorities, at a time when the United Nations and international organizations praised the integrity of the electoral process.
https://shafaq.com/ar/%D8%B3%DB%8C%D8%A7%D8%B3%D8%A9/%D8%A7%D9%84-%D8%B7%D8%A7%D8%B1-%D8%A7%D9%84%D8%AA%D9%86%D8%B3%D9%8A%D9%82%D9%8A-%D9%8A%D8%B9%D9%84%D9%86-%D8%AF%D8%B9%D9%85%D9%87-%D9%84-%D8%AC%D8%B1%D8%A7-%D8%A7%D9%86%D8%AA%D8%AE%D8%A7%D8%A8%D8%A7%D8%AA-%D9%85%D8%A8%D9%83%D8%B1%D8%A9-%D9%88%D9%81%D9%82-%D8%B4%D8%B1%D9%88%D8%B7