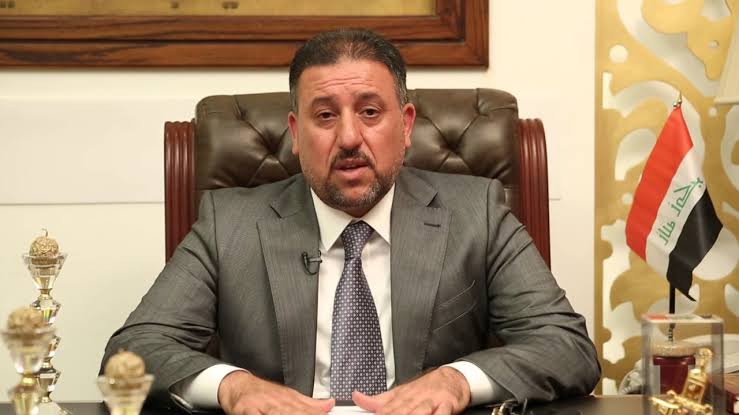 politicsNouri al-Malikikhamis daggerParliament sessionSovereignty AllianceShiite Coordination Framework
2022-07-28 14:13A-AA+
Shafaq News/ The head of the Sovereignty Alliance, Khamis al-Khanjar, informed the Shiite Coordinating Framework Alliance, on Thursday, that the Sovereignty's deputies would not attend the next parliament session until after meeting a number of conditions.
Al-Khanjar said in a statement received by Shafaq News Agency, that the Sovereignty's representatives will not attend the next session, unless a "binding agreement and an official signature on the paper of the Sovereignty Alliance, guaranteeing the rights and demands of its audience, as well as after agreeing with the Kurdistan Democratic Party and ensuring its political entitlements."
He stressed the need to "find a comprehensive national understanding before entering into any details related to the shape of the next government or its entitlements," stressing the importance of including "the coordination framework initiative real steps to demonstrate goodwill with everyone, and respect for the orientations of the Sadrist movement."
The head of the Sovereignty Alliance, Khamis al-Khanjar, concluded his statement by noting that "the logic of exclusivity will only bring more instability and chaos to Iraq."
A short while ago, the Presidency of the Iraqi Council of Representatives denied setting a date for the election session of the President of the Republic, stressing that what was published about setting it next Saturday is not true.
Some political blocs and deputies had announced in earlier times that next Saturday, the House of Representatives would hold a session to elect the President of the Republic, who in turn would ensure the largest parliamentary bloc to form the government.
Earlier today, a leading source in the coordination framework that includes Shiite forces except for the Sadrist movement told Shafaq News Agency; "There is fear among the leadership of the coordination framework of holding a session to elect the president of the republic and assigning the framework candidate, Muhammad Shiaa al-Sudani, to form the government, for fear of storming the parliament by supporters of the Sadrist movement, as happened yesterday, Wednesday."
https://shafaq.com/ar/%D8%B3%DB%8C%D8%A7%D8%B3%D8%A9/%D8%A7%D9%84%D8%AE%D9%86%D8%AC%D8%B1-%D9%84%D9%84%D9%85%D8%A7%D9%84%D9%83%D9%8A-%D9%84%D9%86-%D9%86%D8%B4%D8%A7%D8%B1%D9%83%D9%83-%D8%AD%D9%83%D9%88%D9%85%D8%A9-%D9%84%D8%A7-%D8%A8%D8%AA%D9%84%D8%A8%D9%8A%D8%A9-%D9%87%D8%B0%D9%87-%D8%A7%D9%84%D8%B4%D8%B1%D9%88%D8%B7