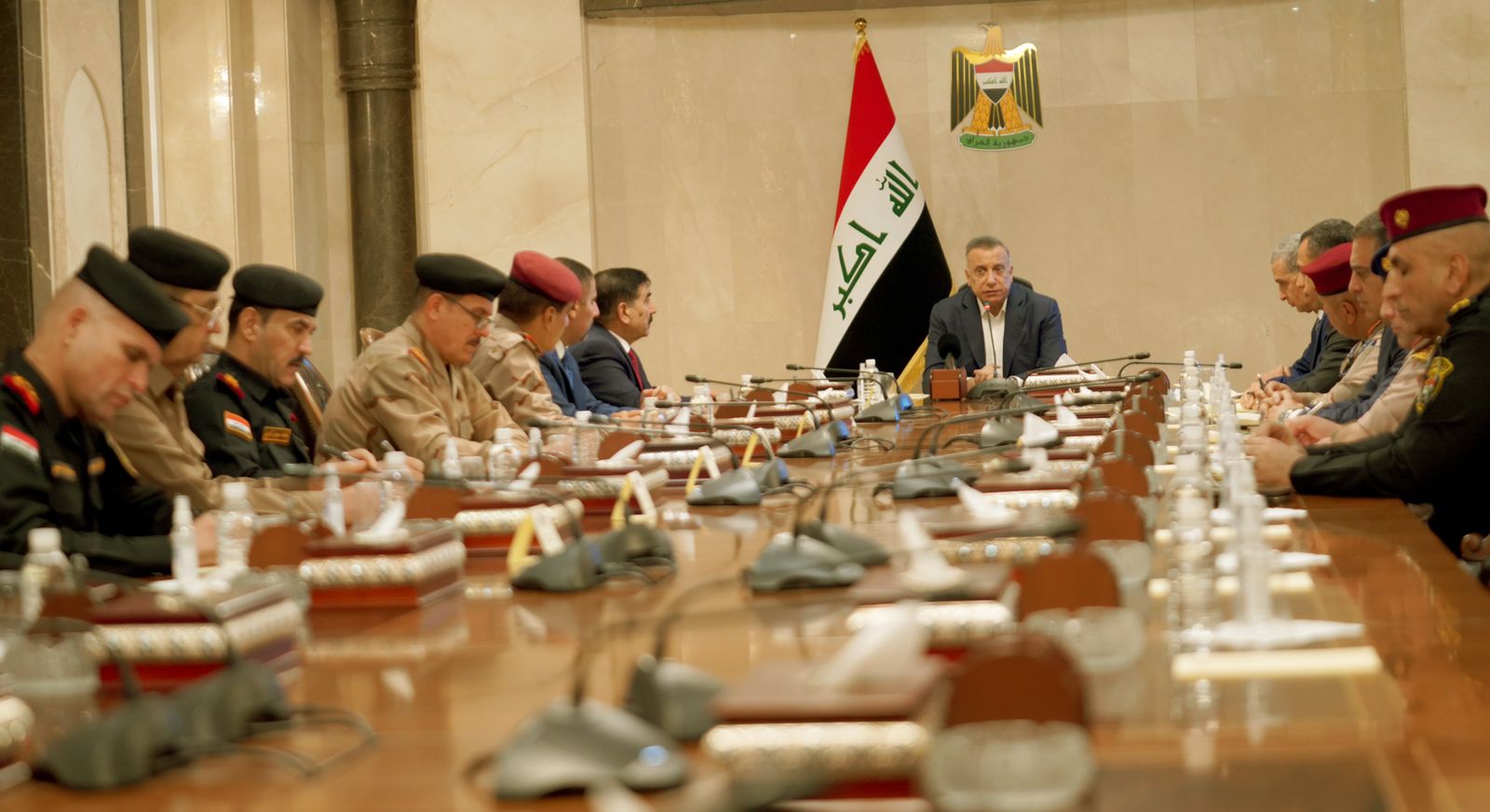 securitythe green ZonebreakingSadrist MovementAl-Kazemi
2022-07-28 13:38A-AA+
Shafaq News/ The Prime Minister, Commander-in-Chief of the Armed Forces, Mustafa Al-Kazemi chaired today, Thursday, an expanded meeting that brought together the security leaders of the armed forces.
The meeting discussed the course of what happened during the demonstrations yesterday in the Green Zone, and the mechanism for protecting demonstrations to ensure that peaceful demonstrators are not attacked, according to a statement by his office.
Al-Kazemi stressed that the government is committed to its duty to maintain security, ensure social peace, and protect public and private institutions, and diplomatic missions.
The Commander-in-Chief of the Armed Forces reiterated that the security services perform their role in accordance with the law; To protect government institutions and international missions, and to prevent any attempt to disturb security and public order.
The meeting comes after a movement and calls within the Sadrist movement published on social media, threatening to storm the House of Representatives again if the coordination framework insists on the nomination of Muhammad Shia Al-Sudani for the position of prime minister, or a session of Parliament is held next week.
Yesterday, Wednesday, hundreds of al-Sadr's supporters stormed the Iraqi parliament building in the Green Zone, in protest against the coordination framework's move to form a government and push a candidate from the Dawa Party led by al-Maliki.
Al-Sadr had hinted on more than one occasion to stand in the way of forming a government in accordance with the principle of quotas adopted since 2003.
Al-Sadr withdrew from the political process, after months of tug-of-war with the coordination framework to form a government according to the majority principle, which he confronted in alliance with the Kurdistan Democratic Party and a Sunni political coalition that brought together Muhammad al-Halbousi and Khamis al-Khanjar.
https://shafaq.com/ar/%D8%A3%D9%85%D9%80%D9%86/%D8%A7%D8%AC%D8%AA%D9%85%D8%A7%D8%B9-%D9%85%D9%86%D9%8A-%D9%85%D9%88%D8%B3%D8%B9-%D8%A8%D8%B1-%D8%A7%D8%B3%D8%A9-%D8%A7%D9%84%D9%83%D8%A7%D8%B8%D9%85%D9%8A-%D9%8A%D9%86%D8%A7%D9%82%D8%B4-%D8%AA%D8%B8%D8%A7%D9%87%D8%B1%D8%A7%D8%AA-%D8%A7%D9%84%D8%B5%D8%AF%D8%B1%D9%8A%D9%8A%D9%86