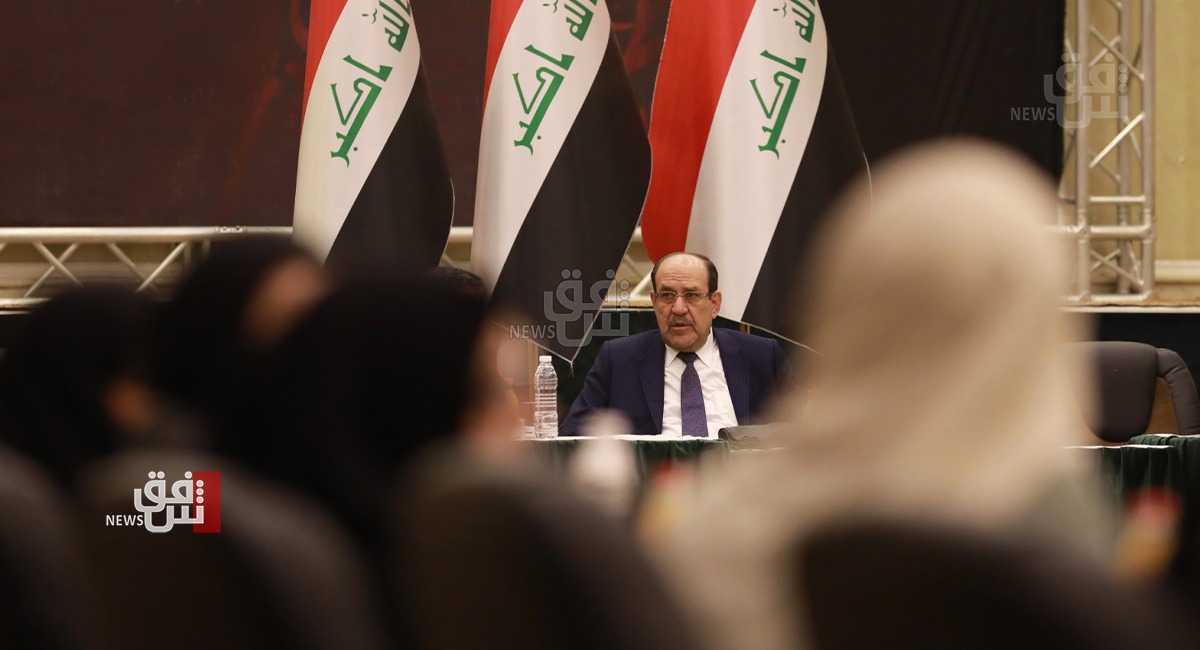 politicsNouri al-MalikiPrime Minister positionShiite coordination framework
2022-07-05 12:53A-AA+
Shafaq News/ A source in the coordination framework said, on Tuesday, that the framework will officially present the name of the head of the State of Law coalition, Nuri al-Maliki, as a candidate for the position of prime minister during the next meeting of the framework and the forces allied with it.
The source told Shafaq News Agency, "It is hoped that the leaders of the coordination framework will hold an important meeting in the coming days to discuss a number of files, including the nomination of candidates for the presidency of the next government, where (Al-Maliki) will be presented as an official candidate for the position within the corridors of the framework, in addition to submitting other names from The same Shiite alliance, and thus the leader of the state of law officially enters the list of competition for the government, and that the objections to the latter are almost non-existent now.
He pointed out that "the meeting to be held will include registering the names and signatures of the deputies involved in the framework to form the largest parliamentary bloc to ensure that a parliamentary session with a full quorum is held after the end of the Eid holiday to announce the largest bloc in addition to the election of the President of the Republic, where the matter was discussed with the Kurdish leaders to resolve their candidate for the presidency."
The source added that "the political movement within the framework is very accelerating to form a strong government capable of meeting the requirements of the Iraqi street in general."
The leader of the State of Law coalition, Muhammad al-Sihoud, told Shafaq News earlier, "The last meeting of the State of Law coalition, in which it was agreed to nominate the leader of the coalition, Nuri al-Maliki, for the position of Prime Minister, according to the criteria and mechanism proposed by the coordinating framework in the personality of the candidate for the position Prime Minister".
Al-Sihoud explained, "The Al-Fateh bloc has not submitted any candidate so far, and we are waiting for the opening of the nomination door from within the largest parliamentary bloc represented by Shiite deputies, so that the candidate will be elected within the bloc, as happened in 2005 when the United Iraqi Alliance opened the door for nomination for all From Ibrahim Al-Jaafari, Adel Abdul-Mahdi and Ahmed Chalabi, so that Al-Jaafari will be elected and win the elections.
Since the Sadrist bloc's representatives submitted their resignations from the Iraqi Council of Representatives and the withdrawal of the Sadrist movement's leader Muqtada al-Sadr from the political process, the coordinating framework has addressed the task of forming the new government and entered into internal negotiations and dialogues with other political forces, but until now no formal announcements have been made about reaching understandings between the two parties. The blocs lead to the formation of the government.
https://shafaq.com/ar/%D8%B3%DB%8C%D8%A7%D8%B3%D8%A9/%D8%AE%D9%84%D8%A7%D9%84-%D8%A7%D8%AC%D8%AA%D9%85%D8%A7%D8%B9%D9%87-%D8%A7%D9%84%D9%85%D9%82%D8%A8%D9%84-%D8%A7%D9%84-%D8%B7%D8%A7%D8%B1-%D8%A7%D9%84%D8%AA%D9%86%D8%B3%D9%8A%D9%82%D9%8A-%D9%8A%D8%B7%D8%B1%D8%AD-%D8%A7%D9%84%D9%85%D8%A7%D9%84%D9%83%D9%8A-%D8%B1%D8%B3%D9%85%D9%8A%D8%A7-%D9%85%D8%B1%D8%B4%D8%AD%D8%A7-%D9%84%D8%B1-%D8%A7%D8%B3%D8%A9-%D8%A7%D9%84%D8%AD%D9%83%D9%88%D9%85%D8%A9-%D8%A7%D9%84%D8%B9%D8%B1%D8%A7%D9%82%D9%8A%D8%A9-%D8%A7%D9%84%D8%AC%D8%AF%D9%8A%D8%AF%D8%A9