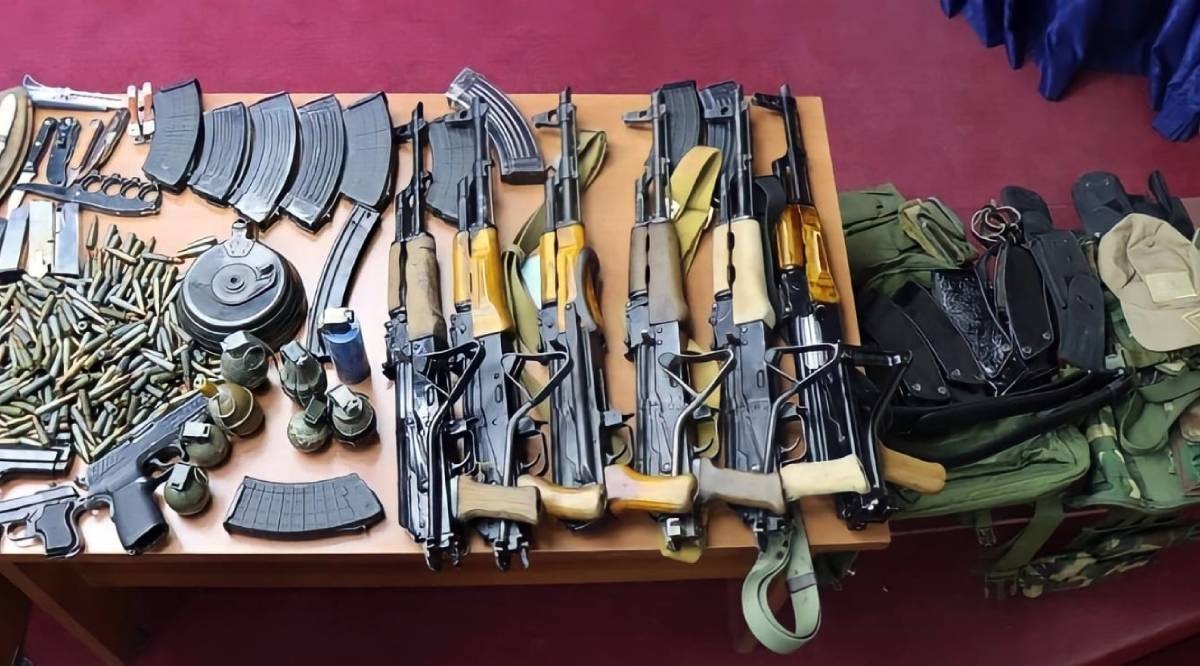 KurdistanKurdistan Regionbreakingarms embargo
2022-07-01 17:13A-AA+
Shafaq News/ The Ministry of Interior of Kurdistan Regional Government announced on Friday that it had seized more than 6,000 unlicensed weapons in separate areas of the region.
The ministry said in a statement received by Shafak News Agency; After the Prime Minister's directives to prevent the use of unlicensed weapons, the security forces began seizing 6,198 different weapons.
The ministry indicated that, "2228 pistols, 1811 pistol bullets, 748 Kalashnikov weapons, 9,524 Kalashnikov bullets, 3,222 hunting rifles and 26,523 hunting rifle bullets were seized."
And the governor of Sulaymaniyah, Haval Abu Bakr, announced in a racing statement that the joint committee with the security forces will set up checkpoints inside and outside cities to seize unlicensed weapons.
He added that as of Thursday, it was decided to assign the Asayish Directorate of Sulaymaniyah and the administrative units to close all shops and markets where weapons are sold and to suspend all transactions with weapons.
Meanwhile, Halabja Governorate announced in a statement that Shafaq News Agency received a copy of, directing the Halabja Asayish, Sayed Sadiq and Sharzor to form detachments to seize weapons and to close down arms shops.
Garmian administration formed a high committee consisting of the security services to seize unlicensed weapons, while Garmian University Police Station directed the entry of any weapon for any reason to the university campus.
Yesterday, Thursday, the Minister of Interior of the Kurdistan Region, Reber Ahmed, announced that the security services were instructed to pursue the sale of weapons via the Internet, especially in social media.
On Thursday, the Prime Minister of the Kurdistan Regional Government, Masrour, directed the Ministry of Interior to close the places of buying and selling weapons, and also urged citizens to hand over their unlicensed weapons.
This step comes after an increase in shooting incidents in several areas of the region, including the incident that killed two university professors in Erbil.
https://shafaq.com/ar/%D9%83%D9%88%D8%B1%D8%AF%D8%B3%D9%80%D9%80%D8%AA%D8%A7%D9%86%D9%8A%D8%A7%D8%AA/%D8%A8%D8%B9%D8%AF-%D8%B3%D8%B1%D9%8A%D8%A7%D9%86-%D8%A7%D9%84%D8%AD%D8%B8%D8%B1-%D8%B6%D8%A8%D8%B7-%D9%83%D8%AB%D8%B1-%D9%85%D9%86-6-%D9%84%D8%A7%D9%81-%D9%82%D8%B7%D8%B9-%D8%B3%D9%84%D8%A7%D8%AD-%D9%8810-%D9%84%D8%A7%D9%81-%D8%B7%D9%84%D8%A7%D9%82%D8%A9-%D9%81%D9%8A-%D8%A7%D9%82%D9%84%D9%8A%D9%85-%D9%83%D9%88%D8%B1%D8%AF%D8%B3%D8%AA%D8%A7%D9%86