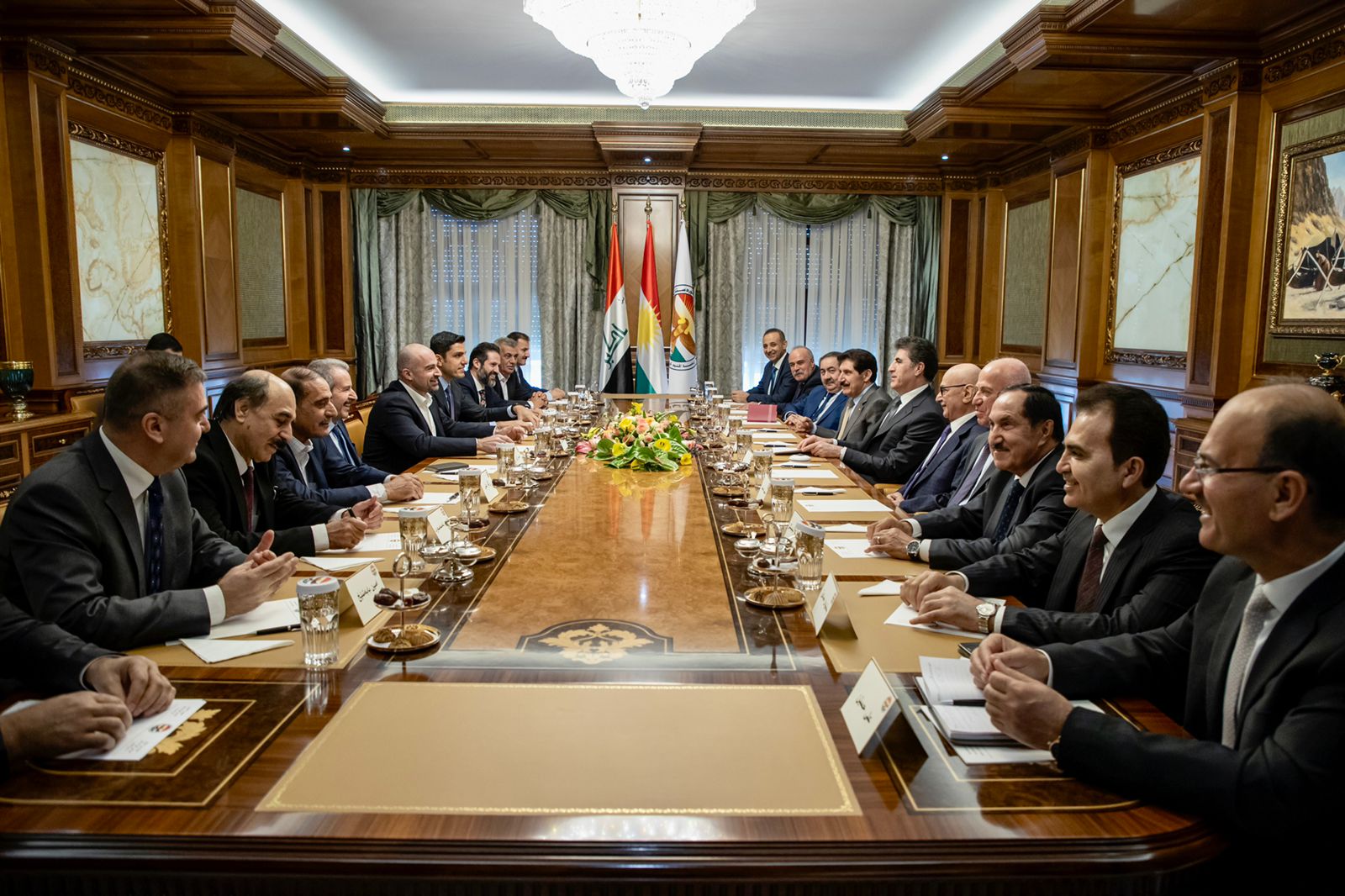 KurdistanbreakingNechirvan BarzaniThe National UnionKurdistan Democratic Partydistrict chiefbipartisan meeting
2022-05-25 07:18A-AA+
Shafaq News/ The political offices of the two main parties in the Kurdistan Democratic Region and the Patriotic Union of Kurdistan concluded today, Wednesday, a meeting they held in the region's presidency in the capital, Erbil.
A joint statement issued by the two political offices stated that during the meeting, they discussed explicitly the relations between the two sides and the current situation in Iraq and the Kurdistan Region, and finding an appropriate ground for cooperation and joint action.
The statement added that the two sides confirmed that after the initiative and visit of the President of the Kurdistan Region to Sulaymaniyah, a ground was available for dialogue, normalization and development of relations between the two sides, and work to restore confidence between the two parties, and cooperation between political parties through understanding and dialogue.
The two sides agreed to continue the joint meetings between the two political bureaus of the Kurdistan Democratic Party and the Patriotic Union of Kurdistan as a principle of joint action, as well as to form a joint committee between the two political bureaus to discuss the upcoming electoral process for the Parliament of Kurdistan.
In another axis of the meeting, they affirmed the support and support of both sides for the Kurdistan Regional Government and the legitimate institutions, and the continued prohibition of the media campaign against each other.
https://shafaq.com/ar/%D9%83%D9%88%D8%B1%D8%AF%D8%B3%D9%80%D9%80%D8%AA%D8%A7%D9%86%D9%8A%D8%A7%D8%AA/%D8%A7%D8%AC%D8%AA%D9%85%D8%A7%D8%B9-%D8%A7%D9%84%D8%AD%D8%B2%D8%A8%D9%8A%D9%86-%D8%A7%D9%84%D8%B1-%D9%8A%D8%B3%D9%8A%D9%8A%D9%86-%D9%81%D9%8A-%D9%82%D9%84%D9%8A%D9%85-%D9%83%D9%88%D8%B1%D8%AF%D8%B3%D8%AA%D8%A7%D9%86-%D9%8A%D9%86%D8%AA%D9%87%D9%8A-%D8%A8%D8%A7%D9%84%D8%A7%D8%AA%D9%81%D8%A7%D9%82-%D8%B9%D9%84%D9%89-%D9%85%D8%AC%D9%85%D9%88%D8%B9%D8%A9-%D9%86%D9%82%D8%A7%D8%B7