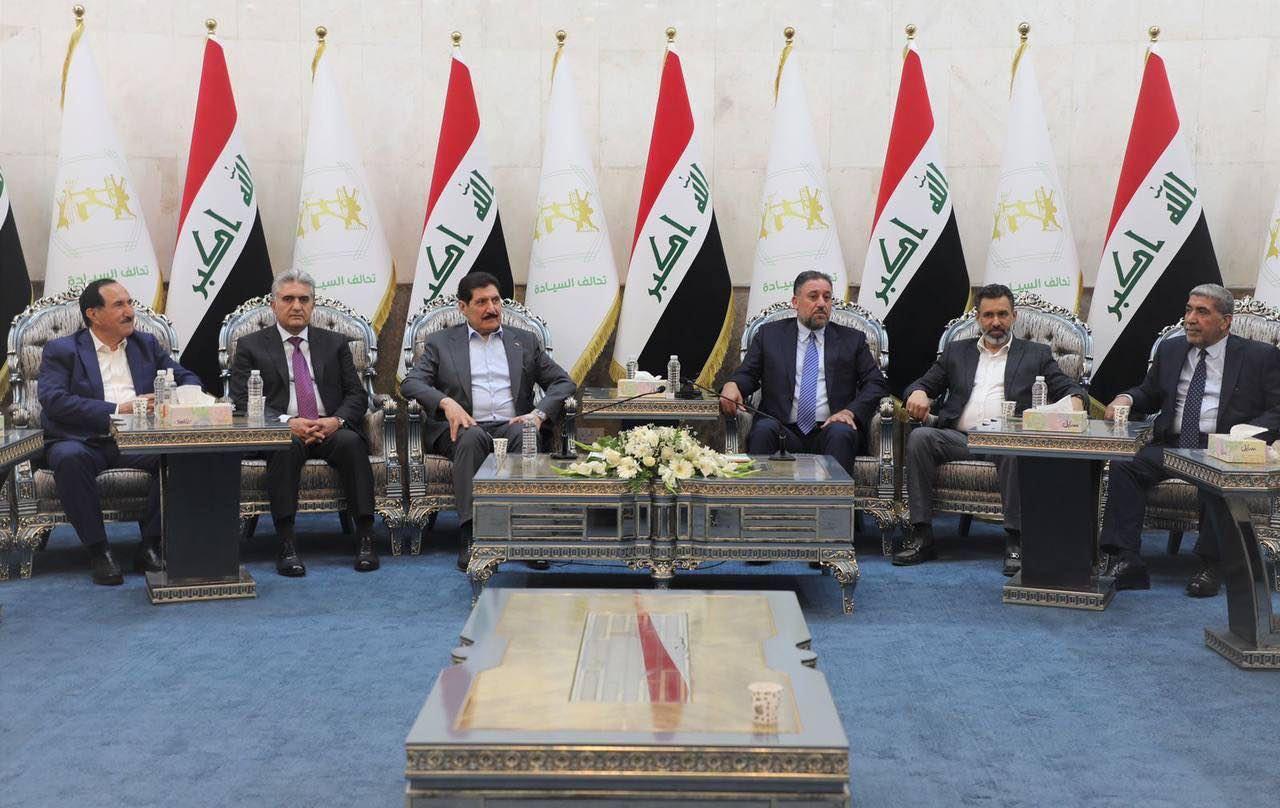 politicsMohammed Al-HalbousiSovereignty Alliance
2022-04-26 16:06A-AA+
Shafaq News/ The Sovereignty Alliance led by Khamis al-Khanjar denied, on Tuesday, talk of fragmentation and division of the coalition components and the withdrawal of some of its deputies and their joining the coordination framework.
The representative of the Progress Party, one of the pillars of the Sovereignty Alliance, Youssef Faraj Al-Sabawi told Shafaq News Agency, "The Sovereignty Alliance is more cohesive than before, and it is not true what some are promoting about the division or fragmentation of the components of the alliance. On the contrary, all the data indicate a close breakthrough in the tense political scene." Thanks to the initiatives and efforts made by the active political forces, especially the movement led by the (sovereignty) to bring the visions and orientations between all alliances closer to end the state of obstruction.
Today, Tuesday, Ali Al-Zubaidi, a member of the Al-Fateh Alliance headed by Hadi Al-Amiri told Shafak News Agency, "More than ten deputies from the Sovereignty Alliance withdrew from the latter and joined the coordination framework," explaining that "any disintegration in the Alliance to Save a Homeland will inevitably affect the digital equation that changes greatly in the The rules of the political equation controlling the Iraqi scene.
Al-Sabawi pointed out that "the movement led by Parliament Speaker Muhammad al-Halbousi is to resolve differences and overcome challenges that want to disrupt everything in the country, as evidenced by his visit today to Erbil, where he discussed with the leader of the Democratic Party, Massoud Barzani, a number of important files, including the situation in Sinjar and Zummar and other matters." of common interest."
Regarding Al-Halbousi's visit to Tehran, Al-Sabawi said that "Al-Halbousi's visit to Tehran comes in response to an invitation made by Iran earlier, as the Iraqi parliament speaker will discuss with his Iranian counterpart files of common interest, and I do not think he will discuss any proposed solutions."
Tomorrow, Wednesday, Iraqi Parliament Speaker Muhammad al-Halbousi will head to the Iranian capital, Tehran, in a new move to confront the political crisis afflicting the country.
A parliamentary source told Shafak News Agency, "Al-Halbousi will go to the Islamic Republic of Iran at the head of a parliamentary delegation on an official visit."
He explained that "Al-Halbousi's visit to Iran will not be without discussion of the political blockage in Iraq and solutions to end it during his meetings with a number of Iranian officials."
Today, Tuesday, Al-Halbousi, accompanied by the leader of the "Sovereignty" coalition, Khamis Al-Khanjar, arrived in Erbil and was received by Kurdish leader Massoud Barzani.
https://shafaq.com/ar/%D8%B3%DB%8C%D8%A7%D8%B3%D8%A9/%D8%A7%D9%84%D8%B3%D9%8A%D8%A7%D8%AF%D8%A9-%D9%8A%D8%B9%D9%84%D9%82-%D8%B9%D9%84%D9%89-%D9%86%D8%A8%D8%A7-%D8%A7%D9%86%D9%82%D8%B3%D8%A7%D9%85-%D9%85%D9%83%D9%88%D9%86%D8%A7%D8%AA%D9%87-%D9%88%D8%B2%D9%8A%D8%A7%D8%B1%D8%A9-%D8%A7%D9%84%D8%AD%D9%84%D8%A8%D9%88%D8%B3%D9%8A-%D9%84%D9%89-%D9%8A%D8%B1%D8%A7%D9%86-%D9%88%D9%8A%D8%AA%D8%AD%D8%AF%D8%AB-%D8%B9%D9%86-%D8%A7%D9%86%D9%81%D8%B1%D8%A7%D8%AC%D8%A9