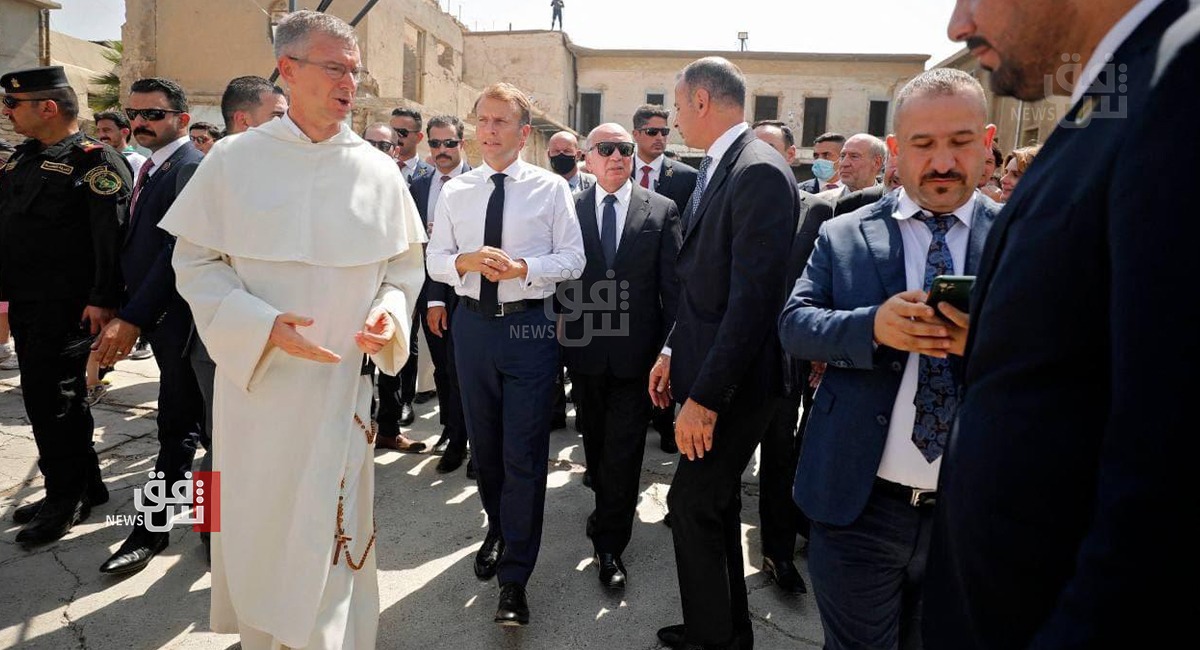 During Macron's visit to Mosul
politicsErbilBaghdadbreakingEmmanuel Macron
2022-04-24 20:38A-AA+
Shafaq News/ Political and governmental leaders in Baghdad and the Kurdistan Region congratulated Emmanuel Macron on winning a second French presidential term.
In his tweet, the President of the Iraqi Republic, Barham Salih, congratulated what he described as the important friend and partner of Iraq (Emmanuel Macron) on the occasion of his re-election as President of France.
He said: I wish him success and the French people progress and prosperity, and it is an occasion to emphasize the depth of the relations that bring the two friendly peoples together, and we look forward to strengthening them to serve common interests and establish security and stability in the region.
Macron had landed in Iraq in August 2021, on a visit described as historic, during which he met officials in Baghdad and Erbil, and he also visited Nineveh Governorate, which was clearing up the rubble of war against ISIS.
For his part, Prime Minister Mustafa Al-Kazemi sent, on Sunday evening, a cable of congratulations to French President Emmanuel Macron on the occasion of his re-election as President of the French Republic.
Al-Kazemi expressed his wishes to strengthen joint action for the benefit of the friendly Iraqi and French peoples, and his wishes for the French government and people continued progress and prosperity.
In the Kurdistan Region, Kurdish leader Masoud Barzani said, "I wish the people of France all the best for Emmanuel Macron's victory in the presidential elections. I sincerely hope that the strong friendship between the peoples of Kurdistan and France will remain strong."
Paris has a long history of relationship with Kurdish leaders, and Macron's last term witnessed several visits by Kurdish officials to the Elysee Palace.
For his part, Kurdistan Region President Nechirvan Barzani said in a tweet, congratulating Macron's victory, "I look forward to continuing to work closely to develop our relations and consolidate our efforts to promote regional peace and stability."
In the second and decisive round of the French presidential elections, Macron topped his rival, Le Pen, by more than 58%, while the latter received only 42%, which she described as a "big victory."
Macron became the first president to be re-elected since Jacques Chirac in 2002, and the first president to be re-elected outside a period of coexistence with a government by another politician since the start of the selection of the head of state by direct universal suffrage in 1962.
For his part, the Prime Minister of the Kurdistan Regional Government, Masrour Barzani, said in a tweet congratulating Macron, "I look forward to working with you to continue strengthening the friendship between the Kurdistan Region and France."
Macron said in his victory speech in front of the Eiffel Tower in Paris that he would continue to work to make France and Europe "more powerful", offering his thanks to "all those who trusted in France stronger." He also addressed his opponents, saying, "I am not the leader of a team, but the leader of everyone."
https://shafaq.com/ar/%D8%B3%DB%8C%D8%A7%D8%B3%D8%A9/%D8%B1-%D8%A7%D8%B3%D8%A7%D8%AA-%D8%A8%D8%BA%D8%AF%D8%A7%D8%AF-%D9%88-%D8%B1%D8%A8%D9%8A%D9%84-%D8%AA%D9%87%D9%86-%D8%A8%D9%81%D9%88%D8%B2-%D9%85%D8%A7%D9%83%D8%B1%D9%88%D9%86-%D9%88%D8%AA%D8%AA%D8%B7%D9%84%D8%B9-%D9%84%D8%AA%D8%B9%D8%B2%D9%8A%D8%B2-%D8%A7%D9%84%D8%B9%D9%84%D8%A7%D9%82%D8%A7%D8%AA