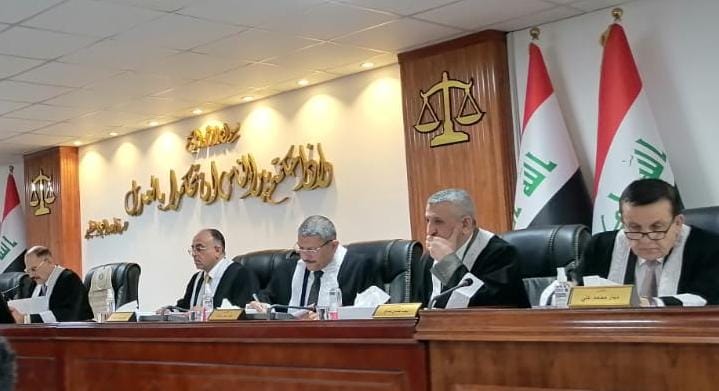 politicsbreakingFederal Courtexchange rate
2022-03-14 06:23A-AA+
Shafaq News/ The Federal Supreme Court decided to postpone 32 federal lawsuits regarding raising the dollar exchange rate, until the fourth of next April.
The Federal Court had decided to summon the Minister of Finance and the Governor of the Central Bank, to appear before him in a special session regarding the exchange rate of the dollar against the Iraqi dinar, and to seek the assistance of economic experts, Bassem Jamil and Abdul Rahman Najm.
It is noteworthy that the Central Bank of Iraq, on December 19, 2020, officially announced the amendment of the foreign exchange rate (the US dollar) to be 145,000 dinars for every $100, according to the state's general budget for the year 2021 approved by the House of Representatives.
As a result, according to specialists, the annual inflation in Iraq has risen significantly, so that the prices of all materials and commodities in the Iraqi market have risen significantly, which has sparked a wave of strong resentment among the popular circles, as well as the objections of some interested in economic affairs.
https://shafaq.com/ar/%D8%B3%DB%8C%D8%A7%D8%B3%D8%A9/%D8%A7%D9%84%D9%85%D8%AD%D9%83%D9%85%D8%A9-%D8%A7%D9%84%D8%A7%D8%AA%D8%AD%D8%A7%D8%AF%D9%8A%D8%A9-%D8%AA%D8%B1%D8%AC-%D8%AF%D8%B9%D9%88%D9%89-%D8%B1%D9%81%D8%B9-%D8%B3%D8%B9%D8%B1-%D8%A7%D9%84%D8%AF%D9%88%D9%84%D8%A7%D8%B1-%D9%84%D9%89-4-4