political| 09:26 – 17/02/2022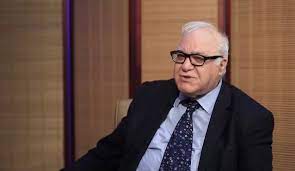 Baghdad – Mawazine News
, the financial advisor to the Prime Minister, Mazhar Muhammad Salih, confirmed today, Thursday, that the time has come to address the side effects of the exchange rate change and its effects on income, while warning of a double financial slope related to unemployment.
Saleh said, "The time has come for fiscal policy to play its active and important role in addressing the side effects that resulted from the exchange rate change and its effects on income, especially the negative impact of the poor and low-income classes by price failures without compensation."
He added, "Usually, the transitional effects of the exchange rate depreciation on monetary income correspond to positive fiscal policies with influential social and economic effects within the income range, i.e. creating counter-price effects that generate positive or real income effects that help stabilize the standard of living for the low-income social classes."
He added, "This aspect is directly related to the importance of reducing customs taxes in a tangible way on imported foodstuffs, medicines and local production supplies, as well as restructuring government support for goods and services that directly affect the poor social classes."
He pointed out that "the most important thing is to start adopting employment policies for the unemployed and expanding the cash income space with additional and exceptional measures that lead to the employment of the unemployed in a tangible and comprehensive manner and creating sources of cash income that increase the welfare of society."
He continued, "Unemployment today is one of the most serious economic and social scourges in our country and becomes more dangerous when accompanied by price developments that lead to an erosion of cash income or the purchasing power of family income sources, and it is a double financial slope that must be avoided."
Earlier, the leader of the Sadrist movement, Muqtada al-Sadr, presented today, Thursday, six proposals regarding the dollar exchange rate.
In a statement, Mr. Al-Sadr said, "With regard to the dollar exchange rate, we propose some proposals in order for this not to continue:
1- To stop the smuggling of currency, forcefully and firmly, as well as forged invoices.
2- To look into the matter of some banks such as the Middle East Bank, Al-Qaqid and Al-Ansari that belong to each other . Persons controlling the currency and some other private banks
3- Immediately summoning the director of the Central Bank under the dome of Parliament
4- Summoning the Minister of Finance under the parliament immediately
5- Regulating the Iraqi currency market centrally and in a correct manner and by enacting some laws that increase the value of the Iraqi dinar exchange rate
6- Dealing firmly with some banks belonging to some of the parties that control the country and the people .