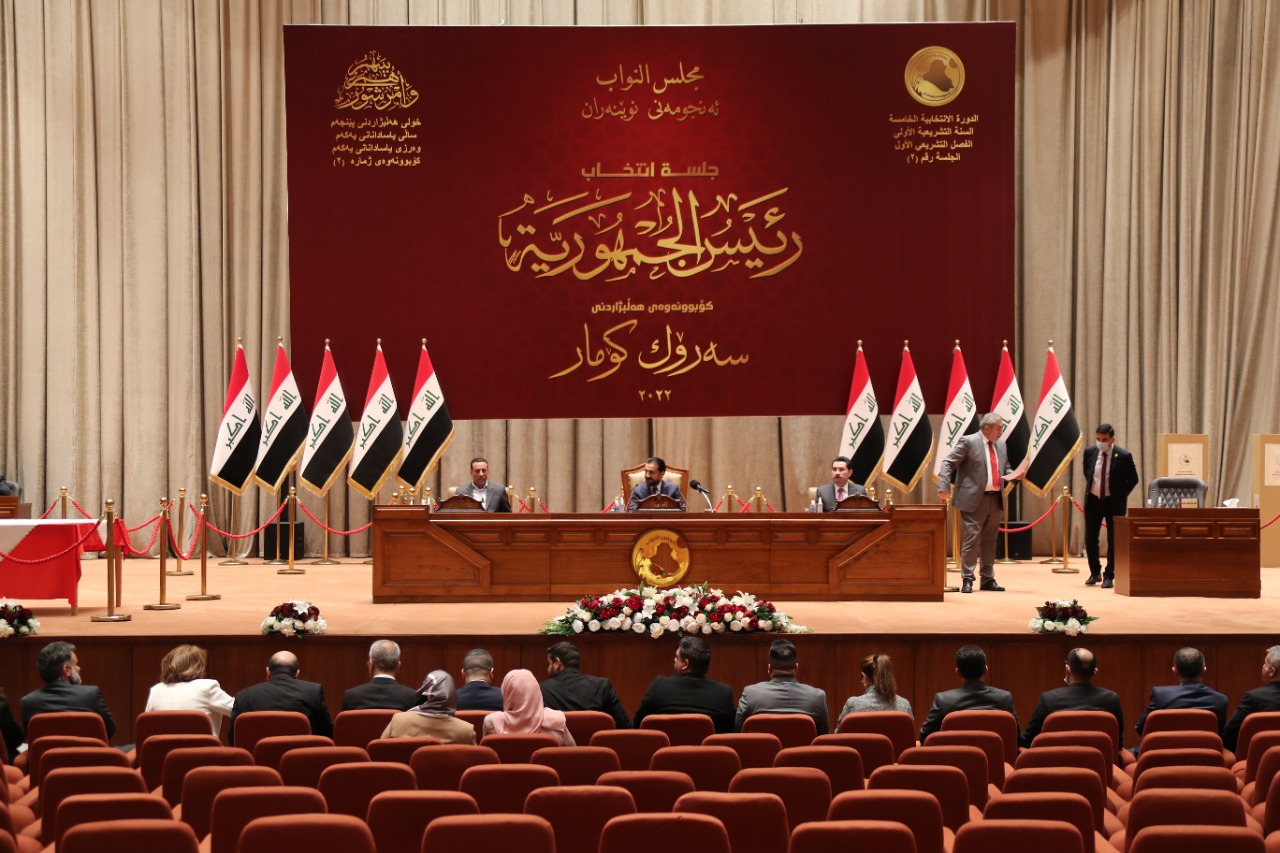 politicsIraqi parliamentbreakingElection of the President of the Republic 2022-02-07 06:56A-AA+
Shafaq News/ On Monday, a parliamentary source reported that the parliament session for electing the president of the republic had ended, without holding an official session because the quorum was not achieved.
The source told Shafaq News Agency, "The House of Representatives ended its deliberative session and the parliamentarians left the parliament building."
The parliament session was scheduled to take place at twelve o'clock local time to elect a new President of the Republic from among 25 candidates.
However, the session did not convene due to the failure to achieve the required quorum for the number of members present; It was attended by only 58 deputies out of 329.
And on Sunday, the Sadrist bloc, the Sovereignty Alliance, the Kurdistan Democratic Party, and the Turkmen bloc announced their boycott of the parliament session, while the coordination framework welcomed the blocs' boycott of the session in order to allow more discussions to contain the existing differences.
These developments come after the Federal Supreme Court of Iraq issued a decision to stop the procedures for the nomination of Hoshyar Zebari for the post of President of the Republic until he resolved a lawsuit filed by four deputies on the grounds that Zebari did not meet the conditions required to occupy the position.
Legal experts considered that the Iraqi parliament's session dedicated to electing the new president has become suspended as a result of the recent Federal Court decision.
https://shafaq.com/ar/%D8%B3%DB%8C%D8%A7%D8%B3%D8%A9/%D8%A7%D9%86%D8%AA%D9%87%D8%A7-%D8%AC%D9%84%D8%B3%D8%A9-%D8%A7%D9%84%D8%A8%D8%B1%D9%84%D9%85%D8%A7%D9%86-%D8%AF%D9%88%D9%86-%D8%A7%D9%86%D8%AA%D8%AE%D8%A7%D8%A8-%D8%B1-%D9%8A%D8%B3-%D8%A7%D9%84%D8%AC%D9%85%D9%87%D9%88%D8%B1%D9%8A%D8%A9