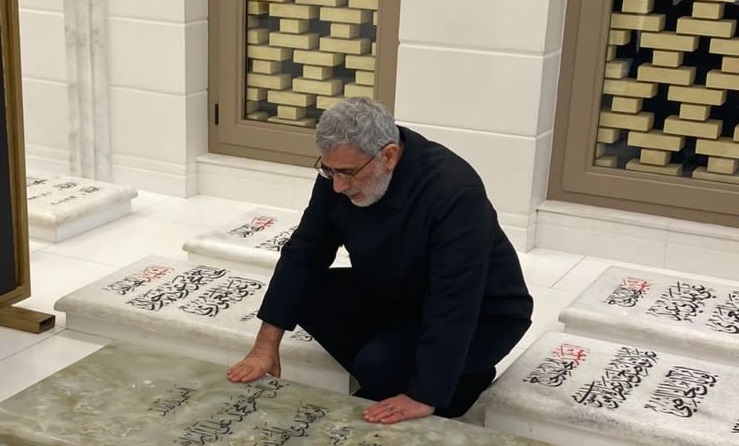 politicsbreakingMuqtada al-SadrIsmael QaaniShiite coordination framework 2022-01-17 09:01A-AA+
Shafaq News/ A source from within the coordination framework revealed that the expected meeting of the latter with Al-Sadr depends on Al-Amiri's return from Erbil and the results achieved.
While another source reported that the leader of the Sadrist movement informed the commander of the Iranian Quds Force, Ismail Qaani, of his position regarding the State of Law coalition and its leader, Nuri al-Maliki.
The source told Shafak News Agency; "The commander of the Quds Force of the Iranian Revolutionary Guard, Ismail Qaani, met late last night in Al-Hanana with the leader of the Sadrist movement, Muqtada Al-Sadr, and discussed with him the unification of positions within the Shiite political house."
The source added; "Al-Sadr informed Qaani of his refusal for the leader of the State of Law coalition, Nuri al-Maliki, to be part of the new Iraqi government."
He pointed out that "Qaani's meeting with the leaders of the coordination framework is still going on until this moment in the house of the leader of the victory coalition Haider al-Abadi, and the discussion continues until the moment about what al-Sadr wants from the leaders of the framework."
Another source told Shafak News Agency, "The political equation will change its scales and will turn the political table upside down if the expected meeting between the coordination framework and al-Sadr is achieved and the two parties agree to rearrange the Shiite house again."
He added that "the official in charge of the Iraqi-Iranian file (Qaani) who is currently in Iraq, called on the forces of the coordination framework to adopt flexibility and acceptance of what al-Sadr will propose, even if this is at the expense of personal or partisan interest in order to achieve the public interest for the whole of Iraq."
source saw; Qaani has achieved even a small part of the objectives of his visit, which is to break the deadlock between the framework forces and the leader of the Sadrist movement, and it is hoped that a decisive strategic meeting will take place between the Shiite forces after the return of the head of the Conquest Alliance Hadi Al-Amiri from Erbil, because the Shiite forces are keen on maintaining the strategic relationship with allies, specifically the Kurds."
And he added, "The proposed scenario and the closest to implementation is that the representatives of the state of law (33) without their leader join the alliance of conquest so that the title of the state of law does not remain within the new Shiite alliance, if things are done as planned and that the representatives of the state of law will have a share in the formation of the next government according to their electoral entitlement.
He pointed out that "the entire political equation will change, including changing the parliament's presidency, and the Sunni leaders' struggle may return again over the position of parliament's presidency," noting that "the coming hours will be laden with accelerating events, even if this is postponed to tomorrow."
https://shafaq.com/ar/%D8%B3%DB%8C%D8%A7%D8%B3%D8%A9/%D9%82%D8%A7-%D9%86%D9%8A-%D9%8A%D9%81%D8%B4%D9%84-%D8%A8-%D9%82%D9%86%D8%A7%D8%B9-%D8%A7%D9%84%D8%B5%D8%AF%D8%B1-%D9%88%D8%A7%D9%84-%D8%B7%D8%A7%D8%B1-%D9%8A%D8%B9%D8%AF-%D8%AE%D8%B7%D8%A9-%D8%A7%D9%84%D8%AA%D8%AE%D9%84%D9%8A-%D8%B9%D9%86-%D8%A7%D9%84%D9%85%D8%A7%D9%84%D9%83%D9%8A-%D8%A8%D9%85%D9%81%D8%B1%D8%AF%D9%87-%D8%AF%D9%88%D9%86-%D9%86%D9%88%D8%A7%D8%A8%D9%87