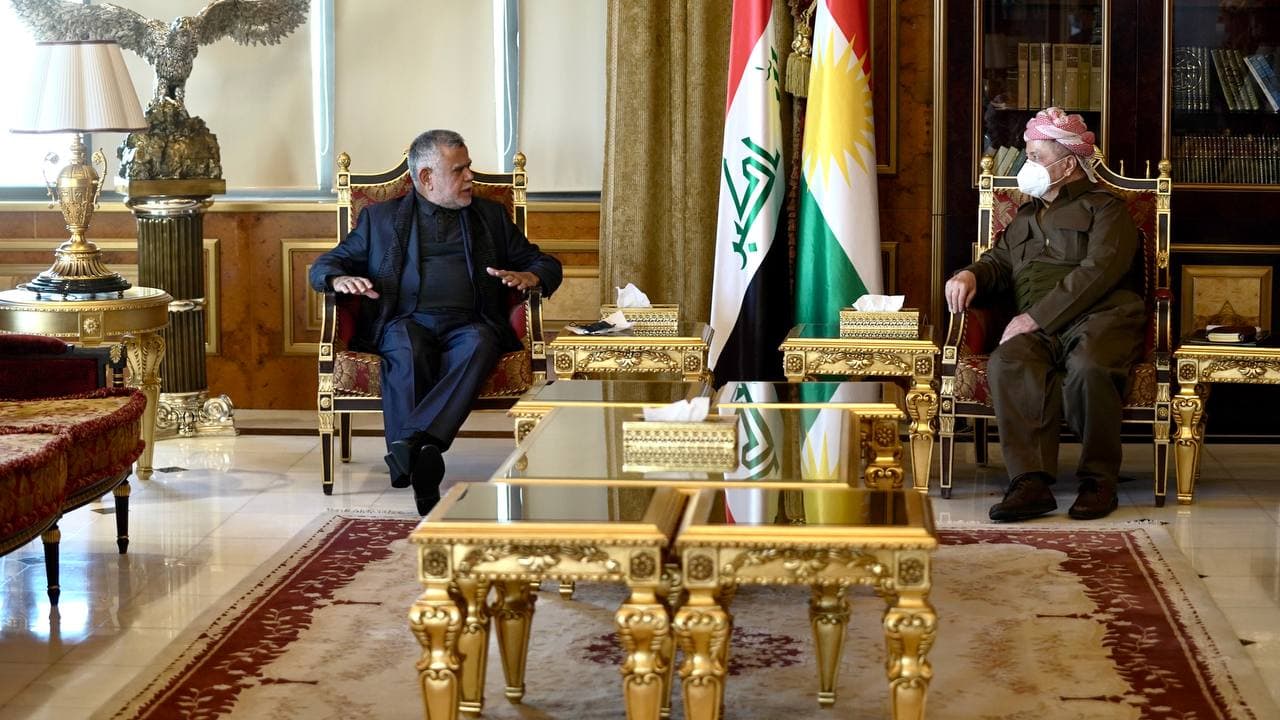 politicsMasoud BarzanibreakingAl Amri 2022-01-17 06:24A-AA+
Shafaq News/ The Kurdish leader, Massoud Barzani, head of the Kurdistan Democratic Party, met on Monday with the leader of the Al-Fateh Alliance Hadi Al-Amiri in Erbil.
This came in a brief statement by Al-Amiri's office, which was received by Shafak News Agency, without further details.
Earlier on Monday, Al-Amiri arrived in Erbil to discuss the file of forming the new government and the formation of alliances to form a larger bloc, according to what an informed political source told Shafak News Agency.
Al-Amiri began his visit by meeting the President of the Kurdistan Region, Nechirvan Barzani.
This visit comes after a bilateral meeting between Al-Amiri and the leader of the Sadrist movement, Muqtada Al-Sadr, at the latter's residence in the city of Najaf, the day before yesterday, Saturday.
The Sadrist bloc topped the elections held on October 10, with 73 seats, followed by the Progress Alliance with 37, the State of Law coalition with 33, and the Kurdistan Democratic Party with 31.
Al-Sadr is still sticking to his position aimed at forming a "national majority" government, which is rejected by the coordinating framework forces that are striving to persuade Al-Sadr to form a consensus government in which everyone participates, similar to previous sessions, in order to secure a foothold in the government.
https://shafaq.com/ar/%D8%B3%DB%8C%D8%A7%D8%B3%D8%A9/%D8%A7%D9%84%D8%B2%D8%B9%D9%8A%D9%85-%D8%A7%D9%84%D9%83%D9%88%D8%B1%D8%AF%D9%8A-%D9%85%D8%B3%D8%B9%D9%88%D8%AF-%D8%A8%D8%A7%D8%B1%D8%B2%D8%A7%D9%86%D9%8A-%D9%8A%D9%84%D8%AA%D9%82%D9%8A-%D8%A7%D9%84%D8%B9%D8%A7%D9%85%D8%B1%D9%8A