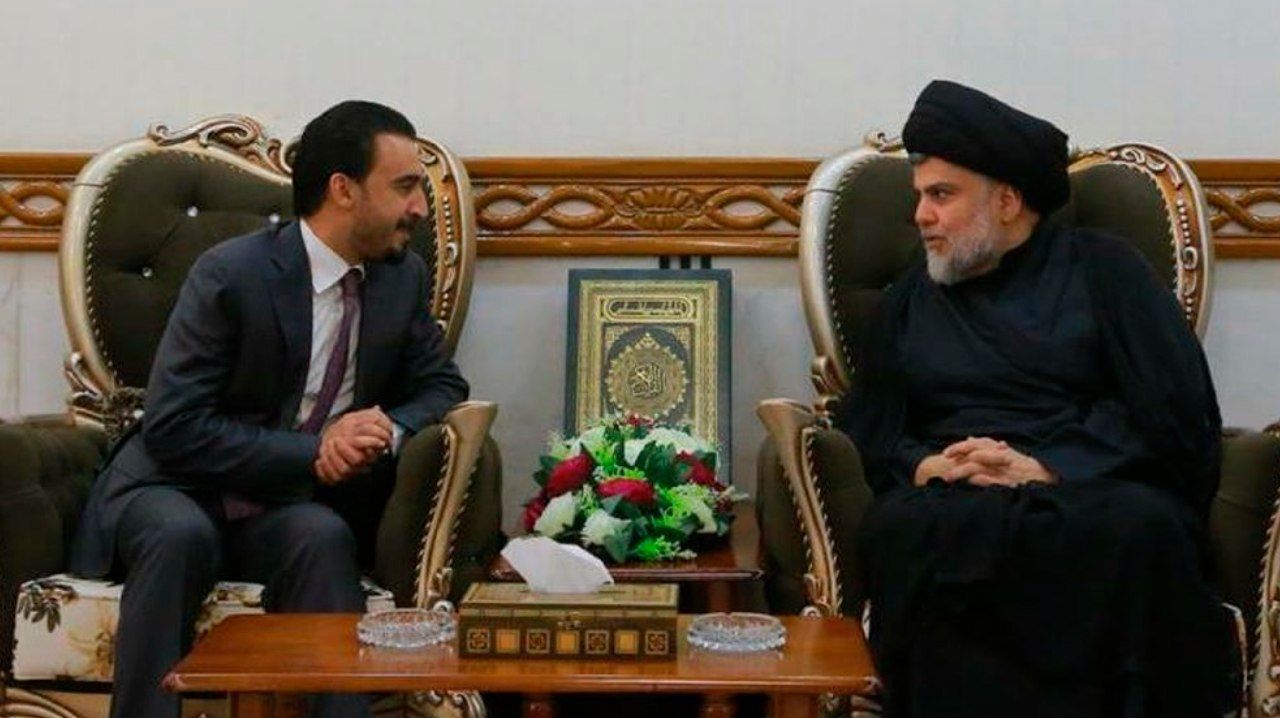 politicsbreakingSadrist MovementThe new governmentParty Ministries 2022-01-15 14:09A-AA+
Shafaq News/ A source close to the office of the leader of the Sadrist movement, Muqtada al-Sadr, revealed on Saturday that the next government will be shared by the winning parties in the elections, including the Sadrist bloc, stressing that independent technocrats have no place in leading the ministries.
The source told Shafaq News Agency, "The personalities who will be entrusted with managing the ministries in the new government will be well-known party and political figures, not independent or technocrats, as was the case in the outgoing government."
He added that "according to the political agreement between the political forces, the ministerial portfolios in the next government will be distributed according to the electoral maturity and the points that are classified according to the number of parliamentary seats obtained by each political bloc in the legislative elections."
And the source indicated that "the new government, which it is hoped that the Sadrist candidate will be tasked with forming, consists of 21 ministries and has been classified into three groups: A, B, and C."
He explained that "Group A is the four sovereign ministries: Foreign Affairs, Finance, Oil, and Electricity," adding that "Group B is the eight medium ministries: Interior, Defense, Planning, Health, Trade, Justice, Education, and Higher Education."
The source concluded by saying, "Group C includes nine service ministries, namely: Industry and Minerals, Communications, Agriculture, Water Resources, Environment, Construction and Housing, Transport, Human Rights, and State Affairs."
The dispute raged between the two Shiite poles represented by the Sadrist movement, which won the highest votes in the elections that took place on the tenth of October last year, and the coordination framework that includes blocs that expressed their rejection of the election results.
The leader of the Sadrist movement, Muqtada al-Sadr, insists on forming a majority government that excludes figures from the coordination framework who played an active role in the political process over the past years, led by Nuri al-Maliki, and this is rejected by the leaders of the framework who demand the formation of a consensus government as was the case in previous governments.
On the tenth of last October, Iraq held early legislative elections to get out of a political crisis that swept the country after large demonstrations in the central and southern regions in 2019 in protest against the widespread unemployment in society, the spread of financial and administrative corruption in government departments and institutions, and the deteriorating reality The service and the livelihood, which prompted the former prime minister, Adel Abdul-Mahdi, to resign under popular pressure.
As soon as the preliminary results of the recent elections were announced, the voices of political forces and actors rose in their rejection of losing many seats, accusing them of major fraud in the ballot, which was denied by the executive and judicial authorities, at a time when the United Nations and international organizations praised the integrity of the electoral process.
https://shafaq.com/ar/%D8%B3%DB%8C%D8%A7%D8%B3%D8%A9/%D9%85%D9%82%D8%B1%D8%A8-%D9%85%D9%86-%D9%85%D9%83%D8%AA%D8%A8-%D8%A7%D9%84%D8%B5%D8%AF%D8%B1-%D9%8A%D9%83%D8%B4%D9%81-%D8%B4%D9%83%D9%84-%D8%A7%D9%84%D8%AD%D9%83%D9%88%D9%85%D8%A9-%D8%B3%D8%AA%D8%AA-%D9%84%D9%81-%D9%85%D9%86-%D8%B4%D8%AE%D8%B5%D9%8A%D8%A7%D8%AA-%D8%AD%D8%B2%D8%A8%D9%8A%D8%A9