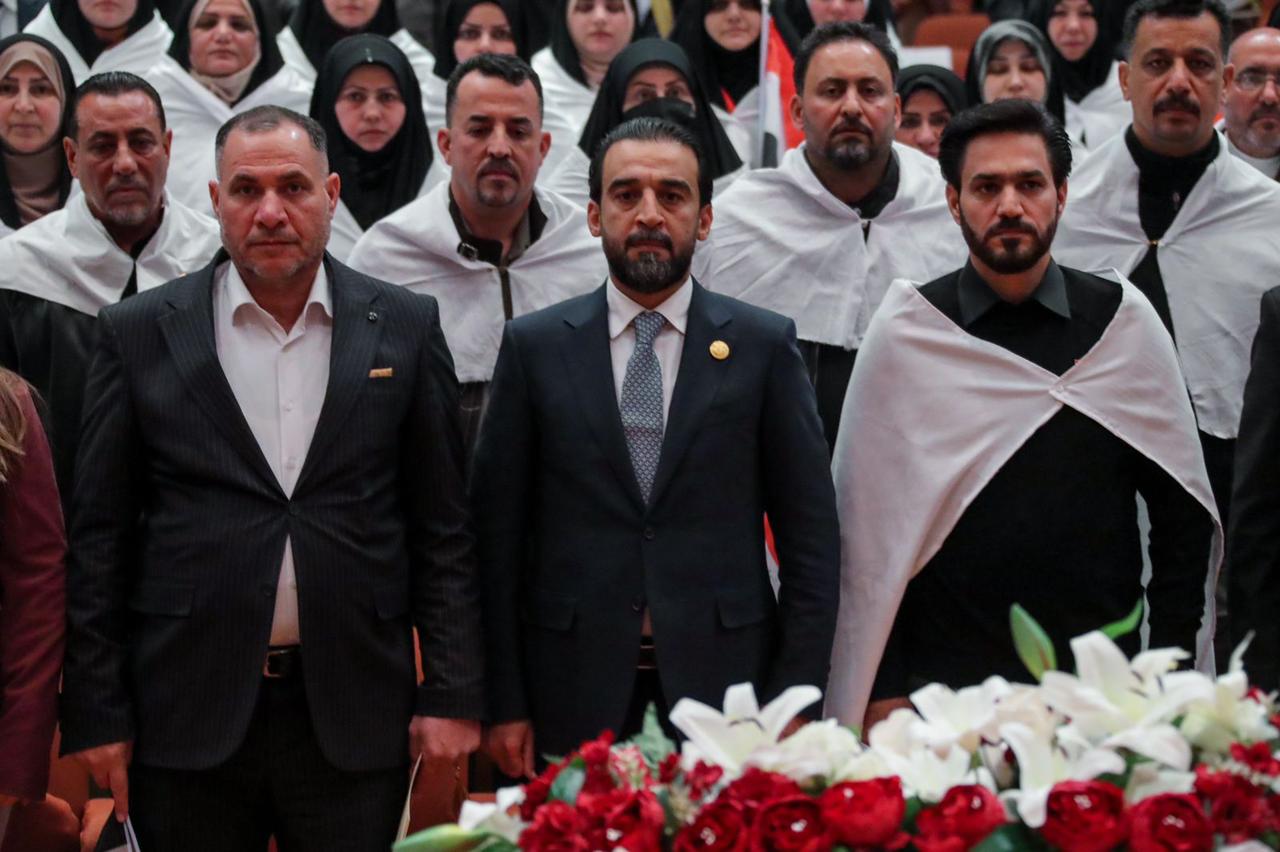 politicsTariq HarbParliament sessionShiite coordination framework 2022-01-10 06:28A-AA+
Shafaq News/ The legal expert, Tariq Harb, confirmed on Monday that there is no legal value to the request of the Shiite coordination framework regarding the largest bloc that submitted signatures to the President of the Age yesterday, Sunday, regarding it.
Harb said in a statement received by Shafaq News Agency, "The elected Speaker of the House of Representatives, Muhammad al-Halbousi, had to submit a request to register the most numerous bloc submitted by the Sadrist bloc to vote and approval from Parliament to confirm the constitutionality of registering the most numerous bloc and to confirm the democratic aspect represented in returning to the people's representatives and stating their words." And their vote in every measure taken by Parliament, including registering the request of the parliamentary bloc that has the largest number submitted by the Sadrist bloc, even if the constitution and the law do not require that."
He explained that "the previous request from the framework to the head of the age has no constitutional or legal value in terms of its submission to the head of the age and not to the permanent president and a subject for the absence of a registered bloc in the parties' department and the electoral commission in the name of the framework bloc, but there are multiple blocs, including the rule of law, wisdom, victory, conquest and others, and no There is a block named Frame".
Earlier today, Monday, a source in the Sadrist movement revealed the number of deputies of the "largest bloc" that the Sadrist bloc presented to Parliament Speaker Muhammad al-Halbousi during the first session on Sunday.
The source told Shafaq News Agency, "The list presented by the head of the Sadrist bloc, Hassan al-Adhari, to the elected speaker of parliament included only 76 Sadrist deputies, without the names of the representatives who joined the Sadrist bloc from other blocs."
Prior to that, while President Mahmoud al-Mashhadani presided over the session, the coordinating framework submitted a request to be considered the largest bloc with a list of 88 deputies, according to what the framework announced.
https://shafaq.com/ar/%D8%B3%DB%8C%D8%A7%D8%B3%D8%A9/%D8%B7%D8%A7%D8%B1%D9%82-%D8%AD%D8%B1%D8%A8-%D9%84%D8%A7-%D9%82%D9%8A%D9%85%D8%A9-%D9%82%D8%A7%D9%86%D9%88%D9%86%D9%8A%D8%A9-%D9%84%D8%B7%D9%84%D8%A8-%D8%A7%D9%84-%D8%B7%D8%A7%D8%B1-%D8%A8%D8%B4-%D9%86-%D8%A7%D9%84%D9%83%D8%AA%D9%84%D8%A9-%D8%A7%D9%84-%D9%83%D8%A8%D8%B1