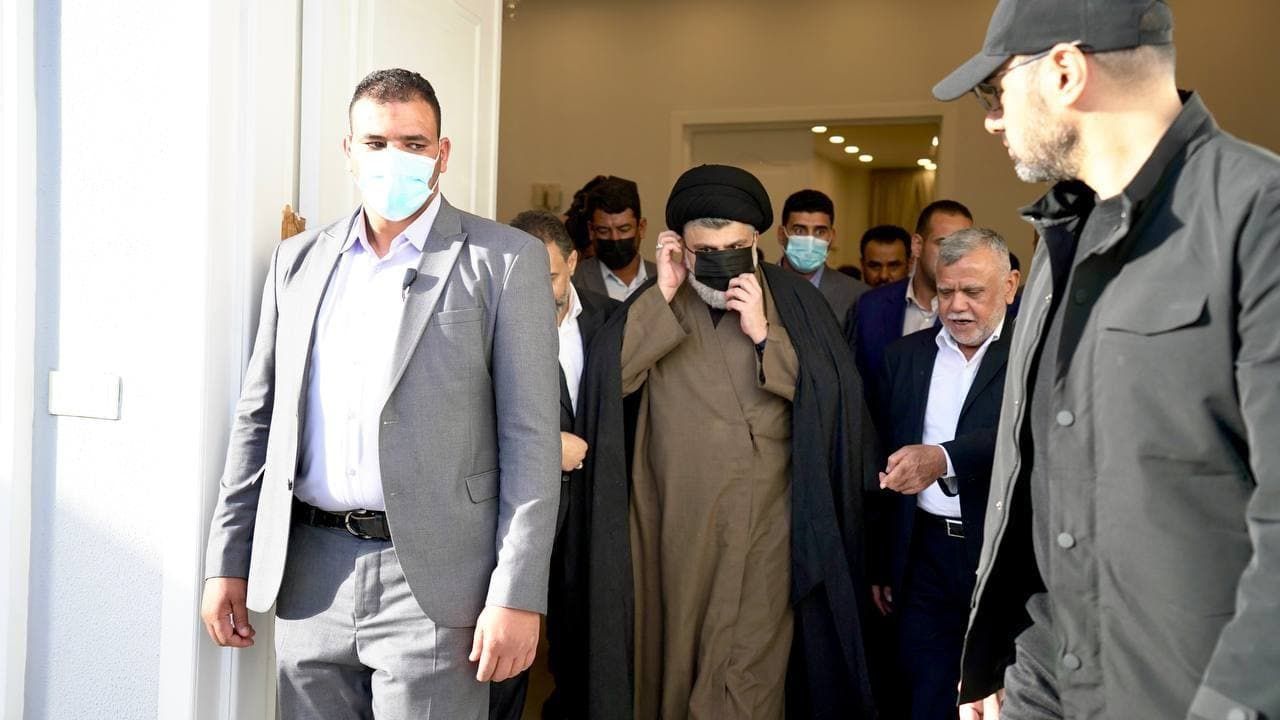 politicsbreakingthe chestcoordinating framework 2021-12-29 06:54A-AA+
Shafaq News/ The leader of the Sadrist movement, Muqtada al-Sadr, confirmed, on Wednesday, his quest to form a "national majority" government, after his bloc led the recent parliamentary elections.
This came in a tweet by Al-Sadr after his meeting with the leaders of the coordination framework in "Al-Hanana", his residence in Najaf.
Al-Sadr was satisfied with a brief tweet to confirm his adherence to his position, saying, "A national majority government, neither Eastern nor Western.
Al-Sadr met with the delegation of the coordination framework headed by the leader of the "Al-Fateh" coalition, Hadi Al-Amiri, and included a group of prominent leaders in the framework that includes the majority of the prominent Shiite forces.
This meeting came two days after the Federal Supreme Court approved the election results and rejected the lawsuit brought by Al-Amiri to cancel the results.
The Sadrist bloc topped the elections with 73 seats out of 329, followed by the Progress Alliance with 37 seats, the State of Law coalition with 33 seats, and the Kurdistan Democratic Party with 31 seats.
The Sadrist bloc seeks to form a majority government in alliance with the Sunni and Kurdish forces that won the elections, contrary to what was customary in previous sessions that witnessed the birth of consensual governments with the participation of all political forces.
But other Shiite forces within the coordination framework are working to find a foothold in the next government to preserve their gains despite losing many seats in the parliamentary elections that took place last October.
https://shafaq.com/ar/%D8%B3%DB%8C%D8%A7%D8%B3%D8%A9/%D8%A8%D8%B9%D8%AF-%D9%84%D9%82%D8%A7-%D9%87-%D9%82%D8%A7%D8%AF%D8%A9-%D8%A7%D9%84-%D8%B7%D8%A7%D8%B1-%D8%A7%D9%84%D8%B5%D8%AF%D8%B1-%D9%8A%D8%BA%D8%B1%D8%AF-%D8%A8%D8%AE%D9%85%D8%B3-%D9%83%D9%84%D9%85%D8%A7%D8%AA