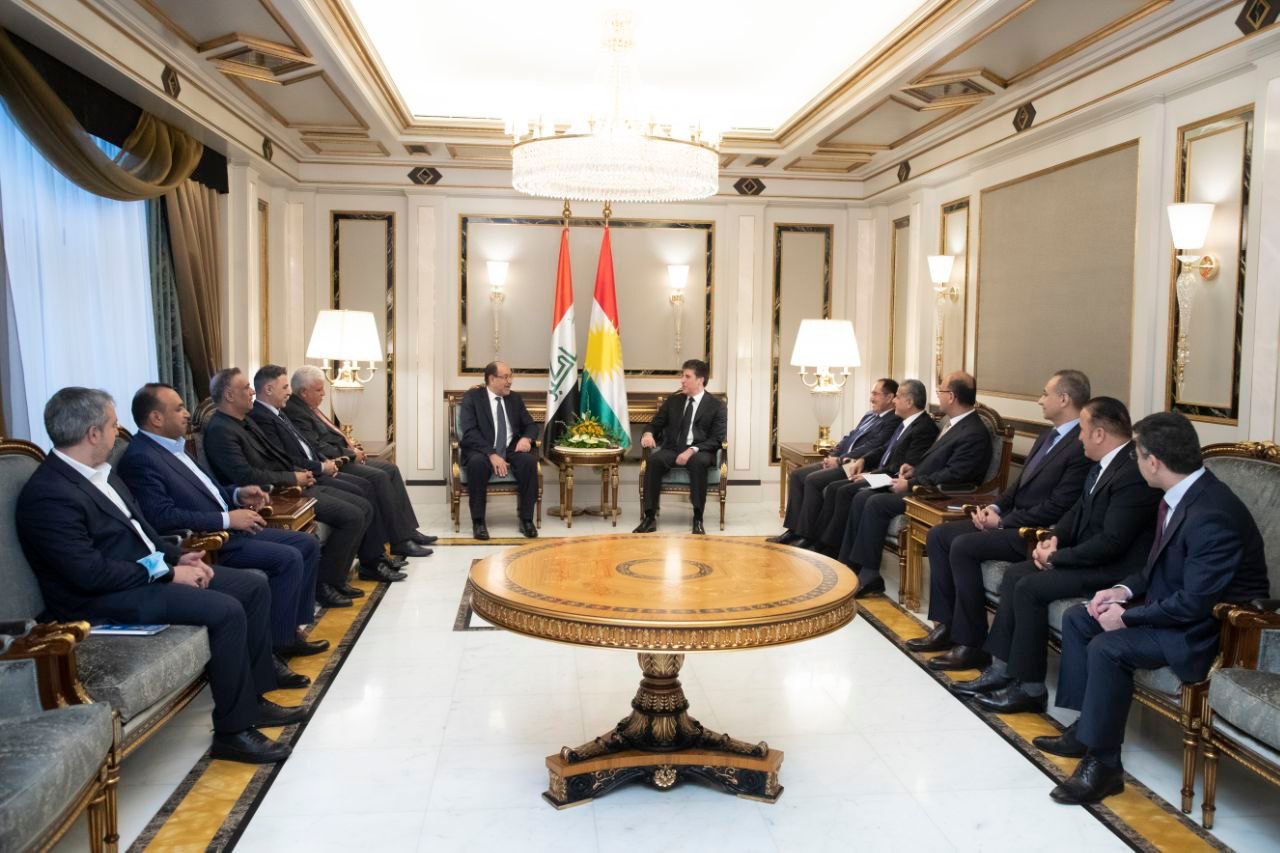 politicsNouri al-MalikiNechirvan Barzani 2021-12-22 11:32A-AA+
Shafaq News/ The President of Kurdistan Region, Nechirvan Barzani, confirmed during his reception of the delegation of the Shiite Coordination Framework headed by Nuri al-Maliki, today, Wednesday, that the results of the Iraqi parliamentary elections reconfirmed that Iraq has a special situation and that the Kurdistan Region will never be part of the problems, but rather is always a catalyst for a realistic solution. problems and access to a real partnership between the Iraqi parties.
A statement by the region's presidency, received by Shafaq News Agency, said that the region's president, Nechirvan Barzani, received on Wednesday the delegation of the coordination framework for Shiite parties headed by Nuri al-Maliki.
He pointed out that the meeting witnessed a discussion of the latest developments in the Iraqi political situation and the Parliament elections on the tenth of last November, and the concerns of the parties who are not satisfied with their results, the legal process, and the appeals against the results.
The statement explained that the two sides were in agreement in the opinion that in addition to the protests and observations about the election results, the situation and challenges facing the country are a joint responsibility that requires all Iraqi forces and parties to take into account the public interest and the future of the country and reach a common understanding to address the problems and overcome the situation and form a government that responds to the demands of the citizens and is able to Facing current and future challenges and protecting security and stability.
The statement added that the problems of Erbil and Baghdad, the delegation's work program, the meetings and meetings it is conducting in the region, and how to deal with the situation and efforts to address the problems were other axes in the meeting.
https://shafaq.com/ar/%D8%B3%DB%8C%D8%A7%D8%B3%D8%A9/%D8%B1-%D9%8A%D8%B3-%D8%A7%D9%84-%D9%82%D9%84%D9%8A%D9%85-%D9%88%D8%A7%D9%84%D9%85%D8%A7%D9%84%D9%83%D9%8A-%D9%8A%D8%A8%D8%AD%D8%AB%D8%A7%D9%86-%D9%86%D8%AA%D8%A7-%D8%AC-%D8%A7%D9%84%D8%A7%D9%86%D8%AA%D8%AE%D8%A7%D8%A8%D8%A7%D8%AA-%D9%88%D8%B3%D8%A8%D9%84-%D8%A7%D9%84%D8%AA%D9%88%D8%B5%D9%84-%D9%84%D8%AA%D9%81%D8%A7%D9%87%D9%85-%D9%84%D8%AA%D8%B4%D9%83%D9%8A%D9%84-%D8%A7%D9%84%D8%AD%D9%83%D9%88%D9%85%D8%A9-%D8%A7%D9%84%D8%AC%D8%AF%D9%8A%D8%AF%D8%A9