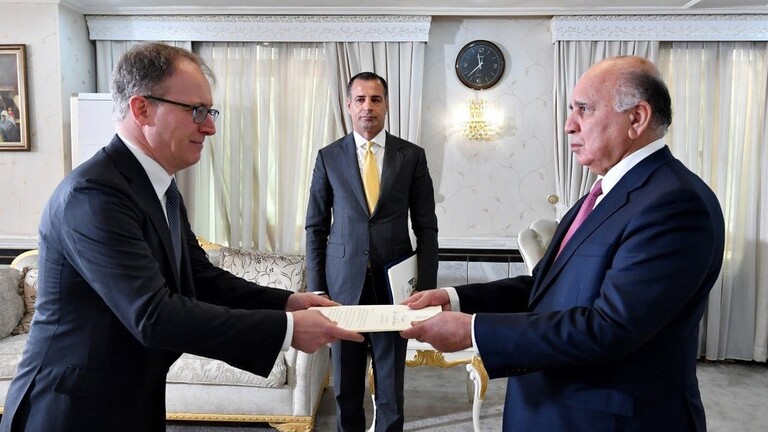 securityIraqFouad HusseinMinistry of Foreign AffairsItaliaNATO Mission in Iraqitalian ambassador 2021-12-15 12:50A-AA+
Shafaq News/ The Italian ambassador to Iraq, Maurizio Cricante, has set May next year as the date for his country to head the North Atlantic Treaty Organization "NATO" mission in Iraq.
This happened, while the Iraqi Foreign Minister Fouad Hussein received the credentials of Cricante, the new ambassador of Rome in Baghdad, today, Wednesday, according to a statement received by Shafaq News Agency.
According to the statement, the two sides discussed relations between Iraq and Italy, and ways to advance them to meet the aspirations of both peoples. They also discussed the nuclear agreement between Iran and international parties in Vienna, and indicated that any progress in this file would positively affect the regional situation and Iraq as well.
Hussein affirmed, according to the statement, his support for the new ambassador's efforts in strengthening relations between Baghdad and Rome, and developing bilateral cooperation to achieve common interests, while the new Italian ambassador reiterated his country's support for Iraq.
https://shafaq.com/ar/%D8%A3%D9%85%D9%80%D9%86/%D9%8A%D8%B7%D8%A7%D9%84%D9%8A%D8%A7-%D8%AA%D8%AD%D8%AF%D8%AF-%D9%85%D9%88%D8%B9%D8%AF-%D8%AA%D8%B1-%D8%B3%D9%87%D8%A7-%D8%A8%D8%B9%D8%AB%D8%A9-%D8%A7%D9%84%D9%86%D8%A7%D8%AA%D9%88-%D9%81%D9%8A-%D8%A7%D9%84%D8%B9%D8%B1%D8%A7%D9%82