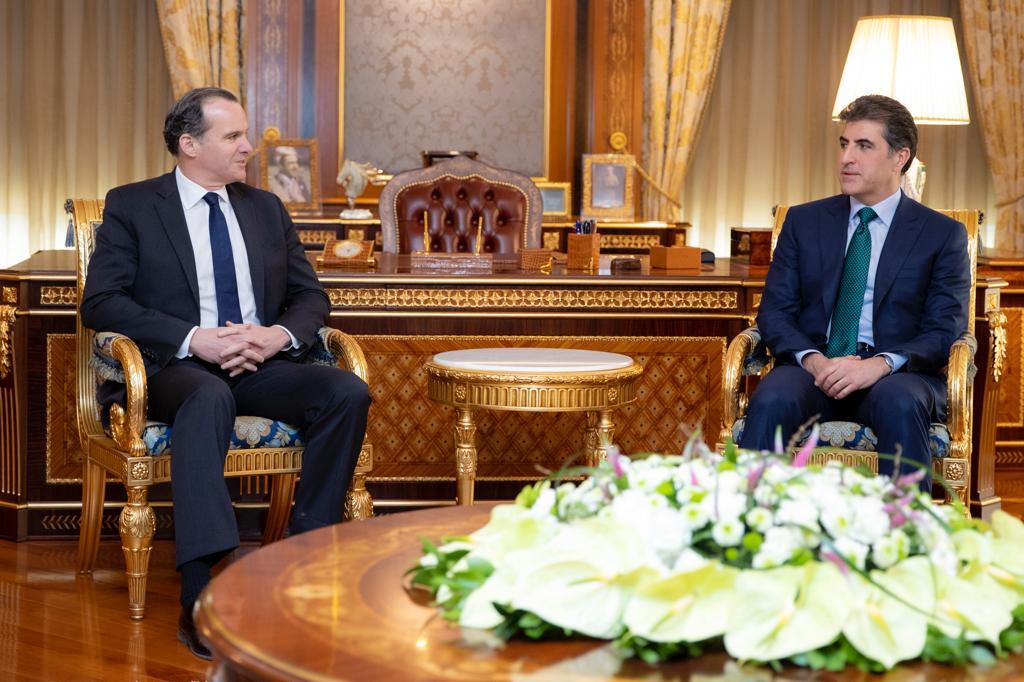 KurdistanKurdistan RegionNechirvan BarzaniBrett McGurk 2021-12-13 10:36A-AA+
Shafaq News/ The Coordinator for Middle East and African Affairs in the US National Security Council Brett McGurk reiterated on Monday that the United States of America will continue its support for Iraq and the Kurdistan Region, stressing that Erbil and Baghdad can rely on Washington for the final elimination of ISIS.
A statement by the Presidency of the Kurdistan Region received by Shafaq News Agency stated that the President of the Kurdistan Region, Nechirvan Barzani, received McGurk in Erbil and described his visit to Iraq and the Kurdistan Region as important, and stressed that "at a time when America is changing the tasks of its forces and the international coalition, affirming its continued commitment to supporting Iraq and the region important message".
The statement added, "During the meeting, which was attended by the US Ambassador to Iraq and the US Consul General in Erbil, several issues were discussed, including the elections and their results, expectations for the future of the political process in Iraq, dialogues between the Iraqi parties, efforts to form the new federal government, security, military and economic conditions in the country, ISIS attacks, and coordination between The Peshmerga, the army, relations between Erbil and Baghdad, the Iraqi-American strategic dialogue, and opportunities for developing relations between the two sides.
He pointed out that "the two sides were in agreement in the opinion that ISIS is a real danger and that Iraq still needs the continued support of the international coalition to confront and defeat it, explaining that cooperation and coordination between the Iraqi forces and parties is important in order to be able to form a comprehensive government in the country that responds to the demands of Iraqi citizens and protects security and stability in it." ".
The statement noted that "the internal conditions of the Kurdistan Region, relations between Iraq and the countries of the region and the world, the situation in the region, the latest developments in Syria, the issue of the Kurds in it, and a number of other issues of common interest are other axes in the meeting."
https://shafaq.com/ar/%D9%83%D9%88%D8%B1%D8%AF%D8%B3%D9%80%D9%80%D8%AA%D8%A7%D9%86%D9%8A%D8%A7%D8%AA/%D8%A7%D9%85%D8%B1%D9%8A%D9%83%D8%A7-%D8%AA-%D9%83%D8%AF-%D8%A7%D9%84%D8%AA%D8%B2%D8%A7%D9%85%D9%87%D8%A7-%D8%A8-%D9%85%D9%83%D8%A7%D9%86-%D8%A8%D8%BA%D8%AF%D8%A7%D8%AF-%D9%88-%D8%B1%D8%A8%D9%8A%D9%84-%D8%A7%D9%84%D8%A7%D8%B9%D8%AA%D9%85%D8%A7%D8%AF-%D8%B9%D9%84%D9%8A%D9%86%D8%A7-%D9%84-%D9%86%D9%87%D8%A7-%D8%AF%D8%A7%D8%B9%D8%B4