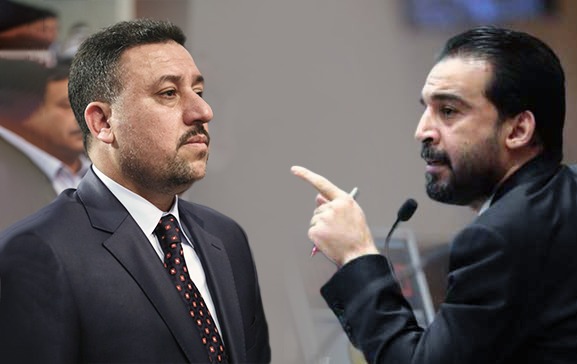 politicsnew formationAlliance Progressdetermination alliance 2021-12-09 09:29A-AA+
Shafaq News/ The "Progress" alliance led by Muhammad al-Halbousi commented on Thursday on the formation of a new political group that includes Sunni forces within the umbrella of the "Azm" alliance led by Khamis al-Khanjar.
A spokesman for "Progress, Yahya al-Muhammadi, said in a statement received by Shafak News Agency, "We have followed the formation of the (Azm) alliance, and as we congratulate them and praise them, we hope that the new formation will be a step towards achieving the aspirations and interests of the masses."
Al-Mohammadi hoped that the new alliance would be a step "to spread stability as an alternative to convulsions and crises, and a factor in accelerating the completion of the necessary arrangements for electoral benefits."
Today, Thursday, in the Iraqi capital, Baghdad, a new political alliance was announced, headed by the leader of the "Azm" alliance, Khamis al-Khanjar.
The alliance includes five political forces, namely: Azm Alliance, the Mass Party bloc, the Hassm Movement for Reform, deputies from the National Contract Bloc, and the Arab Alliance in Kirkuk.
According to the leader of the "Azm" coalition, Salem Al-Issawi, during a press conference held in the capital, Baghdad, and attended by Shafak News Agency correspondent, this coalition includes 34 winning candidates in the legislative elections that took place last October, noting that this coalition represents the Sunni regions. in Iraq.
https://shafaq.com/ar/%D8%B3%DB%8C%D8%A7%D8%B3%D8%A9/%D9%88%D9%84-%D8%AA%D8%B9%D9%84%D9%8A%D9%82-%D9%85%D9%86-%D8%AA%D8%AD%D8%A7%D9%84%D9%81-%D8%A7%D9%84%D8%AD%D9%84%D8%A8%D9%88%D8%B3%D9%8A-%D8%B9%D9%84%D9%89-%D8%A7%D9%86%D8%B6%D9%85%D8%A7%D9%85-%D9%82%D9%88%D9%89-%D8%B3%D9%86%D9%8A%D8%A9-%D9%84%D9%84%D8%AE%D9%86%D8%AC%D8%B1