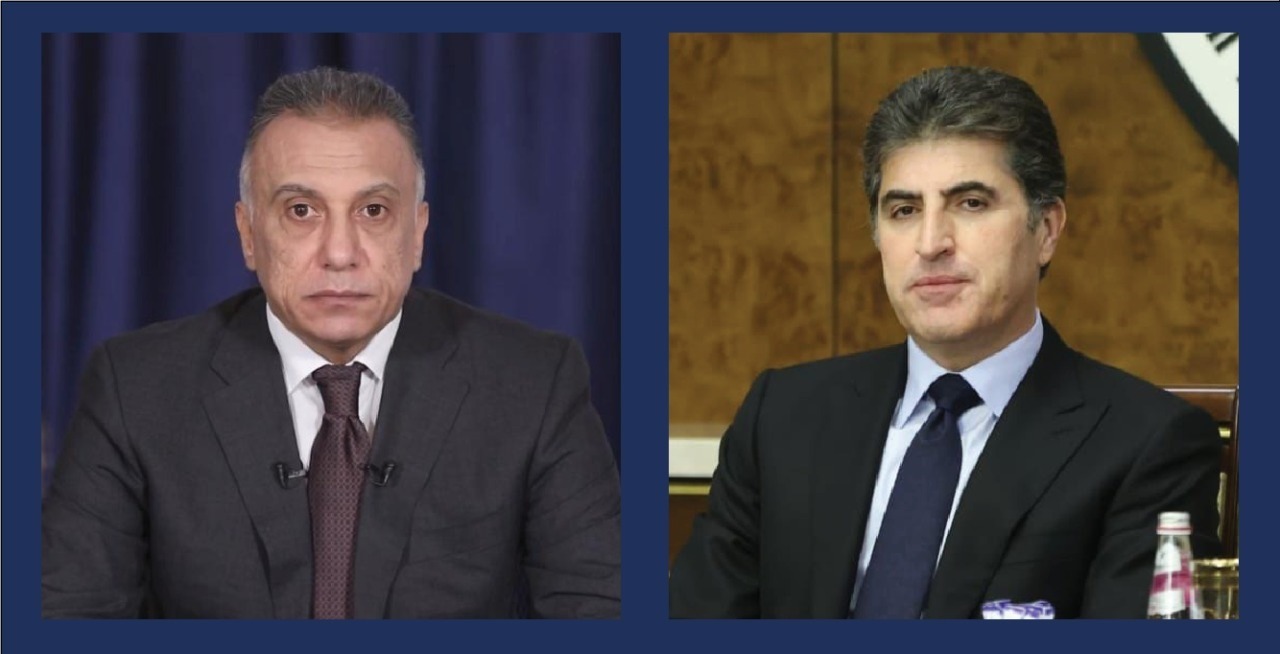 politicsbreakingNechirvan BarzaniMustafa Al-Kazemi 2021-12-07 06:02A-AA+
Shafaq News/ The Prime Minister of Iraq, Mustafa Al-Kazemi, and the President of Kurdistan Region, Nechirvan Barzani, discussed in a phone call today, Tuesday, the security threats and recent attacks by the terrorist organization ISIS, which affected the sites of the Iraqi security forces and Iraqi citizens, and led to casualties from the Peshmerga and civilians.
According to a statement by the Kurdistan Region Presidency, Al-Kazemi affirmed full support for the Peshmerga's efforts to combat terrorism, stressing the full coordination between the Iraqi armed forces from the army, the Peshmerga and other security forces, especially in the areas of the security vacuum between the two parties.
The Prime Minister of Iraq stressed the need to continue revitalizing the work of the joint coordination committees between the Iraqi army and the Peshmerga; With the aim of deterring, hunting down and eliminating remnants of terrorism; Because it poses a threat to Iraq and the whole region.
For his part, the President of the Kurdistan Region thanked the Prime Minister of Iraq, expressing the full readiness of the Kurdistan Region to cooperate and coordinate with the Iraqi forces to protect security and stability throughout Iraq, including the Kurdistan Region.
Security sources say that most of the recent attacks, in which ISIS terrorists are most likely launched from the Qarachogh mountain range between Nineveh Governorate and Kirkuk, which is a relatively rugged area, suitable for ISIS militants to hide, as it represents a buffer zone between the locations of the Iraqi forces and the Peshmerga forces.
This area witnesses repeated attacks by the organization's elements on the Iraqi forces and the Peshmerga.
https://shafaq.com/ar/%D8%B3%DB%8C%D8%A7%D8%B3%D8%A9/%D8%A7%D9%84%D9%83%D8%A7%D8%B8%D9%85%D9%8A-%D9%88%D9%86%D9%8A%D8%AC%D9%8A%D8%B1%D9%81%D8%A7%D9%86-%D8%A8%D8%A7%D8%B1%D8%B2%D8%A7%D9%86%D9%8A-%D9%8A%D8%AC%D8%B1%D9%8A%D8%A7%D9%86-%D9%85%D8%A8%D8%A7%D8%AD%D8%AB%D8%A7%D8%AA-%D9%88%D9%8A-%D9%83%D8%AF%D8%A7%D9%86-%D8%B9%D9%84%D9%89-%D8%A7%D9%84%D8%AA%D9%86%D8%B3%D9%8A%D9%82-%D9%84%D9%80-%D8%AF%D8%B1-%D8%AE%D8%B7%D8%B1-%D8%A7%D9%84-%D8%B1%D9%87%D8%A7%D8%A8